RCCG JUNIOR ZEAL (AGE 4-5) TEACHER'S MANUAL SUNDAY 29TH OF NOVEMBER, 2020
LESSON THIRTEEN (13)
TOPIC: THE IMPORTANCE OF THE LOVE OF CHRIST
BIBLE TEXT: Luke 19:10
[10]For the Son of man is come to seek and to save that which was lost.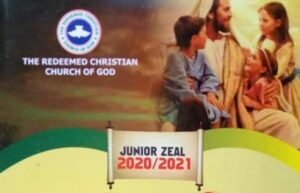 MEMORY VERSE: Ephesians 5:2: And walk in love, as Christ hath loved us.
LESSON AIM: The love of Christ brought you Salvation and other kingdom benefits.
CHILD RELATED TRUTH: Jesus died for you to be saved from your sin.
INTRODUCTION: If Jesus had not died, nobody could have their sins forgiven. God must punish all sins because He is always right and fair. But God loves you so much that He planned this rescue mission and sent His son to suffer and died. Jesus loves you so much that He willingly took the punishment you deserve. The son of God loves me and gave Himself for me. Galatians 2:20.
PROGRESSION OF EVENTS:
A. Excited that the famous miracle worker Jesus was coming through Jericho, a tax collector named Zaccheaus determined to see Him pass along the busy street.
B. People were everywhere all scrambling for a good spot Zaccheaus hurried ahead and climb the tree.
C. As He passed, Jesus purposely looked at Zaccheaus spoke kindly to Him.
D. By saying that He wants to spend time at Zaccheaus' home, Jesus let everyone that knows that He accepted Zaccheaus.
E. Surprised, but very pleased, Zaccheaus quickly jumped down from the tree.
F. The offended Jews grumbled because Jesus was being a friend to a man theyview as a termible sinner.
CLIMAX: Zaccheaus was saved because Jesus loved him. He also loves you. The importance of His love is to give us salvation.
CONCLUSION: Zaccheaus became a changed man and he promised half his possession will be given to the poor to make things right by giving back four times what he has wrongly collected. And Jesus said to him, he is saved, because he repented.
CHALLENGE: In Luke 19:10, Jesus said "For the Son of man is come to seek and to save that which was lost. You that have received Jesus tell others about the importance of His love so that they can be saved from their sins.
INVITATION: Jesus showed His love to you by dying for your sins so that you can be saved. Receive Him today. Rom 10:13.
DAILY DEVOTIONAL:
SUNDAY: LUKE 5:37-39
MONDAY: LUKE 6:1-3
TUESDAY: LUKE 6:4-6
WEDNESDAY: LUKE 6:7-9
THURSDAY: LUKE 6:10-12
FRIDAY :LUKE 6:13-15
SATURDAY: LUKE 6:16-18