RCCG JUNIOR ZEAL (AGE 4-5) 20TH DECEMBER 2020 TEACHER'S MANUAL SUNDAY
LESSON SIXTEEN (16) TOPIC: BEAR FRUIT OF REPENTANCE
BIBLE TEXT: Matthew 3:7-9
[7]But when he saw many of the Pharisees and Sadducees come to his baptism, he said unto them, O generation of vipers, who hath warned you to flee from the wrath to come?
[8]Bring forth therefore fruits meet for repentance:
[9]And think not to say within yourselves, We have Abraham to our father: for I say unto you, that God is able of these stones to raise up children unto Abraham.
MEMORY VERSE: Matthew 3:2 And saying, Repent for the kingdom of heaven is at hand.
LESSON AIM: The saved child will bear fruit of repentance.
CHILD RELATED TRUTH: God wants you with New life bear fruit for Him.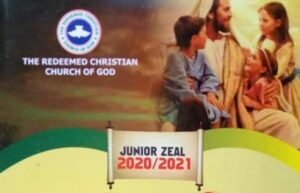 Subscribe to Blog via Email
INTRODUCTION:
Ust as trees bear their fruit, so repentance is known by good works. If you have repented and accepted Jesus it will be evident by the way
you live, talk and do things The Bible says; "By their fruit we shall know them". Mathew 7:16.
PROGRESSION OF EVENTS:
A. John the Baptist told the people to produce fruit of repentance(that is they should show by their ways that they have repented from their
sins and are changed people).
If you have received Jesus as Saviour, He wants you to bear fruit in your life.
B. What is fruit? (Let the children respond).
Fruit is sweat and fleshy product of tree or plant that has a seed that can be eaten as food.
C. To bear fruit of repentance is to begin to do good things instead of bad things you do before, to begin to let the light of God shine in you and by telling. This means that it is not enough to say I am a Christian or I go to church or I am a pastor's child but you must behave as a child of God.
D. Abraham's children are those who truly believe in Jesus. (Rom 2:28-29)
To bear fruit of Repentance you must:-
•Admit your sins.
•Believe Jesus died for your sins, was buried and rose the third day.
•Choose Him as your Saviour and live for His glory.
Even now the axe is laid to the root of the tree. Every tree that does not bear fruit shall be cut down. Accept Jesus and tell others about Christ and keep living as a child of God.
E. John said to them – do not think you can say to yourself "we have Abraham as our father" I will tell you that out of these stones God can raise up children for Abraham.
CLIMAX: The hearer asked John "what shall we do?" They wanted to change from their old nature. God wants you to change from bad to good by bearing fruit of repentance. Luke 3:10
John asked them to give to others and be satisfied of contended with what they have. Luke 3:11.
CHALLENGES: God wants you to bear good fruits always.
INVITATION: You need Jesus, Receive Him as your Saviour and Lord so that you can bear good fruits.
DAILY DEVOTIONAL
SUNDAY: LUKE 7:13-15
MONDAY: LUKE 7:16-18
TUESDAY: LUKE 7:19-21
WEDNESDAY: LUKE 7:22-24
THURSDAY: LUKE 7:25-27
FRIDAY: LUKE 7:28-30
SATURDAY: LUKE 7:31-33