RCCG TEENS TEACHER'S MANUAL SUNDAY 20TH OF DECEMBER, 2020
TOPIC: BEAR FRUITS OF REPENTANCELESSON SIXTEEN (16)
BIBLE TEXT: Luke 3:3-14
[3]And he came into all the country about Jordan, preaching the baptism of repentance for the remission of sins;
[4]As it is written in the book of the words of Esaias the prophet, saying, The voice of one crying in the wilderness, Prepare ye the way of the Lord, make his paths straight.
[5]Every valley shall be filled, and every mountain and hill shall be brought low; and the crooked shall be made straight, and the rough ways shall be made smooth;
[6]And all flesh shall see the salvation of God.
[7]Then said he to the multitude that came forth to be baptized of him, O generation of vipers, who hath warned you to flee from the wrath to come?
[8]Bring forth therefore fruits worthy of repentance, and begin not to say within yourselves, We have Abraham to our father: for I say unto you, That God is able of these stones to raise up children unto Abraham.
[9]And now also the axe is laid unto the root of the trees: every tree therefore which bringeth not forth good fruit is hewn down, and cast into the fire.
[10]And the people asked him, saying, What shall we do then?
[11]He answereth and saith unto them, He that hath two coats, let him impart to him that hath none; and he that hath meat, let him do likewise.
[12]Then came also publicans to be baptized, and said unto him, Master, what shall we do?
[13]And he said unto them, Exact no more than that which is appointed you.
[14]And the soldiers likewise demanded of him, saying, And what shall we do? And he said unto them, Do violence to no man, neither accuse any falsely; and be content with your wages.
2 Corinthians 7:10
[10]For godly sorrow worketh repentance to salvation not to be repented of: but the sorrow of the world worketh death.
MEMORY VERSE: Luke 3:8 "Bring forth therefore fruits worthy of repentance and begin not to say within yourselves, we have Abraham to our father; for i say unto you, That God is able of these stones to raise up children unto Abraham.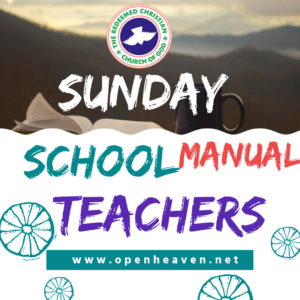 HYMN FOR TODAY: Just as I am, without one plea. Hymn 256
LESSON AIM: To better understand repentance, the fruits of repentance and how to bear them.
CENTRAL TRUTH: Fruits of repentance is the beginning of the Christian journey.
INTRODUCTION: Being contrite and sorry for doing wrong isn't sin consciousness. The born again man in his spirit finds sin repulsive. Saying you are sorry and admitting you sinned isn't doubting the finished work of redemption rather, feeling condemned is. We judge ourselves and when we are wrong, we admit it. We try not to deny the right standing we have with God which is without works. Repentance entails more than mere remorse for one's past conduct. It requires a change of life.
STUDY GUIDE
A. What is Repentance?
1. A feeling of regret or remorse for doing wrong or sinning- Acts 2:37
2. Repentance entails a resolve to cease the wrongful conduct replacing it with godly living -Acts 2:38
3. It is the ongoing and living decision to choose Christ and live for Him; even more so to allow Him to live in us.
Repentance is not a one-time thing where we tell God that we're sorry we committed this or that, only to repeat it tomorrow and the day after. It is a continuous effort to live a life that pleases God.
B. Fruits of Repentance. Matt 7:16-20, 2 Cor 7:8-11
The fruits of repentance include:
i. Godly sorrow – 2 Cor. 7:10
ii. Brokenness – Ps. 34:18,51:17
iii. Acknowledgement of your sin – 1 John 1:7-9
iv. Genuine decision – John 8:11
v. A life characterized by a consistent and persistent pursuit of living a Godly life in Christ – 2 Cor 5:17; James 3:18; Heb 12:10-11
vi. A change in desires that is geared towards Christ-likeness – Rom 6:22
vii. Fruit of the Spirit – Gal 5:22-23, Eph 5:9
viii. Showing the kind of fruit (or lifestyle) that inevitably grows on the tree of repentance – Luke 3:10-14
ix. When a person turns to rely on God's mercy, he can no longer hate his neighbor, You cannot cherish the mercy God has shown to us and at the same time refuse to show it to another.
C. How to Bear Fruit of Repentance;
1. Renewing your mind with the Word of God – Rom 12:1-2
2. Living/Walking in the Spirit – Gal. 5:16
3. Total reliance on God- Phil 1:11
GROUP DISCUSSIONS: What areas have I shown remorse but not changed ? In what ways have I wronged another person? What can I do to amend the wrong done? How can I show I am sorry without being hypocritical?
INVITATION/APPLICATION: The fruit of repentance is non-negotiable for the believer. Anyone who claims he is a believer must bear these fruits. Do not find excuses for making wrongs neither should you justify whatever
you have done wrong. Always let the Holy Spirit minister to you. Give attention to His voice whenever He points your attention to what you have done wrong. Let Godly sorrow have its way in you. This will lead to brokenness, then you will end up acknowledging the sin, in turn, you will
apologize and stop doing it.
CONCLUSION: What the fruit of repentance does for you essentially is that, it helps you have a clear conscience towards God. Many people worship God out of condemnation and fear because of what they have done wrong but God beckons on whosoever does any wrong to come back to Him and be restored (Isaiah 55:1-2). Repentance leads to the salvation of your soul
from condemnation. Always remember that God loves you no matter what.
ACTIVITY:
i. What is God saying in the text?
ii. How can I apply this to my life?
MY PRAYER POINT FOR THE LESSON:
Father, I am sorry for any area I had offended you.
Subscribe to Blog via Email
RCCG TEENS TEACHER'S MANUAL SUNDAY 20TH OF DECEMBER, 2020