Subscribe to Blog via Email
RCCG JUNIOR ZEAL (AGE 4-5) TEACHER'S MANUAL SUNDAY 17TH OF JANUARY 2021
SUNDAY 17TH OF JANUARY, 2021 LESSON TWENTY (20)  TOPIC: PRAISE GOD ALWAYS
MEMORY VERSE: Psalm 34:1: I will bless the name of the Lord at all times His praises shall continually in my mouth.
LESSON AIM: If Jesus is your Saviour, God wants you to praise Him in any situation.
CHILD RELATED TRUTH: Let your life be a life of consistence praise to God in all situations.
INTRODUCTION:
John 4:24:-Jesus while speaking to the Samaritan woman, He told her that God is seeking for true worshippers who will worship Him in spirit and in truth. God wants you to worship Him at all times, when happy and when sad.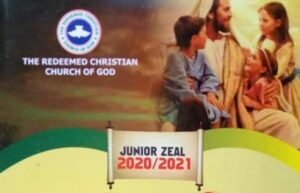 PROGRESSION OF EVENTS
A. Paul and Silas went to Philip to preach the good news about Jesus Christ, a little girl was a fortune teller followed them vs. 16-17
B. She tormented them as she followed them day by day, then Paul command in the name of Jesus that the evil spirit to come out of her, and instantly the spirit left her and she became normal vs. 18
C. Her master who makes money from her actually was angry and dragged Paul and Silas to the authorities. The whole city uproar and accused them of teaching customs that are illegal to their Romans practice vs. 19-21
D. They are stripped naked and beaten, wounded and imprisoned vs. 23
E. At midnight in the prison Paul and Silas started to praise God, instead of crying, cursing, and complaining, they started praising God in spite of their situation, even with bleeding wound that was hurting vs. 25.
F. God responds to praises, as Paul and Silas sang praises at midnight while other prisoners were sleeping there was a sudden earthquake and everywhere was shaking. Their chains fell off their hand and feet. God moved in a powerful way to respond to their praises. It was wonderful! God can respond to your praises,
so praise Him always. The jailer who was asleep woke up suddenly to see what happened, trembling, before Paul and Silas, he asked "sir what must I do to be saved? vs. 26-28
CLIMAX: They replied believe in the Lord Jesus Christ and you will be saved, you and your household vs. 31-34. RCCG JUNIOR ZEAL (AGE 4-5) TEACHER'S MANUAL SUNDAY 17TH OF JANUARY 2021
Open Heavens Daily Devotional
guide was written by
Pastor E.A. Adeboye
, the General Overseer of the Redeemed Christian Church of God, one of the largest evangelical church in the world and also the President of Christ the Redeemer's Ministries.
The Open Heavens devotional
application is available across all mobile platforms and operating systems: iOS, Android, Blackberry, Nokia, Windows Mobile and PC.
CONCLUSION: The jailers took care of Paul and Silas wound, took them to his house, served them a meal. He was filled with joy because he and his household have believed in Jesus.
CHALLENGE: If Jesus is your Saviour, God wants you to praise and worship Him in any circumstances, whatever comes your way. When happy or sad, always praise God.
INVITATION: Before you can praise, you must have God in your life. RCCG JUNIOR ZEAL (AGE 4-5) TEACHER'S MANUAL SUNDAY 17TH OF JANUARY 2021
DAILY DEVOTIONAL:
SUNDAY: LUKE 8:37-39
MONDAY: LUKE 8:40-42
TUESDAY: LUKE 8:43-45
WEDNESDAY: LUKE 8:46-48
THURSDAY: LUKE 8:49-51
FRIDAY: LUKE 8:52-54
SATURDAY: LUKE 8:55-56