RCCG JUNIOR ZEAL (AGE 4-5) TEACHER'S MANUAL SUNDAY 3RD OF JANUARY 2021 LESSON EIGHTEEN (18)
TOPIC: BE HIS DISCIPLE BIBLE TEXT: Matthew 4:8
Again, the devil took him to a very high mountain and showed him all the kingdoms of the world and their splendor.
MEMORY VERSE: John 13:35: By this shall men know, that ye are my disciple, if ye have loved one to another.
LESSON AIM: To be a disciple is to be a follower.
CHILD RELATED TRUTH: Walk in Jesus steps.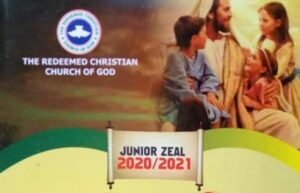 INTRODUCTION:
The Bible says in Romans 10:17 that so faith cometh by hearing and hearing by the word of God.
All boys and girls that want to be Jesus' disciples must learn the word of God every day,
obey God's word and live like Him every day of their lives.
PROGRESSION OF EVENTS.
A. And Jesus walking by the sea of Galilee, saw two brothers, Simon called Peter and Andrew his brother, casting a net into the sea for they were fisherman.
B. Then He said to them. "Follow me and I will make you fishers of men."
The way Jesus asked those two brothers to follow him so He can make them fishers of men, because He loves them and wants to make something good out of their lives. The same way God loves you and wants to make you good and useful. God creates and He loves you, He also knows what is best for you. You can only be what God wants you to be, if you follow Him. How do you follow Jesus? By obeying the word of God and doing His will,
walking in His ways.
C. They immediately left their nets and followed Him. They obeyed immediately as Jesus spoke to them. Today Jesus is calling you to
follow Him. Will you obey immediately like Peter and Andrew?
CLIMAX: Going on from there He saw other two brothers James the son Zebedee with their father mending their nets. He called them.
CONCLUSION: RCCG JUNIOR ZEAL (AGE 4-5) TEACHER'S MANUAL SUNDAY 3RD OF JANUARY 2021 LESSON EIGHTEEN (18)
And immediately they left the boat and their father and followed Him.
CHALLENGE: If you are a child of God and want to be a disciple, God wants you to hear and obey Him every day of your life. There are so many things out there that can hinder you from hearing and following Jesus such as computer games, toys, television, bad friends, food etc. They are good but do not love them than Jesus. Remember Peter, Andrew left their boat, James and John left their boat and father to follow Jesus as soon as they heard His voice, John 10:27-28 says "My sheep hears my voice and I
know them, and they follow me: and I give unto them eternal life, and they shall never perish, neither shall any man pluck them out of my hand.
As Jesus disciples, He wants you to follow closely so that you can hear his voice clearly. To follow Jesus closely, you need to read or hear the word of God every day.
INVITATION: Only those who have received Jesus as their Lord and Savior can become the disciples, Receive Him today as your saviour from sin. Acts 16:31a. RCCG JUNIOR ZEAL (AGE 4-5) TEACHER'S MANUAL SUNDAY 3RD OF JANUARY 2021 LESSON EIGHTEEN (18)
DAILY DEVOTIONAL:
SUNDAY: LUKE 8:4-6
MONDAY: LUKE 8:7-9
TUESDAY: LUKE 8:10-12
WEDNESDAY: LUKE 8:13-15
THURSDAY: LUKE 8:16-18
FRIDAY: LUKE 8:19-21
SATURDAY: LUKE 8:22-24
RCCG JUNIOR ZEAL (AGE 4-5) TEACHER'S MANUAL SUNDAY 3RD OF JANUARY 2021 LESSON EIGHTEEN (18)
Subscribe to Blog via Email