RCCG JUNIOR ZEAL (AGE 6-8) TEACHER'S MANUAL 3RD OF JANUARY 2021 LESSON EIGHTEEN (18)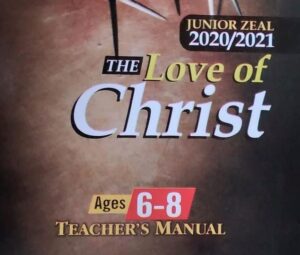 TOPIC: BE HIS DISCIPLE
BIBLE TEXT: Matthew 4:12-23
12 When Jesus heard that John had been put in prison, he returned to Galilee.
13 Leaving Nazareth, he went and lived in Capernaum, which was by the lake in the area of Zebulun and Naphtali—
14 to fulfill what was said through the prophet Isaiah:
15 "Land of Zebulun and land of Naphtali, the way to the sea, along the Jordan, Galilee of the Gentiles—
16 the people living in darkness have seen a great light; on those living in the land of the shadow of death a light has dawned."
17 From that time on Jesus began to preach, "Repent, for the kingdom of heaven is near."
18 As Jesus was walking beside the Sea of Galilee, he saw two brothers, Simon called Peter and his brother Andrew. They were casting a net into the lake, for they were fishermen.
19 "Come, follow me," Jesus said, "and I will make you fishers of men."
20 At once they left their nets and followed him.
21 Going on from there, he saw two other brothers, James son of Zebedee and his brother John. They were in a boat with their father Zebedee, preparing their nets. Jesus called them,
22 and immediately they left the boat and their father and followed him.
23 Jesus went throughout Galilee, teaching in their synagogues, preaching the good news of the kingdom, and healing every disease and sickness among the people. RCCG JUNIOR ZEAL (AGE 6-8) TEACHER'S MANUAL 3RD OF JANUARY 2021 LESSON EIGHTEEN (18)
MEMORY VERSE: LUKE 9:23
"And he said to them all, If any man will come after me, let him deny himself, and take up his cross daily, and
follow me.
LESSON AIM: The children will know that they will do whatever it takes to follow Jesus.
CHILD RELATED TRUTH:God wants you to follow Jesus.
INTRODUCTION: Children! Have you ever been fishing before? Have you ever seen fishing boats and fishing nets and hooks before?
Explain that these things help us catch fish if we want to. Well, what if we catch people? Does that make sense? Do you think we can fish for RCCG JUNIOR ZEAL (AGE 6-8) TEACHER'S MANUAL 3RD OF JANUARY 2021 LESSON EIGHTEEN (18)
people? Do we catch them on hooks or in nets?
A long time ago, Jesus invited His first disciples to be fishers of people, and He wants us to do the same thing. In today's story, we are going to see those first disciples called to follow Jesus, and learn how we can follow, too.
PROGRESSION OF EVENTS: MATTHEW 4:13-22
1. When Jesus heard that John had been arrested, He withdrew into Galilee.
2. Jesus left Nazareth and moved to Capernaum by the sea, so that prophecy might be fulfilled.
3. Jesus began to preach telling them to repent for the kingdom of heaven is at hand.
GOSPEL CONNECTION: To repent means that you are sorry for doing wrong and you want to stop doing them. Jesus came into the world to seek and save those who do the wrong things. The bible tells us in John 3:16 that the love of God is much and did not want you to die and go to hell in our doing the wrong things that He sent
His Son Jesus to take the punishment for them so that we can be saved.
4. Jesus walking by the sea of Galilee saw two brothers Andrew and Peter casting a net into the sea because they were fishermen.
5. Jesus told them to follow Him and He will make them fisher of men
6. Going from there, Jesus saw two brothers, James and John in the ship of their Father Zebedee mending their nets.
CLIMAX: Jesus called them and immediately they left the boat and their father and followed Him.
CONCLUSION:  RCCG JUNIOR ZEAL (AGE 6-8) TEACHER'S MANUAL 3RD OF JANUARY, 2021 LESSON EIGHTEEN (18)
Jesus needed helpers so He asked Peter and Andrew and their friends James and John to be His helpers. Now, instead of trying to catch fish in a net, He would try to gather people and teach them about the kingdom of God.
CHALLENGE: Jesus chose His disciples not because they were more intelligent, gifted, or prosperous than others but because they had willing hearts to follow Him and serve. Service is not about what we can do from our own strength but what God can do when we are humble and submit to His will. God still wants us to follow Him, and we can still be disciples
(followers) of Jesus. This means praying and reading our Bibles so that we can understand what He says. It means living our lives in ways that are pleasing and honoring to Jesus, rather than selfishly or with mean intent toward others. Following Jesus means that we want to love other people and serve them, just like we love and serve Christ. He cares about our desire to serve Him! Do you have the desire to serve God?" Let God humble your hearts as you serve Him by giving you the opportunity to tell others about Jesus this week. RCCG JUNIOR ZEAL (AGE 6-8) TEACHER'S MANUAL 3RD OF JANUARY 2021 LESSON EIGHTEEN (18)
INVITATION: To be a disciple of Jesus, you need to believe Him as Lord and Savior (Acts 16:31)
DAILY DEVOTION:
SUNDAY: LUKE 14:15-24
MONDAY: LUKE 14:25-30
TUESDAY: LUKE 14:31-35
WEDNESDAY: LUKE 15:1-7
THURSDAY: LUKE 15:8-10
FRIDAY: LUKE 15:11-15
SATURDAY: LUKE 15:16-24
RCCG JUNIOR ZEAL (AGE 6-8) TEACHER'S MANUAL 3RD OF JANUARY 2021 LESSON EIGHTEEN (18)
Subscribe to Blog via Email