RCCG JUNIOR ZEAL (AGE 6-8) TEACHER'S MANUAL SUNDAY 9TH OF MAY, 2021
LESSON THIRTY-SIX (36)
TOPIC: WATER BAPTISM AND HOLY SPIRIT BAPTISM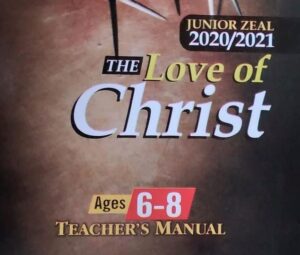 BIBLE TEXT: Acts 2: 37-40
37. Now when they heard this, they were pricked in their heart, and said unto Peter and to the rest of the apostles, Men and brethren, what shall we do?
38. Then Peter said unto them, Repent, and be baptized every one of you in the name of Jesus Christ for the remission of sins, and ye shall receive the gift of the Holy Ghost.
39. For the promise is unto you, and to your children, and to all that are afar off, even as many as the Lord our God shall call.
40. And with many other words did he testify and exhort, saying, Save yourselves from this untoward generation.
MEMORY VERSE: Matthew 3:11
11. I indeed baptize you with water unto repentance: but he that cometh after me is mightier than I, whose shoes I am not worthy to bear: he shall baptize you with the Holy Ghost, and with fire:
LESSON AIM: The children will know that baptizing is a symbol of turning away from sin.
CHILD RELATED TRUTH: God wants you to be baptized.
INTRODUCTION: Have you ever heard of Baptism? The water Kind? But did you know that there is another? One that God perfectly designed. You may have been baptized by water. We are cleansed by that water. Just as Jesus cleansed our heart. There is still another Baptism, one that you can't see. The Baptism of the Holy Spirit, which lives in you and me. When Jesus went back to heaven, the Holy Spirit came to be our guide. He lives inside you always, to help you leave sin behind. Both Baptisms are important, one on the outside and one within. But they mean you love Jesus and will be with Him in the end.
PROGRESSION OF EVENTS:
1. When the crowd heard Peter teach about Jesus death, burial and resurrection there was a response, they were convicted.
GOSPEL CONNECTION:
There will always be a response when the good news of Jesus is shared. Either the person will respond by believing in Jesus or by rejecting Jesus. It is God's love for you that prompted him to send his son Jesus to die on the cross for your sins, He was buried and rose again on the third day. Then it is the Holy Spirit that will convict your heart to respond and accept him as your Lord and Savior.
2. Peter told them to change their hearts and lives and be baptized in the name of Jesus.
3. then God will forgive them their sins and after that,
4. they will receive the gift of the Holy Spirit.
CLIMAX: They that received the word were baptized.
CONCLUSION: The promise of the Holy Spirit is for everyone the Lord calls to Himself .
CHALLENGE: When you see someone baptized, it is a sign that tells people we believe in Jesus and trust in Him to forgive all of our sins. It shows people our hearts have been washed clean and we are ready to live a new life in obedience to God. Being baptized is also a way we obey God, just like Jesus did. Baptism is very important and a very special event. God wants us to know too that Jesus was not just an ordinary man, he is His son. Jesus died and rose again and lives in heaven. The Holy Spirit now lives in you and you can pray to God whenever you want.
INVITATION: Let Jesus save you now as you believe in Him. (Acts 16:31).
DAILY DEVOTION:
Subscribe to Blog via Email
SUNDAY: Acts 7:31-36
MONDAY: Acts 7:37-41
TUESDAY: Acts 7:42-43
WEDNESDAY: Acts 7:44-50
THURSDAY: Acts 7:51-53
FRIDAY: Acts 7:54-60
SATURDAY: Acts 8:1-8