RCCG JUNIOR ZEAL (AGES 6-8) TEACHER'S MANUAL SUNDAY 23RD OF JANUARY, 2022 LESSON TWENTY ONE (21)
TOPIC: ATTRACTING GOD'S BLESSINGS (THE DILIGENT)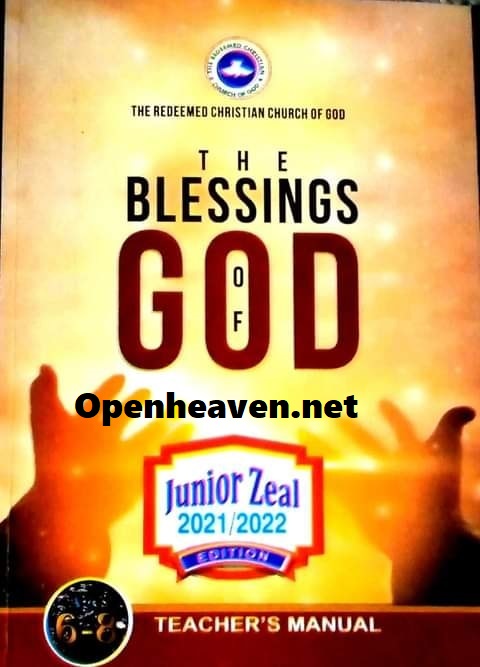 BIBLE TEXT: Ruth 1:1-2:13, 4:1-10
Ruth 1:1-2,13
[1]Now it came to pass in the days when the judges ruled, that there was a famine in the land. And a certain man of Bethlehemjudah went to sojourn in the country of Moab, he, and his wife, and his two sons.
[2]And the name of the man was Elimelech, and the name of his wife Naomi, and the name of his two sons Mahlon and Chilion, Ephrathites of Bethlehemjudah. And they came into the country of Moab, and continued there.
[13]Would ye tarry for them till they were grown? would ye stay for them from having husbands? nay, my daughters; for it grieveth me much for your sakes that the hand of the LORD is gone out against me.
Ruth 4:1-10
[1]Then went Boaz up to the gate, and sat him down there: and, behold, the kinsman of whom Boaz spake came by; unto whom he said, Ho, such a one! turn aside, sit down here. And he turned aside, and sat down.
[2]And he took ten men of the elders of the city, and said, Sit ye down here. And they sat down.
[3]And he said unto the kinsman, Naomi, that is come again out of the country of Moab, selleth a parcel of land, which was our brother Elimelech's:
[4]And I thought to advertise thee, saying, Buy it before the inhabitants, and before the elders of my people. If thou wilt redeem it, redeem it: but if thou wilt not redeem it, then tell me, that I may know: for there is none to redeem it beside thee; and I am after thee. And he said, I will redeem it.
[5]Then said Boaz, What day thou buyest the field of the hand of Naomi, thou must buy it also of Ruth the Moabitess, the wife of the dead, to raise up the name of the dead upon his inheritance.
[6]And the kinsman said, I cannot redeem it for myself, lest I mar mine own inheritance: redeem thou my right to thyself; for I cannot redeem it.
[7]Now this was the manner in former time in Israel concerning redeeming and concerning changing, for to confirm all things; a man plucked off his shoe, and gave it to his neighbour: and this was a testimony in Israel.
[8]Therefore the kinsman said unto Boaz, Buy it for thee. So he drew off his shoe.
[9]And Boaz said unto the elders, and unto all the people, Ye are witnesses this day, that I have bought all that was Elimelech's, and all that was Chilion's and Mahlon's, of the hand of Naomi.
[10]Moreover Ruth the Moabitess, the wife of Mahlon, have I purchased to be my wife, to raise up the name of the dead upon his inheritance, that the name of the dead be not cut off from among his brethren, and from the gate of his place: ye are witnesses this day.
MEMORY VERSE: Deuteronomy 6:17 "Ye shall diligently keep the commandments of the Lord your God, and His testimonies, and His statutes, which He hath commanded thee."
LESSON AIM: The children will learn to be diligent in all things by putting their trust in the Lord.
CHILD-RELATED TRUTH: God blesses the diligent.
INTRODUCTION: RCCG JUNIOR ZEAL (AGES 6-8) TEACHER'S MANUAL SUNDAY 2022
Before the class, write the names of various groups of people on the chalk/whiteboard or a cardboard paper: sick, poor, homeless, widows, orphans, mentally ill, physically handicapped lonely, separated from families, etc. Help the children brainstorm needs that each of these groups might have. Then discuss how these needs can be met. Talk about the time, money, etc. involved. "In today's story, we are going to learn about a young woman who helped her mother-in-law. It was not easy to help but she did it anyway.
PROGRESSiON OF EVENTS: Ruth 1:1-2:13, 4:1-10
1. To escape the famine, Elimelech moved his wife, Naomi, and two sons, Mahlon and Kilion, to the country of Moab.
2. During the family's ten-year stay in Moab, Elimelech died.
3. The two sons chose Moabite wives, Orpah, and Ruth. Their marriages were short, however, because both sons, Mahlon and
Kilion, also died.
4. At this time Naomi learned that the famine in Bethlehem was over, and she decided to return to her native land.
5. Orpah took Naomi's advice and returned home. Ruth, however, demonstrated her devotion to Naomi in a beautiful declaration of love of going to wherever Naomi went.
6. Naomi and Ruth made quite an impression when they arrived in Bethlehem.
7. Ruth worked in the fields of a man named Boaz.
8. Every day Ruth came home with lots of grain and Naomi was very happy that Ruth took good care of her. Ruth was happy too and knew she had done the right thing by choosing to help Naomi.
9. Boaz was so impressed with the way Ruth took care of Naomi that he offered Ruth the same protection that he gave to members of his household.
GOSPEL CONNECTION: God loves and offers you and me protections. God sent His Son Jesus to earth to offer us protection from dying for our sins. Jesus took the punishment for our sins so that we will not be separated from God but have the gift of life through Him (Romans 6:23).
CLIMAX: Naomi recognized Boaz as a relative of hers, she could see that Boaz would be a good husband for Ruth. Acting as a kinsman-redeemer, Boaz acquired the property that had belonged to Elimelech and his two sons (Ruth 4:9-10) In addition, he acquired Ruth to be his wife.
CONCLUSION: The marriage was blessed with the birth of a son, Obed.
Obed grew up to become the father of Jesse and the grand father of David.
CHALLENGE: God wants you to be diligent in all that you do if you already know Jesus as Lord and Saviour. Wherever you go, let others see Christ in you by your actions.
INVITATION: You need Jesus to help you to be diligent, Call on Him today as Lord and Saviour.
DAILY DEvOTION:
SUNDAY – GENESIS 28:7-11
MONDAY – GENESIS 28:12-17
TUESDAY – GENESIS 28:18-22
WEDNESDAY – GENESIS 29:1-6
THURSDAY – GENESIS 29:7-13
FRIDAY – GENESIS 29:14-20
SATURDAY – GENESIS 29.21-26