RCCG SUNDAY SCHOOL STUDENT'S MANUAL LESSON 20 17TH JANUARY 2021
SUNDAY 17TH JANUARY 2021 TOPIC: THE FEAR OF THE LORD
SUNDAY SCHOOL HYMN
1. O Sunday School, on the Lord's day,
O how I love Thee well,
I am happy, it makes me glad
To rejoice at Thy birth.
2. O Sunday School, on the Lord's day,
Thy friend friendship suits me well,
Both young and will sing Thy song,
We long for Sunday School.
3. O Sunday School, on the Lord's day,
Christ was Thy first teacher,
The Holy Spirit, great teacher,
Does manifest in thee.
4. O Sunday School, on the Lord's day,
This testimony is sure,
That God, the Father Almighty,
Poured His blessing on Thee
5. O Sunday School, on the Lord's day,
Though the sun be so bright,
Or if the clouds be black with rain,
I'll be in Sunday School.
6. O Sunday School, on the Lord's day,
I rejoice to see Thee,
Will thou pass over me today?
Without my being blest?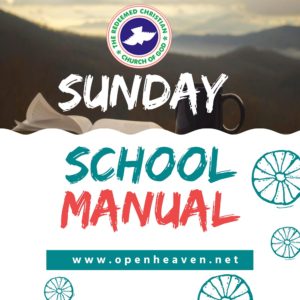 MEMORY VERSE: "The fear of the lord is the beginning of knowledge: but fools despise wisdom and instruction". — Proverbs 1:7.
BIBLE PASSAGE: Psalm 111:4-10
Psalm:111.4
He has made His wonderful works to be remembered; The LORD [is] gracious and full of compassion.
Psalm:111.5
He has given food to those who fear Him; He will ever be mindful of His covenant.
Psalm:111.6
He has declared to His people the power of His works, In giving them the heritage of the nations.
Psalm:111.7
The works of His hands [are] verity and justice; All His precepts [are] sure.
Psalm:111.8
They stand fast forever and ever, [And are] done in truth and uprightness.
Psalm:111.9
He has sent redemption to His people; He has commanded His covenant forever: Holy and awesome [is] His name.
Psalm:111.10
The fear of the LORD [is] the beginning of wisdom; A good understanding have all those who do [His commandments.] His praise endures forever.
INTRODUCTION
The fear of the Lord is a reverential trust of God coupled with a hatred of evil. It is also an inward attitude of humble reverence toward God, in light of His self-revelation, that result in outward expression of Christ's likeness. You cannot serve God or keep His Commandments if His fear is not in you (Deut. 6:13; Eccl. 12:13; Prov. 8:13). However, believers should not be scared of God but see the fear of God has respecting, obeying, submitting to His discipline and Worshiping Him in awe.
LESSON OUTLINES
1. WHY IS IT NESSECERY TO FEAR GOD?
2. WHAT ARE THE BENEFITS OF HAVING THE FEAR OF GOD?
WHY IS IT NESSECERY TO FEAR GOD?
We are commanded to fear God (Psalm 33:8) because God's holiness (Revelation 15:4) Greatness (2Kings 17:36), goodness (1Sam. 12:24) and his forgiveness without which we would all have ended up in hell (Psalm 130:4).
The fear of the Lord is also nessecery for worship (Psalm 5:7); in service (Heb. 12:28); to keep us from sin (Exodus 20:20); for administration of justice (2Chronicles 19:6-9); for good convenance (2Sam. 23:3); for the perfecting of holiness in our Christian live (2Cor. 7:1); because of coming judgement against which there is no appeal (Rev. 14:7). RCCG SUNDAY SCHOOL STUDENT'S MANUAL LESSON 20 17TH JANUARY 2021
WHAT ARE THE BENEFITS OF HAVING THE FEAR OF GOD?
The fear of God brings pleasure to the Lord which in turn brings blessings to man (Psalm 147:11; 112:1). It gives deep knowledge and wisdom (Prov. 1:7; Ps. 111:10). It is a unique weapon against sin (Prov. 8:13). It brings protection for believers and their loved ones (Prov. 14:26). If you fear the Lord, His pity will increase upon you (Ps. 103:13). It makes a man acceptable to God (Acts 10:35). It brings down His mercy (Ps. 103:17). It bring long life (Prov 10:27; 14:27). It brings answer to prayers (Ps. 145:19). It brings separation from evil (Prov. 16:6). It brings confidence (Prov 14:26). It Guarantees true riches, honour and life (Prov. 22:4).
CONCLUSION
Fear the Lord God Almighty
QUESTIONS
1. Why should you fear the Lord?
2. What are some of the outcomes of fearing the Lord?
Subscribe to Blog via Email
RCCG SUNDAY SCHOOL STUDENT'S MANUAL LESSON 20 17TH JANUARY 2021