RCCG JUNIOR ZEAL LESSON 22 (AGES: 9-12) TEACHER'S MANUAL SUNDAY 31 OF JANUARY, 2021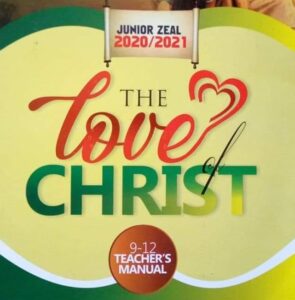 TOPIC: GROW IN THE KNOWLEDGE OF GOD
MEMORY VERSE: 1 Peter 2.2 "As newborn babes, desire the sincere milk of the word, that ye may grow thereby."
BIBLE TEXT: 2 Peter 3.18
But grow in grace, and in the knowledge of our Lord and Saviour Jesus Christ. To Him be glory both now and for ever. Amen.
LESSON AIM: To let children have a deep knowledge of God.
CENTRAL TRUTH: The knowledge of God keeps from sin.
INTRODUCTION: The Word of God was written by holy men of God who were inspired by the Holy Spirit. Apostle Peter has sent a note of warning so that we will not fall victim of false teachers. The way out is for us to grow in the knowledge of God, by having a deep knowledge of the scriptures. Growth implies an increase in size and amount. It also means to become better improved at something, to become more developed and mature. Growth in the knowledge of God is so important and mandatory in the life of every child of God because it brings us to a level of maturity with God (Hebrews 5:14).
STUDY GUIDE:
A: HOW TO GROW IN THE KNOWLEDGE OF GOD:
1 Seek the truth. John 17:3, Proverbs 23:23
2 Ask help from the Holy Spirit (divine power). Acts 1:8
3 Be humble and godly. Matthew 18:4, James 4:10
4 Be holy and faithful. 1 Timothy 2:8, Luke 12:42
5 Have a close relationship with God. Amos 3:7
6 Study and meditate on God's word. 2 Timothy 2:15
7 Have a teachable spirit. 1 John 2:27
8 Be patient. Proverbs 1:1-4
9 Wait upon the Lord. Habakkuk 2:3
10 Fear God. Proverbs 1:7
11 Have fellowship with other believers. Hebrews 10:25
12 Share the word of God with your neighbours.
B: BENEFITS OF GROWING IN THE KNOWLEDGE OF GOD:
1 Protection from God.
2 Partners with Christ. 2 Chronicles 5:17
3 The knowledge of God keeps us from sin. Proverbs 119:11, Isaiah 1:3
4 God gives us kindness, justice and righteousness. Jeremiah 9:23-24
5 We will not fall victim of false teachers. Ephesians 4:14
6 It helps us to escape the pollution of the world. 2 Peter 2:20a
7 It makes one to be strong in the Lord. Daniel 11:32b
C: OTHER AREAS OF GROWTH:
1 In the study of God's word.
2 In prayers and supplication.
3 In praise and worship to God.
4 In submission to the will of God.
5 We must grow in wisdom.
6 We must grow in fellowship with other brethren.
7 We must grow in faith.
8 We must grow in our love for God and our neighbours.
9 We must grow in grace.
CONCLUSION: You have to be thirsty for the words of God daily in order to grow in the things of God.
INVITATION: Before you can grow properly you must be born again.
ACTIVITY: Learn a memory verse daily.
LIFE APPLICATION: You must cultivate the habit of meditating on the word of God daily. You, who has received Jesus as Saviour, God wants you to grow in the knowledge of Him by applying His word to your daily living. CCG JUNIOR ZEAL LESSON 22 (AGES: 9-12) TEACHER'S MANUAL SUNDAY 31 OF JANUARY, 2021
DAILY DEVOTIONAL:
1. SUNDAY: 2 Corinthians 13:11-14
2. MONDAY: 1 Thessalonians 1:1-10
3. TUESDAY: 1 Thessalonians 2:1-12
4. WEDNESDAY: 1 Thessalonians 2:13-20
5. THURSDAY: 1 Thessalonians 3:1-13
6. FRIDAY: 1 Thessalonians 4:1-8
7. SATURDAY: 1 Thessalonians 4:9-18
CCG JUNIOR ZEAL LESSON 22 (AGES: 9-12) TEACHER'S MANUAL SUNDAY 31 OF JANUARY, 2021