RCCG 2020/2021 ZEAL (AGE 13-19) TEENS TEACHER'S MANUAL SUNDAY 30TH OF MAY, 2021 LESSON THIRTY NINE (39)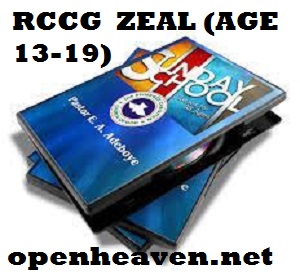 TOPIC: THIRD INTERACTIVE SESSION AND QUIZ
Please note the following:
•Make the interactive session interesting
•Ensure that the Teens participate by allowing them to contribute and stating what they have learnt as well as asking questions.
•Prepare your own questions and quiz that you will ask them based on the previous lessons.
•You may give gifts to those that perform well in the quiz.
•Create avenue for the Teens to give useful suggestions on how the Sunday School Class can be improved.
QUIZ 1: You should ask them the questions on these areas below and you can add to it;
•Ask the Teens to mention the lesson topics
•Test them on the Bible passages of each lesson
•Ask them to recite the memory verses
•You may ask questions from the Activity parts as well
•Ask them questions on the body of the lessons?
RCCG THIS WEEK
RCCG DIGGING DEEP MANUAL 701-800 BIBLE STUDY OUTLINE Volume 702
RCCG JUNIOR ZEAL (AGE 4-5) TEACHER'S MANUAL SUNDAY 30TH OF MAY, 2021 LESSON THIRTY-NINE (39)
RCCG JUNIOR ZEAL (AGE 6-8) TEACHER'S MANUAL SUNDAY 30TH OF MAY 2021 LESSON THIRTY-NINE (39)
RCCG JUNIOR ZEAL (AGES: 9-12) TEACHER'S MANUAL SUNDAY 30TH OF MAY 2021 LESSON THIRTY-NINE (39)
RCCG SUNDAY SCHOOL STUDENTS MANUAL YAYA)THIRD QUARTER REVIEW ( SUMMARY OF LESSONS 27-38)
RCCG 2020/2021 ZEAL (AGE 13-19) TEENS TEACHER'S MANUAL SUNDAY 30TH OF MAY 2021 LESSON 39
RCCG HOUSE FELLOWSHIP MEMBERS and LEADERS MANUAL May 30th 2021
Subscribe to Blog via Email
RCCG SUNDAY SCHOOL STUDENTS MANUAL 30TH MAY 2021 YOUTHS (YAYA) LESSON 39
RCCG SUNDAY SCHOOL TEACHER'S MANUAL THIRD QUARTER REVIEW: (SUMMARY OF LESSONS 27-38)