RCCG SUNDAY SCHOOL STUDENTS MANUAL MAIDEN SPECIAL EDITION FOR YOUNG ADULTS AND YOUTHS (YAYA)
LESSON THIRTY-NINE SUNDAY 30TH MAY 2021
TOPIC: THIRD QUARTER REVIEW ( SUMMARY OF LESSONS 27-38)
LESSON TWENTY-SEVEN
TOPIC: LIFE SKILLS: GOAL SETTING
MEMORY VERSE: "The plans of the diligent lead surely to plenty, But those of everyone who is hasty, surely to poverty". — Proverbs 21:5 (NKJV)
BIBLE PASSAGE: GENESIS 41:33-38.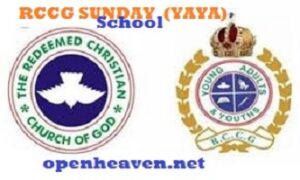 INTRODUCTION
Many people go through the journey of life aimlessly without a roadmap to help them navigate life (1Corinthians 9:26). Some others think that goal-setting is unspiritual because they believe that "people should wait for God to lead them. It is true that God neither wants us to forge ahead in pride without consulting Him for direction (James 4:13-15) nor does He want us to sit around without acting (Genesis 11:3). Consulting with God and setting goals show that you trust Him and believe that He is able to lead you while you are moving forward (Proverbs 16:9; Psalm 20:4).
LESSON OUTLINES
1. PRINCIPLES AND AREAS OF GOAL SETTING
2. STEPS AND ADVANTAGES TO GOAL SETTING
PRINCIPLES AND AREAS OF GOAL SETTING
A goal is a desirable outcome that someone carefully decides on, commits to, and plans to attain while, goal-setting is the process of deciding what you want to accomplish and devising a plan to achieve those desired results.
A useful way of actualising goals is to adopt the SMART acronym. While there are plenty of variants, SMART usually stands for:
S – Specific (Habakkuk 2:2-3).
M- Measurable (Luke 14:28).
A – Attainable (Proverbs 16:3).
R – Realistic (Proverbs 21:5).
•T – Time-bound (Ecclesiastes 3:17b).
Hence, your goals must be specific, measurable, attainable, and realistic and
time-bound as these aid the actualisation (Luke 14:28-30).
Areas where we can set goals include:
1. Career: Decide what level you want to reach in your career or what you want to achieve. (Proverbs 11:23; 23:18).
2. Financial: Set a goal on how much you want to earn. (Proverbs 21:5).
3. Education: Set academic goals in line with your career (Proverbs 2:3)
4. Family: What kind of relationship/partner do you want? What number of children do you want? How do you want to be seen by a partner or in-laws to be? (Proverbs 18:24; 2Corinthians 6:14).
5. Attitude: Do you have character defects or anything in your mindset holding you back? If so, set a goal to improve your behaviour or find a solution to the problem. (Matthew. 7:17-20).
6. Physical: Are there any physical fitness goals that you want to achieve, or do you want good health deep into old age? What steps are you going to take to achieve this? (1Timothy 4:8a)
7. Pleasure: How do you want to enjoy yourself after you have worked? What plans do you have for vacation? You should ensure that some of your life is for you (Ecclesiastes 5:18).
8. Public Service: Do you want to make the world a better place? If so, how? (Matthew 5:14).
STEPS AND ADVANTAGES TO GOAL SETTING
The first step in setting personal goals is to consider what you want to achieve in your lifetime or at least, by a significant and distant age in the future (Proverbs 16:9). As you do this, make sure that the goals that you have set are the ones that you genuinely want to achieve, not the ones that your parents, family, or employers might want (Proverbs 16:3). If you have a partner, you probably want to consider what he or she wants. However, make sure that you also remain true to yourself (Mark 12:31). Once you have set your lifetime goals, set a periodic plan. For example, a five-year plan of smaller goals that you need to complete if you are to reach your lifetime plan. Then create a one-year plan, six-month plan, and a one-month plan of progressively smaller goals that you should reach to achieve your lifetime goals (Psalm 37:23). Each of these should be based on the previous plan. Then create a daily 'to-do list' of things that you should do today to work towards your lifetime goals (Ecclesiastes 3:1). At an early stage, your smaller goals might be to read books and gather information on the achievement of your higher level goals. This will help you to improve the quality and the realism of your goal setting.
Finally, review your plans, commit them into God's hand and make sure that they fit into God's purpose and will for your life (Proverbs 3:5-6; 19:21).
A guiding example of personal goals could appear in this form:
Christianah has decided to think about what she really wants to do with her life. Her lifetime goals are as follows:
1. Career – "To be Managing Editor of the magazine that I work for."
2. Artistic – "To keep working on my illustration skills. Ultimately, I want to have my own show in our downtown gallery."
3. Physical -"To run a marathon."
Now that Christianah has listed her lifetime goals, she then breaks down each one into smaller and more manageable goals.
Let us take a closer look at how she might break down her lifetime career goal:-
becoming Managing Editor of her magazine:
1. Five-year goal: "Become Deputy Editor."
2. One-year goal: "Volunteer for projects that the current Managing Editors heading up.
3. Six-month goal: Get professionally certified.
4. One-month goal: "Talk to the current Managing Editor to determine what skills are needed to do the job."
5. One-week goal: "Book the meeting with the Managing Editor."
As you can see from this example, breaking big goals down into smaller and more manageable goals makes it far easier to see how the goal will get accomplished.
CONCLUSION
In order to fulfil destiny, set meaningful and achievable goals. Avoid navigating aimlessly in the corridor of life.
LESSON TWENTY-EIGHT
RCCG SUNDAY SCHOOL STUDENTS MANUAL 30TH MAY 2021 YOUTHS (YAYA) LESSON 39
RCCG THIS WEEK
RCCG DIGGING DEEP MANUAL 701-800 BIBLE STUDY OUTLINE Volume 702
RCCG JUNIOR ZEAL (AGE 4-5) TEACHER'S MANUAL SUNDAY 30TH OF MAY, 2021 LESSON THIRTY-NINE (39)
RCCG JUNIOR ZEAL (AGE 6-8) TEACHER'S MANUAL SUNDAY 30TH OF MAY 2021 LESSON THIRTY-NINE (39)
RCCG JUNIOR ZEAL (AGES: 9-12) TEACHER'S MANUAL SUNDAY 30TH OF MAY 2021 LESSON THIRTY-NINE (39)
RCCG SUNDAY SCHOOL STUDENTS MANUAL YAYA)THIRD QUARTER REVIEW ( SUMMARY OF LESSONS 27-38)
RCCG 2020/2021 ZEAL (AGE 13-19) TEENS TEACHER'S MANUAL SUNDAY 30TH OF MAY 2021 LESSON 39
RCCG HOUSE FELLOWSHIP MEMBERS and LEADERS MANUAL May 30th 2021
RCCG SUNDAY SCHOOL STUDENTS MANUAL 30TH MAY 2021 YOUTHS (YAYA) LESSON 39
RCCG SUNDAY SCHOOL TEACHER'S MANUAL THIRD QUARTER REVIEW: (SUMMARY OF LESSONS 27-38)
TOPIC: LIFE SKILLS: SELF-DEVELOPMENT
MEMORY VERSE: "Do you see a man who excels in his work? He will stand before kings ; He will not stand before unknown men". — Proverbs 22:29 (NKJV)
BIBLE PASSAGE: 1TIMOTHY 4:11-16
INTRODUCTION
Everyone of us would like to live out life to the fullest, and make the most of who we are and what we do. This is one of the main factors that encourages individuals to seek the path of self-development. Self-development is a process of consciously improving yourself in various aspects of your life. It is the conscious pursuit of personal growth by improving personal skills, competencies, talents and knowledge in order to seek self fulfilment and proactively reach your fullness potential (Proverbs 1:5).
LESSON OUTLINES
1. WHY SELF-DEVELOPMENT?
2. HOW TO DEVELOP YOURSELF
WHY SELF-DEVELOPMENT?
Self-development could be for professional advancement, personal advancement or spiritual enhancement (Daniel 9:2). Whatever your goals may be, it is a continuous process that helps you being in significant changes in your life. Here are some of the reasons youths should develop themselves.
1. For self-awareness. Youths can attend Self-development or life coaching classes to get to know themselves better. Knowing who you are gives you clarity on the purpose of your life (Proverbs 20:5).
2. To achieve maximum potential. Developing yourself involves improving the existing skills and learning the new ones to become a better person and achieve more than you can physically, mentally and spiritually (Proverbs 24:14; 1Thimothy 4:14-15).
3. To improve performance. Developing your abilities and qualities will help you to perform better intellectually, mentally, emotionally and spiritually, to achieve your goals in life (2Thimothy 2:15).
4. To improve social skills that allow them to lead a confident life (Proverbs 18:24).
Self-development is an ongoing process of self development in your career, education, personal life, spiritual growth and other areas of life.
HOW TO DEVELOP YOURSELF
1. Seek knowledge on what you want to improve on. Source for information related to what you need improvement on, e.g. audio and video materials, books etc (Eccl1:13).
2. Have a mentor/role model. It is helpful to be able to look to others for inspiration, motivation, or even just daily reminders of how you can continue moving forward on your journey (1King 19:19-21; 1Thimothy 1:1-2; 4:12-16).
3. Surround yourself with people of like minds. Spend time with people who are working on similar things as you, and you will find yourself growing with them at a faster rate than if you had tried to do it all alone (1Samuel 22:1-2; Proverbs 27:17).
4. Maintain self-discipline, stay honest with yourself and be intentional about your desired improvement (Proverbs 25:28; 2Corinthians 4:17).
5. Measure your progress. Reflect at the end of each day as it is a way to really know I'd you are moving in the right direction and when or where to pivot as you go along
6. Consistency is the key. Self-development happens slowly and deliberately. It should be a daily practise and lifestyle. Consistency is what creates a meaningful change (Daniel 6:10; 2Peterb1:10).
7. Embrace change. Your self-development plan needs to include how you are doing to change and what action you will take. Only action lead to results.
8. Be grateful and recognise your worth. Focus on what you already have. Think about how others benefit from what to do. If you improve yourself, those benefit will increase. Your personal development is for others, as well as for you (Psalm 100:4).
9. Follow your passion and pray along. It is not good doing things that you do not like. Choose actions that appeal to you and are in line with your values and pray as you work on them (Proverbs 3:5-6; 1Timothy 4:16).
10. Pray and follow the prompting of the holy spirit to be the best that God created you to be (Jeremiah 29:11; Deuteronomy 28:8-13).
CONCLUSION
Self-development can be a long path depending on where you are at present and where you what to be in the future. So, the sooner you start, the better it is.
LESSON TWENTY-NINE RCCG SUNDAY SCHOOL STUDENTS MANUAL 30TH MAY 2021 YOUTHS (YAYA) LESSON 39
TOPIC: SOCIAL ETIQUETTE
MEMORY VERSE: "Let all things be done decently and in order". — 1Corinthians 14:40 (NKJV)
BIBLE PASSAGE: TITUS 3:1-2
INTRODUCTION
Etiquette is the customary code (specific rules) of polite behaviour within a culture, society or professional group. It makes one behave in a socially responsible way distinct from animals. Etiquette is applicable to various fields of life: social, professional, business, spiritual, etc. When someone knows and follows respected rules for behaviour, we say that person has good etiquette or manners. The Bible equally advises us as believers to apply decency and orderliness in whatever we do (1Corinthians 14:40). Hence, it is necessary for youths to be guided in their dealings and interactions with others.
LESSON OUTLINES
1. THE NEED FOR ETIQUETTE
2. SOME SOCIAL ETIQUETTES
THE NEED FOR ETIQUETTE
People around us must not feel embarrassed by our behaviour. One should not behave irrationally or illogically in public. Without etiquette, members of society would show far too much impatience and disrespect for one another (1Peter 3:8). Etiquette makes you a cultured individual who leaves his mark wherever he goes. It teaches you the way to eat, talk, walk and most importantly behave in the society (Proverbs 23:1-2; Colossians 4:5-6; Titus 3:2). It is essential for an everlasting first impression (Philippians 4:5a). The way you interact with your superiors, parents, fellow workers, friends speak a lot about your personality and up-bringing (Proverbs 18:24). Etiquette enables the individuals to earn respect and appreciation in the society (Luke 6:31). It inculcate a feeling of trust and loyalty in the individuals. One becomes more responsible and mature. Etiquette helps individuals to value relationship (Proverbs 25:17). It is a way to remove social barriers and created connection with people who needs to hear the gospel. (1Corinthians 9:22; 10:31; 1Peter 3:15).
SOME SOCIAL ETIQUETTES
1. When invited to a social gathering, do not be in a haste to take the front seat until your host brings you up (Proverbs 25:6-7; Luke 14:7-11).
2. Do not call someone more than twice continuously on phone. If they do not pick up your call, presume they have something important to attend to.
3. Return money that you have borrowed even before the other person remembers asking for it. It shows your integrity and character. Same goes with umbrella, pen, etc. (psalm 37:21).
4. Always be modest. Be careful not to order the expensive dish on the menu when someone is giving you lunch/dinner. Do not use the opportunity to take undue advantage of your host. Also avoid taking friend along except on request (Proverbs 23:1-2).
5. If you take a taxi with a friend and he/she pays, try paying next time (Heb. 10:24).
6. Never comment negatively on someone's weight in the public (Psalm 139:14).
7. For ladies, avoid sitting carelessly. It is advisable to cross your legs at the ankle. For men, all you have to do is be a gentleman. Rudeness is never manly (Titus 3:2).
8. When someone shows you a photo on their phone, do not swipe left or right, you never know what is next.
9. If a colleague tells you they have a doctor's appointment, do not ask what for, just say 'hope you're okey?' Do not put them in uncomfortable position of having to say what they do not want to say.
10. Do not be 'a busy body' in other people's matter (1Peter 4:15; 1Thessalonians 4:11; 1Thimothy 5:13).
In addition, youtys should note that rushing for food or chairs in a large gathering, jumping queue in pupil places, flagrant disregard for decorum, driving against traffic or breaking traffic laws, littering the environment with waste, reckless slangs ('shit', 'fuck', etc.), lack of table manners and improper dressing of any kind should be avoided (2Corinthians 3:2; Debt. 22:5; 1Corinthians 10:31; Philippians 3: 16-18).
Lack of social etiquette could lead to insults, dishonesty, cheating, road rage, fist fight and many other unfortunate incidents.
CONCLUSION
Etiquette is more than fussy rules laid down by stuffy people. It is the oil that lubricates society and reduces the friction of interpersonal relationship. Bad manners and poor etiquette are distractions to the message we bear as Christians.
LESSON THIRTY
TOPIC: A PURPOSE-DRIVEN LIFE (PT1)
MEMORY VERSE: "Pilate therefore said to Him, " Are You a king then?" Jesus answered "You say rightly that I am a king. For this cause I was born, and for this cause I have come into the world, that I should bear witness to the truth. Everyone who is of the truth hears My voice". — John 18:37 (NKJV)
BIBLE PASSAGE: LUKE 4:17-22
INTRODUCTION
We see from the scriptures that our God is a God of purpose (Ephesians 1:11). He has a purpose for your life, right from when you were conceived in your mother's womb (Jeremiah 1:4-5). Therefore, a purpose-driven life is one that set out to identify and fulfil the purpose of existence. Ignorance of your purpose of existence can make you waste or under use Heaven's allocated resources. God allocates resources according to His mandate to individuals. Events, situations, circumstances, tests and trials come to you according to the purpose of your existence (Romans 8:28-29).
LESSON OUTLINES
1. DISCOVER YOUR PURPOSE IN LIFE
2. LIVE TO FULFIL IT
DISCOVER YOUR PURPOSE IN LIFE
Every creation of God is for purpose. The sun gives light and never ceases to shine (Psalm 139:7-9). The cloud gives rain in due season and trees provide food and shade accordingly (Leviticus 26:4). Other animals play their parts without hesitation. Amazingly, man struggles to understand and fulfil his purpose for living. Once you become a new creation in Christ (2Corinthians 5:17). You must begin to crave for the understanding of your purpose for living on earth (Philippians 3:12). That purpose has been predetermined by God before you were born (Jeremiah 1:5; Galatians 1:15). It is your duty to discover and fulfil it. Here are some practical pointers to your purpose for living:
1. Potential: You need to identify your in-built abilities, talents and God-given gifts (Ephesians 4:7). Find out the things you do with less stress e.g., singing, drawing talking to a crowd, helping others etc. The knowledge or skills you acquired in life should be to shape and sharpen your potentials (Acts 7:22).
2. Passion: What are those things you exceptionally have flare or zeal for, and do often? Build your vocation or career on such things. The things that get you excited and give you joy and satisfaction can lead you to fulfilment of your purpose in life (Psalm 69:9; Colossians 4:12-13).
3. Prayer: After you have identified your potential (s) and thing(s) you are passionate about, you need to pray for divine guidance and direction, so that the world and enemy will not hijack your potential in life (Acts 9: 1-2; 10:9-20).
LIVE TO FULFIL IT
These seven things will help every child of God fulfil purpose of life.
1. Ask God to reveal to you His plan for your life (Jeremiah 1:4-5). Then, draw a vision and mission statement (Proverbs 29:18; Habakkuk 2:2).
2. Set achievable goals and pursue them (Acts 20:24; Psalm 57:7). Take a step at a time, be consistent at what you do and do not be a mediocre (Psalm 37:23; Hebrews 6:1).
3. Identify and relate with people of like passion: learn from their mistakes and build on their success (2Kings 2:1-2,14).
4. Submit yourself for mentoring and counselling: do not claim to know it all (Acts 18:24-26; Proverbs 11:14; 15:22).
5. Live as if you have just one more day on earth: do not procrastinate (Luke 9:61). However, be patient to grow through the processes/stages to reach your goal in life.
6. Focus your attention on God (Hebrews 12:2). Make sure all that you do is to His pleasing (Colossians 1:10).
7. Always return all the glory to God: do not ascribe anything to yourself (Malachi 2:2; Daniel 4:30-34(. Remember you are a work-in-progress in God's hand (Jeremiah 18:1-6; Isaiah 45:9).
CONCLUSION
So many people live and die without leaving any positive mark. Be different. You are not nonentity.
LESSON THIRTY-ONE
TOPIC: A PURPOSE-DRIVEN LIFE (PT2)
MEMORY VERSE: "Rest in the LORD, and wait patiently for Him; Do not fret because of Him who prospers in his ways, Because of the man who brings wicked schemes to pass". — Psalm 37:7 (NKJV)
BIBLE PASSAGE: PHILIPPIANS 3:7-14
INTRODUCTION
Today, many people, especially youths has been misled by those who have possessions, wealth, fame, glamour etc. Regardless of the source or process (Psalm 37:1-2). There is a serious misconception about what life is and the purpose for living. Some youths model their lives after those referred to as celebrities, magnets, business moguls, etc who 'preach' that all that is about life is to make money. Youth must avoid these misconception, rediscover themselves, put their trust in God (Psalm 37:7) and enjoy the benefits of living a purpose driven life.
LESSON OUTLINES
1. MISCONCEPTIONS ABOUT THE PURPOSE FOR LIVING
2. BENEFITS OF LIVING A PURPOSE-DRIVEN LIFE
MISCONCEPTIONS ABOUT THE PURPOSE FOR LIVING
The view of many people in the world about the purpose for living contradicts God's plan for mankind. Man is naturally self-centered and wants to live for himself. The natural (unregenerated) man considers everything in possession and achievement (Luke 12:13-21). This includes his spouse, the children, land, houses, education, status, power, fame, titles, etc. (Matthew 6:31-32; 19:27-30). He can take advantage of people or even kill in order to possess these things (James 4:1-3). The Bible calls it the lust of the eyes, lust of the flesh and the pride of life ( 1John 2:15-17). Greed, corruption, wars and killings are all the ways of the natural man: all for selfish gains (1Timothy 6:10; Ecclesiastes 5:10).
This is why our Lord Jesus admonishes believers to be careful because a man's life doesn't the abundance of the things he possesses (Luke 12:15). Hence, youth should not be selfish in their drive to posses material things at the expense of God's plan or will for their lives ( Jeremiah 29:11). Life is not about a pursuance of wealth, fame, power, etc, rather, it is about keying into one's divine mandate and purpose for living (Romans 14:17; Matthew 6:33). Youth should avoid 'get-rich-quick' syndrome or inordinate affections for material possessions (Proverbs 13:11; Ecclesiastes 5:10). Only by restoring fellowship with God through faith in Jesus Christ can purpose in life be rediscovered (Ecclesiastes 12:12-13).
BENEFITS OF LIVING A PURPOSE-DRIVEN LIFE
Our purpose in life has God originally created man is to glorify God and enjoy fellowship with Him, have good fellowships with others, work and have dominion over the earth. The benefit of discovering or rediscover your purpose of living as a youth include the followings:
1. It gives meaning to your life. We were made to have meaning. Without God, life has no purpose and without purpose, life had no meaning. Without meaning, life has no significance or hope (Jeremiah 29:11; Ephesians 3:20).
2. It simplifies your life. It divines what you do and what you do not do. Your purpose becomes the standard you use to evaluate which activities are essential and which are not (Proverbs 13:7; Isaiah 26:3).
3. It keeps focused in life. It concentrate your efforts and energy on what is important. You become effective by being selective. Without a clear purpose, you will keep changing directions, jobs, relationships, churches etc (Ephesians 5:17). Apostle Paul almost single-handedly spread Christianity through the Romans Empire. His secret was a focused life ( Philippians 3:13, 15).
4. It motivates you. Purpose always produces passion and passion dissipates when you lack purpose. Nothing energises like a clear purpose (Philippians 3:10-12).
5. It prepares you for eternity. What ultimately matters most is what God says about you. A wise use of time is to build an eternal legacy because you are put here on earth to prepare for eternity (Romans 14:10b; Romans 4:12; Revelation 22:12).
CONCLUSION
A purpose-driven life is fulfilling your divine purpose of existence and to answer a fundamental question about life; why am I here on earth?
LESSON THIRTY-TWO
TOPIC: PREMARITAL COHABITATION
MEMORY VERSE: "But because of the temptation to sexual immorality, each man should have his own wife and each woman her own husband". — 1Corinthians 7:2 (NKJV)
BIBLE PASSAGE: 1CORINTHIANS 6:9-10, 18-20
INTRODUCTION
Cohabitation is not a modern trend. It dates back through most of history. In the Roman city of Corinth, sex outside of marriage was common, so much so that the converts to Christianity had written to apostle Paul about the problem. His reply is in 1Corinthians 7:1-3. Paul instructed that to avoid fornication, every man should have his wife and vice-versa. This menace is becoming rampant in our society today.
LESSON OUTLINES
1. MEANING AND REASONS
2. CONSEQUENCES AND REMEDIES
MEANING AND REASONS
By using the word" cohabitation " here, we are referring to the practice of a man and a woman living together and sharing the intimacy of sex, without being legally married. It entails using
'a husband and wife model' without being legally married (Hebrews 13;4). In some circles, especially among youths or young adults on campuses, it is erroneously called
'couples life'. There is also a new dimension of the opposite sex living in the same apartment ( sometimes due to job placement), having different rooms but sharing common facilities (sitting room, kitchen, bathroom e.t.c). They can be referred kitchensiaspora or away couples
People of the opposite sex cohabit for some reasons: financial struggles, test of compatibility, trial or experimental marriage, social or cultural practices, abuse of liberty, ignorance of the consequences, etc. Living together before or outside of marriage, for whatever reason is ungodly and should not be practiced or encouraged by believers ( Romans 1:21-22,32)
CONSEQUENCES AND REMEDIES
Premarital cohabitation primarily exposes the man and woman to self-imposed temptations, prominent among which is sexual immorality (Acts 15:20; Romans 13:14; 1Corinthians 5:1;6:13; Ephesians 5:3). There is also the problem of appearances: an unmarried couple, living together, is assumed to be having sexual intimacy. Even if that is not the case, the appearance of sin is there (1Thessalonians 5:22; Ephesians 5:3). They have put themselves in a compromising position where emotions and availabilities can combine for sinful effect. This can also cause others to stumble or be offended (1Corinthians 8:9;10:31-32). By living together, they would have created a bond so strong that it can only be severed with a 'heart-slicing knife', resulting in intense (sometimes lifelong) pain for both partner. Furthermore, should either partner later get married to somebody else, their spouse will experience the pain of knowing they are the 2nd/3rd/4th/5th person on their spouse's list of life-in partners. Premarital cohabitation sucks the novelty, joy and fantastic feeling out of the days, weeks, months and years following the 'big day'. Nothing is really new except 'the cloth and the jeweleries'. Therefore, it is dishonoring to God and a contamination of the temple of the Holy Spirit (a believer's body) for a man and a woman to live together before or outside of marriage (Hebrews 13:4; 1Corinthians 6:19). Premarital cohabitation reverses God's order (Genesis 2:24). Productive life-time would have been wasted with a person that one may not eventually get married to. Emotional trauma (as a result of rejection, depression, obsession etc) can also set in after an eventual breakup. Many destinies have been destroyed through cohabitation. Unplanned pregnancies and abortion usually accompany cohabitation. Loss of interest in marriage as well as hindrance to potential suitors is imminent. On the long run, there is a possibility of violence or untimely death.
In order to guide against the evil consequences of premarital cohabitation,we should be aware of our own tendencies toward sin. Rather than flirting with what could lead us into sin, we should take preventive measures to avoid sin (1Thessalonians 5:22). If you are already entangled in the act of premarital cohabitation, first, tell yourself the truth that you are wrong (1Corinthians 11:31-32) and repent whole heartedly (1John 1:8-9). Then, seek the attention of a Christian counselor (Proverbs 11:14). Break away from the act of cohabiting with the opposite sex (1Corinthians 6:18). Cry to God for the grace to live a life that is pleasing to Him and to have a good testimony before men (Acts 24:16,16; Colossians 1:10).
CONCLUSION
Premarital cohabitation contradicts God's idea of a union between a man and a woman. Hence, it is a sin that youths must guide against and repent of genuinely.
LESSON THIRTY-THREE
TOPIC: BEFORE YOU SAY'I DO'
MEMORY VERSE: "Test all things; hold fast what is good". — 1Thessalonians 5:21 (NKJV)
BIBLE PASSAGE: GENESIS 29:11-20
.
INTRODUCTION
The foundation of a godly marriage must be properly laid on sound moral and biblical principles. Before the exchange of vows, where the Christian brother and sister will say 'I Do', they should have passed through the phase of courtship and ensure that all things are done decently and in order (1Corinthians 14:40; Amos 3:3), The intending couple should also watch out for some 'red flags' before saying 'I do'.
LESSON OUTLINE
1. THE IMPORTANCE OF COURTSHIP
2. RED FLAGS TO WATCH OUT FOR
THE IMPORTANCE OF COURTSHIP
Christian courtship is that period before marriage when a Christian brother and sister make plans, relate and reach a compromise on so many issues pertaining to their future together. Courtship is very important and necessary for the intending couple to observe, during which proper biblical foundation must be laid in order to have a happy married life (1Thessalonians 5:21). One vital issue that must be addressed during this period is to obtain the consent of both parents (Genesis 24:54-59). Courtship is also a period to get to know each other intimately apart from carnal knowledge and illicit romance (1Corinthians 6:18-20; Romans 12:1-2). Intending couples can pray, study the Bible or attend Christian programmes together but avoid hanging out in secluded and tempting places (2Corinthians 2:11;1Thessalonians 5:22).
Discussion should cover their dreams, vision, purpose for living, plans, fears, health status/history and past relationships (if any). They should endeavour to discover each other's strengths and weaknesses, likes and dislikes, differences (upbringing/orientation, cultural background), etc.through observation and by asking questions. Intending couples should be open and sincere with each other in all aspects of their dealings (financial status, sources of income, etc). There should be no pretence or deception (stage management of character). It is also also expedient that you undertake marriage counselling lessons together during courtship (Proverbs 11:14).
RED FLAGS TO WATCH OUT FOR
There are a number of"red flags"to watch out for before entering a permanent marriage relationship. Unfortunately, these indicators may not be visible until after the wedding takes place, since some Christians are skilled at hiding their true nature or change with circumstances. However, a short list of things to look out for includes irrational jealousy, deception, the strive to be in control (dominate the other partner), psysical or emotional abuse/violence, a quick (hot) temper, cruelty towards animals, adherence to unscriptural traditional values, attempts to isolate the other person from his or her friends and family, a show of dislike for would-be in-laws, defiance to spiritual matters, drug or alcohol abuse, smoking, disrespect for boundaries, privacy/personal space or low moral values.
If you see any of these warning signs or other strange behaviours in a person you are entering a marriage relationship with, please pray and seek advice from your spiritual leader or marriage counsellor before you say 'I Do' (Mark 14:38; Proverbs 15:22; 19:20). Marriage should not be viewed as a 'do or die' affair. You have a destiny to fulfil (Jeremiah 29:11). You may consider the saying that ' a broken courtship is better than a Broken marriage' and make a wise/informed decision (Ecclesiastes 10:10; 1Corinthians 7:15b).
CONCLUSION
Watch and pray before you say 'I DO'
LESSON THIRTY-FOUR
TOPIC: BEWARE OF SEDUCTIONS
MEMORY VERSE: "It is good neither to eat meat nor drink wine nor do anything by which your brother stumbles or is offended or is made week" . — Romans 14:21 (NKJV)
BIBLE PASSAGE: PROVERBS 7:4-23
INTRODUCTION
Seduction is the process of deliberately enticing a person to engage in a relationship or to lead astray as from duty, morality and the like. Also, it could be an attempt to corrupt, persuade or induce into engaging in sexual behaviour that is as enticing someone to desire having sex with the other by doing things by doing this which makes sex appealing and desirable. There is also a relationship between sexual seduction and dressing, of which every Christian youth must beware
LESSON OUTLINE
1. SOME SEDUCTIVE TOOLS
2. DRESSING WITH CAUTION
SOME SEDUCTIVE TOOLS
It is an established fact that some things can trigger sexual desire especially among youths. David committed adultery because he saw the nakedness of Beersheba while she was bating (2Samuel 11:1-4). Sexual lust is induced when people who are promiscuous use nakedness to Lure careless ones to an unwholesome desires (Proverbs 7:10-13). This is the same as using pornographic films, magazines or dresses to display acts and images which make people sexually excited (Job 31:1). Some other tools that could be adopted for sexual seduction include fragrance, dance, body language, voice tone, etc (Proverbs 7:12-15). A true Christian must desist from all such things. (1Thessalonians 5:22). It is a terrible offence before God to desire to see other people's nakedness (Matthew 5:28). Only insane people walk the street naked without any feeling of shame because they're understanding is a darkened (Ephesians 4:18).
DRESSING WITH CAUTION
When the purpose of a thing is unknown, abuse is inevitable. God was forced to dress man when man was not 'well dressed' (Genesis 37: 21). The primary purpose of dress is to cover nakedness. Some dresses that are only good for bedroom some not the one on the streets. commercial sex workers and known with certain dressing style to boost their trade. Christian youths should not take to such forms of dressing in the name of modernization (Proverbs 7:10). This has led to the harassment of many youths there is a strong relationship between what we see and what we think (James 11:4). Therefore, your dressing must not induce unrighteous thoughts in orders (1Corinthians 14:40; Romans 14:21). There is a two-fold responsibility on dressing the man is responsible to guide his eyes from impurity (Philippians 4:8 Job 31:1); The woman is responsible to dress decently and avoid exposing sensitive parts of the body (Proverbs 7:6-27; 2Samuel 11:2). This principle is also applicable in the reverse order.
CONCLUSION
Any form of dressing likely to excite people sexually should not be worn by a Christian youth especially in public places (Philippians 4:5; 1Corinthians 8:13).
LESSON THIRTY-FIVE
TOPIC: DEALING WITH ADDICTIONS
MEMORY VERSE: "All things are larful for me but all Things are not helpful. All things are lawful for me, but i will not be brought under the power of any" . — 1Corinthians 6:12 (NKJV)
BIBLE PASSAGE: PROVERBS 31:2-7
INTRODUCTION
Addition is a compulsive tendency developed over a period of continuous and repeated actions or exposure to a certain substance. People with addiction use substances or engage in behaviours that become compulsive and often continue despite harmful consequences. Addiction leads to characteristics biological, psychological, social and spiritual manifestations. Today many youths are suffering from different forms of addiction. What is the way out?
LESSON OUTLINE
1. TYPES AND SIGNS OF ADDICTIONS
2. THE WAY OUT
TYPES AND SIGNS OF ADDICTIONS
1. Substance addictions (Proverbs 20:1; 23: 29-35; Isaiah 5:11-12; 28:7-8) e.g. drug abuse (cocaine, opioids-heroine, amphetamines, benzodiazepines, tramadol, codeine, crack, inhalants, etc.). alcoholism, smoking (cigarette tobacco marijuana nicotine), caffeine (coffee coke, Cola ).etc
2. Behavioural or process addiction (1kings 11:4-5; Proverbs 31:3; 1Peter 4:3): This is addiction to mode-altering behaviours such as gambling, cell phone and social media, the internet, love and relationships, sexual activity (masturbation, sex, pornography, etc.), eating disorders, spending, shopping, watching television, video games, etc.
3. Power addiction is a kind of addition associated with power, influence and affluence (Proverbs 28:15). People who are addicted to power tend to feel most powerful when they are dominating other people, with little patience for anything that stands in the way of their upward path. They are often extremely competitive and have a devastating need to be right. Examples are King Saul (1Samuel 19:1, 8-10) and king Hezekiah (Isaiah 39:1-8)
Some signs of addiction may include: developing a strong desire to use substances or engaging in the problematic behaviour, appearing dirty, inability to fulfill obligation at school, work or home, previously enjoyed hobbies are abandoned in favour of use of substances and withdrawal symptoms.
A person with power addiction may experience obsession, extreme restlessness and in extreme cases may resort to irrational, destructive behaviour such as manipulation or bribery to achieve goals and maintain the 'high'.
THE WAY OUT
1. Take a stand. You must first of all acknowledge that addiction is an affliction and you are already caught up in it web. Then, you must be willing to break free from its bondage while acknowledging that you cannot help yourself (Psalm 51:1-4).
2. Seek help (James 5:13-16). You must open up to God (Proverbs 3:4-5; 1Peter 5:7) and two people who can be of help in breaking the evil habit. Surrender yourself for proper screening and therapies (pharmacotherapy, psychotherapy and spiritual therapy).
3. Avoid relapse. Relapse is to addiction what backsliding is to sin and its episode is usually worse than before the treatment/deliverance (Matthew 12:43-45; 2Peter 2:20-22)
4. Keep your heart with all diligence (Proverbs 4:23) and renew it daily (Romans 12:1-2 Ephesians 4:22-23). Addiction is really a battle of the mind.
5. You must avoid exposures to all forms of triggers 1Corinthians 15:33; 2Corinthians 6:15- 20; Ephesians 5:11-12)
6. Keep the company of those who can encourage you in your journey to total victory (Hebrews 10:24-25).
7. It is incumbent on the brethren not to cast away the victim at the critical time (Psalm 38:11) but to show him/her love and encouragement until the victory is won (2Timothy 1:15-16; Psalm 133:1-3).
CONCLUSION
Withdrawal from addiction often comes with a myriad of challenges usually referred to as withdrawal syndrome. You can overcome with the help of God.
LESSON THIRTY-SIX
TOPIC: THE ESTHER GENERATION
MEMORY VERSE: "I also and my maidens will fast likewise; and so will I go in unto the king, which is not according to the law: and I perish, I perish" . — ESTHER 4:16b (NKJV)
BIBLE PASSAGE: ESTHER 2:5-17
INTRODUCTION
Esther, the main character in the book of Esther, was an orphan raised by her uncle, Mordecai (Esther 2:5-7). Her Hebrew name is Hadassah which means 'myrlte' – Rosy flower (Esther 2:7). Esther's story and life is a case of humility, obedience, divine substitution, great favour, sacrifice and divine intervention, such that youths should learn from.
LESSON OUTLINE
1. THE SPIRIT OF ESTHER
2. LESSONS FROM HER LIFE
THE SPIRIT OF ESTHER
Esther became the queen of Persia in B.C 478, even a stranger in the land of captivity (Esther 2:17). She was a woman of faith and courage. This is evident in the way she handled the news of the death sentence resulting from Haman's fury (Esther 4:16). She portrayed a selfless and sacrificial character that stood in the gap for her helpless kinsmen. She was willing to give her life in an attempt to save the Jews (Esther 4:16b). She was not driven with Zeal but rather, her faith in God gave her confidence.
Esther prayed, fasted and made the great sacrifice (Esther 5:1-4). She saved the Jews from the massacre planned by Harman (Esther 8:3-13).
LESSONS FROM HER LIFE
1. Esther was from the 'less privileged' family group in Persia (Esther 2:21). Yet, she did not write herself off. She contested for the position of a queen with everyone else, even as a foreigner. Do not look down on yourself (1Tim. 4:12; Titus 2:15). You can do all thing through the power of the Holy Spirit in you (Phillip 4:13, 2Cor. 12:9).
2. Esther became popular for being a resourceful and confident problem solver (Esther 8:3-13). Youths should not see themselves as weaklings, dependent and liabilities (Phillip 2:13, 4:13). They must be bold to face the challenges of life (Prov 28:1)
3. Esther was obedient to a godly leader. Esther obeyed Mordecai in detail. Experienced godly leaders and matured Christian mentors are needed in the journey of life (Esther 4:13-16; 1Cor. 11:1)
4. Just as Esther used the correct manner of approach to gain the attention and favour of the King, youths should also approach God or their leaders rightly to gain attention and favour (Psalm 100:4; Proverbs 24:3). God's favour is highly required for breakthrough (Esther 2:9,17).
5. When we need help, God is more than willing to help us if we ask him rightly (Isaiah 41:13, James 4:3). Faith and courage will often bring to us the things that we need (Matthew 21:22).
CONCLUSION
Regardless of your family or socio-economic background, God can make great person out of you.
LESSON THIRTY-SEVEN
TOPIC: JOSEPH: AN EXCELLENT YOUTH
MEMORY VERSE: "And it came to pas from the time that he had made him overseer in his house, and over all that he had, that the Lord blessed the Egyptian's house for Joseph's sake; and the blessing of the LORD was upon all that he had in the house, and in the field" . — Genesis 39:5 (NKJV)
BIBLE PASSAGE: GENESIS 41:25-42
INTRODUCTION
Joseph, the son of Jacob and Rachael, was born in mesopotamia, (Genesis 30:22-24) in B.C. 1747. His name means "the Lord shall add to me another son". He is memorable for the wonderful Providence of God, which raised him from prison to be the Prime Minister of Egypt and made him the honoured means of saving countless human lives. His history is one of the most pleasing and instructive in the Bible. It is too beautiful to be summarised. He died at the age of a hundred and ten, B.C. 1637. The story of Joseph spans through Genesis chapter 37-50.
LESSON OUTLINE
1. CHARACTER AND ACHIEVEMENTS
2. LESSONS FROM HIS LIFE
CHARACTER AND ACHIEVEMENTS
Joseph was a young man with an unwavering faith, self-control, patience, discretion and loyalty in all aspects of life. Although he was arrogant with his brothers (Genesis 37:3-11), he developed humility in Egypt (Genesis 43:30;45:1-5). Joseph was sold in to slavery by his brothers who were jealous of him (Genesis 37:12-28). He had great faith in God (Genesis 41:14-16). He had strong integrity and loyalty (Genesis 39:5-9). He believed that God would one day bring his dream to reality and did all he could to remain focused (Genesis 39:9). God gave him the ability to interpret dreams (Genesis 40:5-19;41:14-28). He was made second in charge over all Egypt by Pharaoh (Genesis 41:38-45). He was certain it was not his brothers that had sent him to Egypt, but God (Genesis 50:20).
LESSONS FROM HIS LIFE
1. Be humble. God sometimes bring adversities and trials into our lives to teach us humility (Genesis 37:28; Deuteronomy 8:3).
2. God can turn into good any evil that people do against you (Genesis 50:20; Romans 8:28)
3. Have integrity. No matter how great the temptation and fierce opposition appears, stay loyal and obedient to God (Gen. 39: 9-12; Psalm 119:11).
4. Write down your God-given vision, dreams or plans, pray over it and be wisely guided in sharing with others (Genesis 37: 6-7; Habakkuk 2: 2-3).
5. Focus on God, not he situation. Do not complain about your predicaments, rather, see them as an opportunity to serve others and minister wholeheartedly to their needs (Gen. 39:3-4; Phillip 2:14).
6. Be God-dependent. Always acknowledge God as the source of your achievements and never take any credit for it (Gen. 45:8; 41:16; Prov. 3:5-6).
7. Manage success. When God honours you with success and prosperity, you must not forget to first honour others (Gen. 45:1-5).
8. Fully forgive. Set your heart to forgive those around you. This will heal your relationship and keep your heart free from bitterness and deep rooted resentment from the past (Genesis 45:5-8; Ephesians 4:32).
CONCLUSION
The Bible story of Joseph is one that teaches us to be courageous in the midst of some of life's worst storms.
LESSON THIRTY-EIGHT
TOPIC: THE ART AND ACT OF DANCING
MEMORY VERSE: "Then David danced before the LORD with all his might; and David was wearing a linen ephod" . — 2Samuel 6:14 (NKJV)
BIBLE PASSAGE: 2SAMUEL 6:12-22
INTRODUCTION
Dance is a performing art from consisting of purposefully selected sequence of the body movement. Dancing is one of those issues that have been questioned in the past. Some groups have viewed all forms of dance as evil. There are no Bible verses prohibited us from dancing, rather, joyful dancing has been clearly documented in the Bible. However, dance can be used either as an act of worship to glorify God or for wrongful purposes. Youth should get the correct perspective and act wisely.
LESSON OUTLINE
1. DANCING IN THE BIBLE
2. THE CORRECT PERSPECTIVE
DANCING IN THE BIBLE
There are instances of dancing in the Bible that can be categorised into two; dancing to God or with good intentions and dancing for idols or with bad intentions. The first appearance of God's people dancing as an act of worship is found with Miriam the prophetess, Aaron's sister (Exodus 15:20). Another instance is found in 2Sam.6:16, which has David "Leaping and dancing before the LORD." The implication of this is that Christians youths should dance as an act of worship unto God.
In he second category, the Israelites were found dancing before a golden calf in worship and being out of control, they danced naked (Exodus 32:6, 19:15). In this case, dancing led to a very sinful activity. Hence, the fact that you can dance or gifted in the act of dancing does not means that you should dance to any kind of music or at any occasion/gathering where God's name is not proclaimed or glorifyed (Eccl. 3:4). This is because, in the process, you may be dancing before idols or to demon-insired songs/beats.
THE CORRECT PERSPECTIVE
Many Christians have forgotten that the Bible warns against end-time device of Satan (2Cor. 2:11). Christians youths should avoid sexually stimulating, indecent and seductive body movements while dancing so as to create wrong impressions (2Cor. 12:19-20; Ephesians 4:17-19). Holding or touching of sensual part or you body or the body of the opposite gender, in the name of dancing, should be avoided, as this could stimulate sexual urge and impure thoughts (1Thessalonians 5:22). Also, any dancing that stirs up sinful thoughts or desire it yourself or in others is sinful. Dancing to bring attention to yourself or your body, therefore, would be sinful (1Cor. 6:19-20).
As long as dance is decent, God-focused and praiseworthy, it can have a proper place in worship (Psalm 149:3). It is important to understand that dance in the context of worship is not simply self expression. It should be done in a way that is helpful to the entire congregation (Psalm 150:4). Hence, anything during a worship gathering that distracts from a focus on Christ Should be left out.
Moreover, the content of the song (Lyrics) and the personality of the singer (Whether he or she is a child of God) should be verified before you dance to such songs/beats. The believers focus for dancing must be to fulfill 1Cor. 10:31 that teaches, "so, whether you eat or drink, or whatever you do, do all to the glory of God."
CONCLUSION
You can dance in a way that does not tempt or lure others to sin. Let your dance bring glory to God.