RCCG JUNIOR ZEAL 2020/2021 TEACHER'S MANUAL AGE 4-5 LESSON 10
SUNDAY 8TH NOVEMBER 2020
TOPIC: THE LOVE OF THE WORLD  RCCG JUNIOR ZEAL 2020 TEACHER'S MANUAL AGE 4-5 LESSON 10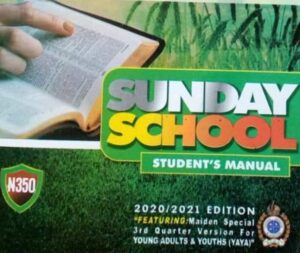 BIBLE TEXT: 1JOHN 2 VS 15-17 Love not the world, neither the things that are in the world. If any man love the world, the love of the Father is not in him.
For all that is in the world, the lust of the flesh, and the lust of the eyes, and the pride of life, is not of the Father, but is of the world.
And the world passeth away, and the lust thereof: but he that doeth the will of God abideth for ever.
MEMORY VERSE: 1JOHN 5 : 4 For whosoever is born of God overcometh the world.
LESSON AIM: The Love of the world turns you against God.
CHILD RELATED TRUTH : You are in the world but not of the world
INTRODUCTION: RCCG JUNIOR ZEAL 2020 TEACHER'S MANUAL AGE 4-5 LESSON 10
Friendship with the world is enmity with God those that wants to be friends with the world make themselves the enemies of God. To be God' s friend you must hate the ungodly thing in this world.
PROGRESSION OF EVENTS :
A. Do not love the world or things in the world.
The things in world are:-
(I) Lust of the flesh
(ii) Lust of the eye.
(iii) Pride of life- Pride and arrogance is not of the Father
B. All of these passes away, but whoever does the will of God abides forever.
C. The end time is near, when the antichrist will come and the end will come. Vs. 19
D. Some will follow the antichrist because they are not of God. Vs.19
E. But you have anointing from the holy one and you know all things (who is the Whole One -Jesus) vs. 20
CLIMAX : You know the truth, who is a liar? But he who denies that Jesus is the Christ. He is an antichrist who denies the Father and the Son. Vs 21-22.
CHALLENGE: Tell others about Jesus.
INVITATION: Shun all the love of the world and receive Jesus as Saviour today. John 3:16
RCCG JUNIOR ZEAL 2020 TEACHER'S MANUAL AGE 4-5 LESSON 10
LATEST FROM RCCG RCCG 
SPECIAL PRAYER POINTS DURING THE NOVEMBER 2020 HOLY GHOST SERVICE.

RCCG FASTING AND PRAYER POINTS SATURDAY 7 NOVEMBER 2020

OPEN HEAVEN 8 NOVEMBER 2020 SUNDAY: CHRISTIAN DISCIPLESHIP I

Today's Morning Declarations With FEMI RAIMI SATURDAY 7th NOVEMBER 2020

RCCG SUNDAY SCHOOL TEACHER'S MANUAL 8TH NOVEMBER 2020

RCCG JUNIOR ZEALTEACHER'S MANUAL SUNDAY 8TH OF NOVEMBER 2020 

RCCG HOUSE FELLOWSHIP LEADER'S MANUAL 8TH OF NOVEMBER, 2020 

RCCG JUNIOR ZEAL 2020 TEACHER'S MANUAL AGE 4-5 LESSON 10
DAILY DEVOTION
1. SUNDAY LUKE 4:17-20
2. MONDAY LUKE 4:21-23
3. TUESDAY LUKE 4: 24-26
4. WEDNESDAY LUKE 4: 27-29
5. THURSDAY. LUKE 4: 30-32
6. FRIDAY LUKE 4: 33-35
7. SATURDAY LUKE 4: 36-38.