RCCG JUNIOR ZEAL (AGE 13-19) TEACHER'S MANUAL SUNDAY 21ST OF FEBRUARY 2021
LESSON 25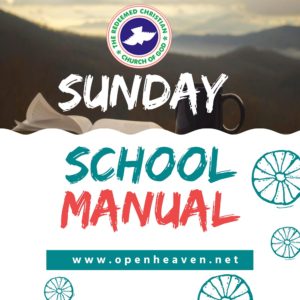 TOPIC: REVISION 4
•Revise the previous lessons with the Children.
•Ask them questions to ensure lessons have been well understood.
•Tell your class to review the previous lessons during the wee before the revision day.
SUMMARY OF LESSONS 20-21
LESSON TWENTY (20)
TOPIC: PRAISE GOD ALWAYS
BIBLE TEXT: Hebrews 13:15
MEMORY VERSE: Hebrews 13:15
By him therefore let us offer the sacrifice of praise to God continually, that is, the fruit of our lips giving thanks to his name.
LESSON AIM To teach the teens why they need to praise God always.
CENTRAL TRUTH: Let your lips bear the fruit of praise.
INTRODUCTION: The fruits of our lips are what come out of our mouth, which can either be good or bad. But the Bible encourages us to let the words of our mouth be full of praises and thanksgiving. The words of our mouth are reflection of the state of our hearts. A good heart will produce kind end comforting words. A grateful heart will always give thanks to God in both good and bad times.
STUDY GUIDE:
What Does The Bible Say About The Fruit Of Our Lips?
1. Avoid corrupt communication but to minister grace to others -Eph4.29
2. We should let the words of our mouth and the meditation of our heart be acceptable unto God -Ps 19:14
4. Death and life are in the power of the tongue -Prov 18.21
3. We shall give account of every idle word that come out of our mouth – Matt 12:36
5.That he that keep his mouth, keep his life, but he that open his mouth widely shall have destruction – Prov 13:3
Benefits Of Praising God Always:
1. You will always be in His presence Psa. 22:3.
2. Praise helps us to focus on God and not on our problems
3. He will do more for us – Luke 17:18-19
4. We will be blessed – Psalms 67:5-6
5. We will be victorious – 2 Chronicles 20:22
6. Teenagers to mention more
How Can We Can Thank God Through The Fruits Of Our Lips?
• By singing unto Him in worship and praises.
• By sharing testimonies of what He has done
• By telling others the good news of salvation
• By being careful not to allow unwholesome words to come out of our mouth, not jesting about the things of God.
INVITATION: Only children of the Almighty God know why and how to sing praises to Him because they are the only ones that can really witness His goodness and observe His mighty works. Besides, only a joyful heart can indeed praise God and only believers who are spirit filled and have the joy of salvation can praise Him – Galatians 5:22, Psalms 51:12.
CONCLUSION: Praising God should be done always with a grateful heart and with songs of joy because He has done great things and He alone is worthy of our praise.
LESSON TWENTY-ONE (21)
TOPIC: HATE EVIL
BIBLE TEXT: Genesis 39:1-10
MEMORY VERSE: Romans 12:9 "Love must be sincere. Hate what is evil; cling to what is good".
SONG FOR TODAY:
I've got my mind made up.
LESSON AIM: To teach the teenagers that it is possible to stay away from evil.
CENTRAL TRUTH: Jesus lives in you and He can give you power to stay away from evil
INTRODUCTION: God is holy, He hates sin and anyone who has accepted Him as his/her Lord and Saviour is expected to hate what He hates and love what He loves. Sin is knowing good and doing otherwise as defined in James 4:17. We have no power to do this, we need Him to help us.
STUDY GUIDE:
Teachers to give 8 minutes to teenagers to write 5 sentences about Joseph from our text:
1. The Lord made Joseph successful as a slave to Potiphar vs 2-3
2. Joseph's master promoted him to the ruler of his entire household vs4
3. Potiphar trusted all he had to the care of Joseph Vs 6
4. Potiphar's wife started admiring Joseph and wanted Joseph to love her vs 7
5. Joseph refused to do this great wickedness and sin against God vs 8-9
6. Joseph resisted as Potiphar's wife continued to tempt him Vs 10.
How Can We Hate Sin?
• Be born again.
• Allow the Holy Spirit to take His place in your heart and lead you.
• Love God – Deut 6:5
• Fear God – Prov 8:13
• Fill your heart with the word of God – Ps 119:11
• Fill your heart with good thoughts Phil. 4:8
Why Should We Hate Sin?
1. God hates sin – Prov 6:16-19
2. Sin will prevent us from entering into eternal life -1 Cor 6:9
3. Sin will not allow us to enjoy God's blessings here on earth.
4. Sin brings sickness and diseases – Exo 15:26
5. Sin brings death – Rom 6:23
DISCUSSION: Why did Joseph see the sin as against God and not against his master?
CONCLUSION: Though Joseph was a slave in Potiphar's house. The Lord was with him and He caused everything he did to succeed. If you hate evil, God's hands will be upon you and He will prosper you. God wants you to be like Him and hate sin.
RCCG THIS WEEK
Open Heavens Devotional for 16-28 February 2021
RCCG SUNDAY SCHOOL STUDENT'S MANUAL LESSON TWENTY-FIVE SUNDAY 21TH FEBRUARY 2021
RCCG JUNIOR ZEAL (AGE 6-8) TEACHER'S MANUAL 21ST OF FEBRUARY 2021 LESSON TWENTY-FIVE (25)
RCCG JUNIOR ZEAL (AGE 13-19) TEACHER'S MANUAL SUNDAY 21ST OF FEBRUARY 2021 LESSON 25
RCCG JUNIOR ZEAL (AGE 4-5) SUNDAY 21ST OF FEBRUARY 2021 LESSON 25 TEACHER'S MANUAL 
JUNIOR ZEAL (AGES: 9-12) TEACHER'S MANUAL 21ST OF FEBRUARY, 2021 LESSON TWENTY-FIVE (25)
RCCG SUNDAY SCHOOL TEACHER'S MANUAL LESSON TWENTY-FIVE 21TH FEBRUARY 2021
OPEN HEAVENS Sunday 21 February 2021 TOPIC: THE ONLY WISE GOD
RCCG HOUSE FELLOWSHIP LEADERS MANUAL 21ST FEBRUARY 2021 LESSON 25
LESSON TWENTY-TWO (22)
TOPIC: GROWING IN THE KNOWLEDGE OF GOD
BIBLE TEXT: 2 Peter 3:1-18
MEMORY VERSE 2 Peter 3:18 "But grow in grace, and in the knowledge of our Lord and Saviour Jesus Christ. To him be glory both now and forever. Amen."
LESSON AIM: To teach the teens how to grow in the Lord.
CENTRAL TRUTH: Develop yourself in the Lord.
INTRODUCTION: Knowledge is power. How much of God that you know will determine how much of his power and grace you can enjoy. The Bible encourages us to grow in the knowledge of Christ.
STUDY GUIDE:
How can we grow?
1. By reading, studying and meditating on the Word of God – Joshua 1:8
2. By hiding the Word of God in our heart so that we will not sin against Him – Ps 119:11
3. Fellows shipping with others – Prov 2717
4. By praying always.
5. By being the doer of the Word of God – James 1:22 25
Why do we need to grow in the knowledge of God?
• By being mindful of the Word of God-2 Pet 3:2
• By sanctifying God in our hearts – 1 Pet 3:15
• Teenagers to mention more
We need understanding of the times we are in the last days.
What do you need to know about Jesus Christ?
1. His acts – these are the external things that happens which are outside of human control, e g miracles, earthquake etc
2. His ways – these are the purposes of God behind His acts – Ps 103:7 which include His purpose for dying for us on the cross
3 His second coming – 2 Peter 3:10
4. Who He is to us? 1 John 2:1
DISCUSSION: In what ways can we improve an our knowledge of God. Why is knowledge very important to a believer?
CONCLUSION: As beloved sons and daughters of God, use any opportunity you have to grow in Christ. When God sees your effort, He will grant you the needed grace – James 4:6. RCCG JUNIOR ZEAL (AGE 13-19) TEACHER'S MANUAL SUNDAY 21ST OF FEBRUARY 2021
LESSON 25
LESSON TWENTY-THREE (23)
TOPIC: LIVE IN THE SPIRIT
BIBLE TEXT: Galatians 5:25; Romans 8:1-14
MEMORY VERSE: Gal 5:16 "This I say then, walk in the Spirit, and ye shall not fulfil the lust of the flesh."
HYMN FOR TODAY:
Let your living water flow over my soul.
LESSON AIM: To encourage the teenagers to live in the Spirit.
CENTRAL TRUTH: You need the Holy Spirit to run the Christian race successfully.
INTRODUCTION: The Spirit of God in a man is not a mere passive quality, but the deliberate preference of right to wrong, the firm and persistent resistance of all moral evil, and the choosing and following of the moral good. When the Spirit takes possession of a person, the result is that the character is transformed to reflect the fruit of the Spirit which manifest in
love, joy, peace, long-suffering, gentleness, goodness, faith, meekness, temperance Gal 5:22-23. The Spirit-filled life will not struggle with the Holy Spirit but allow Him to develop his or her life.
STUDY GUIDE:
1. PREREQUISITE FOR LIVING IN THE SPIRIT
• The scripture makes it clear that everyone receives the Holy Spirit the moment he or she believes in Jesus Christ as Saviour and Lord
Rom 8:9,1 Cor 12:13, Eph 1:13-14.
• There is the evidence of speaking in tongues – Acts 2:4
• The sinful man/old nature produces fruits that reflect that nature Gal 5:19-21 and the Holy Spirit steps in at conversion to bring in fruits that reflect the new nature -Gal 5:22-23
2. WHY DO BELIEVERS NEED TO LIVE IN THE SPIRIT?
Those who walk and live habitually in the Holy Spirit, responsive to, controlled and guided by the Spirit will not gratify the cravings and desires of the flesh. This is so because the flesh (human nature without Christ), is continually antagonistic and in constant conflict with the Holy Spirit – Gal 5:17
• The fire of the Holy Spirit distinguishes a true believer from a false one – Matt 3:11-12
• The power of the Holy Spirit strengthens believers to witness. For Christ. He makes the believer fearless and bold – Acts 2:14-47
• The believer who lives in the Spirit and allows the Holy Spirit to manifest the fruit in their lives, will experience various categories of joy and peace on every side. Peace comes from the Holy Spirit – James 3:17
• The fruit of the Spirit is produced by the Holy Spirit and every believer needs to show these characteristics – fruit of righteousness sewn in peace, pure wisdom from above, gentleness, goodness, faith, meekness and temperance James 3:17-18
• The Lord Jesus through the Holy Spirit helped believers to conquer the godless nature of the flesh – Phil 4:13, Gal 5:18.
• The Holy Spirit works in the believer to bear more fruits. He is the divine wind and enabling grace behind a fruitful Christian life – Ezekiel
37:1-10, 1 Cor 2:4, Luke 4:14-18
• He makes the believer confident in God's promises which make us rejoice in our walk with the Lord and with other believers – 2 Corinthians
1:24,1 Thess 2:19-20
• The Holy Spirit draws the believer to God. Without the Holy Spirit, no one would seek God -Ps 16:11
3. THE MINISTRY OF THE HOLY SPIRIT:
The ministry of the Holy Spirit among many include the following:
• He quickens our mortal bodies – Rom 8:11 which makes it illegal for sickness and diseases to dwell there, but instead turns it to partakers of God's divine nature – Matt 3:12, 2 Peter 1:4
• He guides into all truth John 18:12-13. He enlightens the believers understanding and gives solution to all problems that may confront us.
• He reveals things to come – Acts 21:4, 10-12
• He reminds of things taught -John 14:26
• He reproves the world of sin. The sinner gets convicted by the Holy Spirit – Zechariah 4:6
• He reproves the world of righteousness by making them to live righteous in the midst of perverse generation.
• He reproves the world of judgement – John 16:11
• He gives spiritual gift to believers who earnestly covet them -1 Corinthians 12:4,11
CONCLUSION: The primary purpose of the coming of the Holy Spirit in the life of a believer is to conform us to the image of Christ, making the believer more like Jesus. As teenagers experience the fullness of God through the
Holy Spirit and the manifestation of the fruit of the Spirit, they will find it easier to show love, kindness, goodness and other fruit with their friends and others.RCCG JUNIOR ZEAL (AGE 13-19) TEACHER'S MANUAL SUNDAY 21ST OF FEBRUARY 2021
LESSON 25
Subscribe to Blog via Email
LESSON TWENTY-FOUR (24)
TOPIC: SEEK GOD ALWAYS.
HYMN FOR TODAY:
I am thine oh Lord : Hymn 549
MEMORY VERSE: 1 Chronicles 16:11 "Seek the Lord and his strength, seek his presence continually".
BIBLE PASSAGE:Galatians 4:19; Philippians 2:19
LESSON AIM: To teach the teens how to seek God always.
CENTRAL TRUTH: God is available if you can seek Him early.
INTRODUCTION: We live in a society that is full of pressures. As a young person you have things to contend with, pressure to excel in school,
pressure from family, peer pressure. pressure to please God etc. In the midst of such pressures, seeking and finding God will give direction to the
course of your life. The Bible gives us this assurance that, for everyone who seeks God finds Him. God is waiting for us to seek after Him.
STUDY GUIDE:
How should we seek God? Find out from the following scriptures.
1. Jeremiah 29-13 – search for Him with all your heart.
2. Matthew 6:33 –To seek His kingdom and His righteousness.
3. Proverbs 8:17 – By seeking Him early.
4. 1 Chronicles 16:11 — By seek His face continually.
5. Isaiah 55:6 – By calling upon Him when He will hear.
6. Daniel 9:3 – seek Him with prayer and fasting.
7. Joshua 1:8 – By reading, studying and meditate on the Word of God.
When should we seek God?
Psalm 63:1 – early
Isaiah 55:6 – When He is near and can hear
Ecclesiastes 12:1 – when we are young (as teenagers).
Benefits of seeking God:
God will be found – Jeremiah 29:13
We will live – Amos 5:4
We will be delivered from our fears – Ps 34:4
We will not lack any good thing – Ps 34:10
God will be good to such person – Lam 3:25
We will have joy and gladness – Ps 105:3; 40:16
CONCLUSION: Those who seek God early are blessed by God. Do your part at all times and seek Him early so you can find Him early too. Do not be lazy because laziness can stop you from being successful – Prov.19:24; 21:25
RCCG JUNIOR ZEAL (AGE 13-19) TEACHER'S MANUAL SUNDAY 21ST OF FEBRUARY 2021
LESSON 25