RCCG JUNIOR ZEAL (AGE 4-5) TEACHER'S MANUAL LESSON FORTY-THREE (43) SUNDAY: 27th JUNE 2021
TOPIC: FORGIVENESS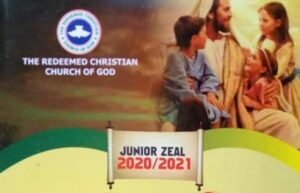 BIBLE TEXT: MATTHEW 18:21-34
21 Then Peter came to Jesus and asked, "Lord, how many times shall I forgive my brother or sister who sins against me? Up to seven times?"
22 Jesus answered, "I tell you, not seven times, but seventy-seven times.[a]
23 "Therefore, the kingdom of heaven is like a king who wanted to settle accounts with his servants. 24 As he began the settlement, a man who owed him ten thousand bags of gold[b] was brought to him. 25 Since he was not able to pay, the master ordered that he and his wife and his children and all that he had be sold to repay the debt.
26 "At this the servant fell on his knees before him. 'Be patient with me,' he begged, 'and I will pay back everything.' 27 The servant's master took pity on him, canceled the debt and let him go.
28 "But when that servant went out, he found one of his fellow servants who owed him a hundred silver coins.[c] He grabbed him and began to choke him. 'Pay back what you owe me!' he demanded.
29 "His fellow servant fell to his knees and begged him, 'Be patient with me, and I will pay it back.'
30 "But he refused. Instead, he went off and had the man thrown into prison until he could pay the debt. 31 When the other servants saw what had happened, they were outraged and went and told their master everything that had happened.
32 "Then the master called the servant in. 'You wicked servant,' he said, 'I canceled all that debt of yours because you begged me to. 33 Shouldn't you have had mercy on your fellow servant just as I had on you?' 34 In anger his master handed him over to the jailers to be tortured, until he should pay back all he owed.
RCCG THIS WEEK – READ AND SHARE 
RCCG JUNIOR ZEAL (AGE 4-5) TEACHER'S MANUAL LESSON FORTY-THREE (43) 27th JUNE 2021
RCCG JUNIOR ZEAL (AGES: 9-12) TEACHER'S MANUAL SUNDAY 27TH OF JUNE, 2021 LESSON FORTY THREE (43)
RCCG SUNDAY SCHOOL STUDENT'S MANUAL LESSON FORTY-THREE SUNDAY 27TH JUNE 2021
RCCG JUNIOR ZEAL (AGES: 13-19) TEACHER'S MANUAL SUNDAY 27TH OF JUNE 2021 LESSON FORTY TBREE (43)
RCCG HOUSE FELLOWSHIP LEADERS' MANUAL DATE: SUNDAY, 27TH JUNE 2021 LESSON: 43
TOPIC: GOING HIGHER – PART 22 MINISTERING: PASTOR E.A. ADEBOYE
RCCG JUNIOR ZEAL (AGE 6-8) TEACHER'S MANUAL LESSON FORTY-THREE (43) SUNDAY: 27th JUNE 2021
RCCG SUNDAY SCHOOL TEACHER'S MANUAL LESSON FORTY-THREE SUNDAY 27TH JUNE 2021
MEMORY VERSE: Ephesians 4:22. "and be kind to one another, tender hearted, forgiving one another, even as God for Christ's sake has forgiven you".
LESSON AIM: Faults are inevitable.
CHILD RELATED TRUTH: When you forgive your neighbors God will forgive you also.
INTRODUCTION: Forgiveness is giving up an unfriendly feeling toward someone who has offended you. Our memory verse says "be kind….. forgive". God says in Hebrew 8:12 "for I will be merciful to their own righteousness, and their sins and their iniquities will I remember no more". As a child of God, you must also forgive others as you are forgiven.
PROGRESSION OF EVENTS:
A. Romans 12:21 says "be not overcome of evil but overcome evil with good" Matthew 6:12.
B. Matthew 18:15 the Bible tells us that if your brother or friends you go and settle him so that you can gain him back instead of having resentment, hatred, and bitterness. The word of God taught us how to make peace with those that offend us.
Un-forgiveness is a sin. Romans 3:23 says "for the wages of sin is death but the gift of God is eternal life through Jesus Christ our Lord." God loves you and gave Jesus Christ to die for the forgiveness of sin John 3:16. Jesus came to the earth, he died by giving his blood for the washing away of our sins, he was buried and on the third day, he rose from the grave. Heb 9:22b.
C. In Matthew 18, Peter comes to Jesus and asked, "Lord how many times should I forgive my brother when he offends me 7 times?" Jesus answered him to forgive his brother 70 times 7 times (70X7).
D. Jesus told his disciples a story of a king wanting to settle his account with his servant demanding the payment of his money by his debtor vs 23-24.
He wanted to sell the debtors properties as he could not pay but the debtor pleaded, and the king forgave him vs 26-27.
But the forgiving servant refused to forgive his fellow servant that owed him just a little money and had him thrown in the prison vs 27-30.
When the king heard what he did, he had him arrested and he was jailed for life.
E. You are to forgive others as
i. You remember God's forgiveness.
ii. Don't keep on thinking about offense.
iii. Do something nice for someone who has offended you.
CLIMAX: Do good to them that hate you Matt 5:44.
CONCLUSION: Ephesians 4:32 always remember that God says you should forgive others.
CHALLENGE: if Jesus is your savior, God wants you to always forgive others when they hurt you even if they do not apologize or tell you sorry.
Tell those that offend you: –
i. I forgive you.
ii. Forget that it ever happened.
INVITATION: you cannot stop resentment, hey Chad, grudges and bitterness do you become a child of God. And you can only become by asking Jesus to be your savior from sin. Romans 10:13.
DAILY DEVOTION
SUNDAY: Luke 19:34-36
MONDAY: Luke 19:37-39
TUESDAY: Luke 19:40-42
WEDNESDAY: Luke 19:43-45
THURSDAY: Luke 19:46-48
FRIDAY: Luke 20: 1-3
SATURDAY: Luke 20:4-6