Subscribe to Blog via Email
RCCG JUNIOR ZEAL (AGES: 9-12) TEACHER'S MANUAL SUNDAY 27TH OF JUNE, 2021 LESSON FORTY THREE (43)
TOPIC: FORGIVENESS
BIBLE TEXT. Matthew 18:21-35 (NKJV)
[21]Then Peter came to Him and said, "Lord, how often shall my brother sin against me, and I forgive him? Up to seven times?"
[22]Jesus said to him, "I do not say to you, up to seven times, but up to seventy times seven.
[23]Therefore the kingdom of heaven is like a certain king who wanted to settle accounts with his servants.
[24]And when he had begun to settle accounts, one was brought to him who owed him ten thousand talents.
[25]But as he was not able to pay, his master commanded that he be sold, with his wife and children and all that he had, and that payment be made.
[26]The servant therefore fell down before him, saying, 'Master, have patience with me, and I will pay you all.'
[27]Then the master of that servant was moved with compassion, released him, and forgave him the debt.
[28]"But that servant went out and found one of his fellow servants who owed him a hundred denarii; and he laid hands on him and took him by the throat, saying, 'Pay me what you owe!'
[29]So his fellow servant fell down at his feet and begged him, saying, 'Have patience with me, and I will pay you all.'
[30]And he would not, but went and threw him into prison till he should pay the debt.
[31]So when his fellow servants saw what had been done, they were very grieved, and came and told their master all that had been done.
[32]Then his master, after he had called him, said to him, 'You wicked servant! I forgave you all that debt because you begged me.
[33]Should you not also have had compassion on your fellow servant, just as I had pity on you?'
[34]And his master was angry, and delivered him to the torturers until he should pay all that was due to him.
[35]"So My heavenly Father also will do to you if each of you, from his heart, does not forgive his brother his trespasses."
MEMORY VERSE: Matthew 6: 12 "And forgive us our debts, as we forgive our debtors.
LESSON AIM: To let the children know importance of forgiveness.
CENTRAL TRUTH: God forgives us as we forgive those who offends us.
RCCG JUNIOR ZEAL (AGES: 9-12) TEACHER'S MANUAL SUNDAY 27TH OF JUNE, 2021 LESSON FORTY THREE (43)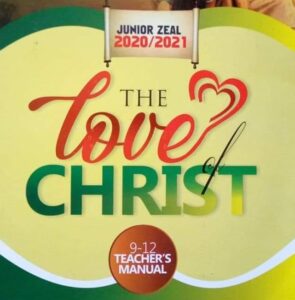 INTRODUCTION: Peter asked Jesus about forgiveness and He told him about a man that owed his master but because he couldn't pay, his master forgave him the debt. But the same man refuses to forgive his fellow brother by ordering him to be put in prison. The master got to know and called him a wicked servant because he didn't have mercy on his fellow servant. He was tortured until he should pay back all he owed.
A. WHAT IS FORGIVENESS?
1 Forgiveness is the act of pardoning an offender.
2. Forgiveness is to let go of resentment.
3. Forgiveness is when a person does not demand payment for a debt
4. Forgiveness is cancelling a debt.
5. Forgiveness is to give up any claim to be compensated for the hurt.
B. IMPORTANCE OF FORGIVENESS
1. It clears the obstacles between you and God -Matthew 6:14-15
2. It removes burden from us – Hebrews 12:15
3. It removes bitterness and pain – Ephesians 4:31
4. It makes us to have joy – Luke 15:10
5. It makes us worthy of mercy – Matthew 5:7
6. It makes us have peace with God – Romans 5:1
7. The Lord will forgive us our sins – Mathew 6:14-15, Colossians 3:13
C. BIBLICAL EXAMPLES OF THOSE THAT FORGIVES
1. Jesus Christ-Adulterous woman – John 8: 10-11
2. Philemon – Onesimus – Philemon 1:16-17
3 Joseph – His brethren – Genesis 50:18-21
CONCLUSION: Forgiveness is compulsory if you do not forgive others their sins, God will not forgive your sins.
INVITATION: You need to have an encounter with Jesus Christ before you can forgive your friends.
ACTIVITY: Memorize Matthew 6:9-15
LIFE APPLICATION: If you forgive other people when they sin against you, your heavenly father will also forgive you. The word of God tells you to be kind, tender-hearted and forgiving one another. Ephesians 4:22 and to do good to
those who hates you. Matthew 5:44
RCCG THIS WEEK – READ AND SHARE 
RCCG JUNIOR ZEAL (AGE 4-5) TEACHER'S MANUAL LESSON FORTY-THREE (43) 27th JUNE 2021
RCCG JUNIOR ZEAL (AGES: 9-12) TEACHER'S MANUAL SUNDAY 27TH OF JUNE, 2021 LESSON FORTY THREE (43)
RCCG SUNDAY SCHOOL STUDENT'S MANUAL LESSON FORTY-THREE SUNDAY 27TH JUNE 2021
RCCG JUNIOR ZEAL (AGES: 13-19) TEACHER'S MANUAL SUNDAY 27TH OF JUNE 2021 LESSON FORTY TBREE (43)
RCCG HOUSE FELLOWSHIP LEADERS' MANUAL DATE: SUNDAY, 27TH JUNE 2021 LESSON: 43
TOPIC: GOING HIGHER – PART 22 MINISTERING: PASTOR E.A. ADEBOYE
RCCG JUNIOR ZEAL (AGE 6-8) TEACHER'S MANUAL LESSON FORTY-THREE (43) SUNDAY: 27th JUNE 2021
Open Heavens Daily Devotional
guide was written by
Pastor E.A. Adeboye
, the General Overseer of the Redeemed Christian Church of God, one of the largest evangelical church in the world and also the President of Christ the Redeemer's Ministries.
The Open Heavens devotional
application is available across all mobile platforms and operating systems: iOS, Android, Blackberry, Nokia, Windows Mobile and PC.
RCCG SUNDAY SCHOOL TEACHER'S MANUAL LESSON FORTY-THREE SUNDAY 27TH JUNE 2021
DAILY DEVOTIONAL:
SUNDAY: ISAIAH 33:1-9
MONDAY: ISAIAH 33:10-16
TUESDAY: ISAIAH 33:17-24
WEDNESDAY: ISAIAH 34:1-7
THURSDAY: ISAIAH 34:8-17
FRIDAY: ISAIAH 35:1-6
SATURDAY:ISAIAH 35:7-10