RCCG JUNIOR ZEAL (AGE 4-5) TEACHER'S MANUAL SUNDAY 15TH OF NOVEMBER, 2020
TOPIC: REVISION 2 LESSON ELEVEN (11)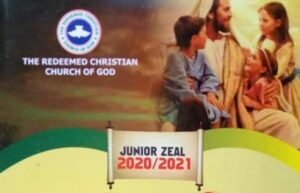 •Revise the previous lessons with the Children.
•Ask them questions to ensure lessons have been well understood.
•Tell your class to review the previous lessons during the wee before the revision day.
SUMMARY OF LESSONS 7-10
LESSON SEVEN (07)
TOPIC: CHRIST EXPRESSION OF LOVE
BIBLE TEXT : Mark 15:15-39
MEMORY VERSE: 1 Corinthians 15:3b "How that Christ died for our sins according to the scriptures".
LESSON AIM: God want you to have assurance of salvation because of the finished work of Christ on the cross.
CHILD RELATED TRUTH : Be fully assured that your sins are forgiven because of Christ's expression of love to you.
RCCG JUNIOR ZEAL (AGE 4-5) TEACHER'S MANUAL SUNDAY 15TH OF NOVEMBER, 2020
INTRODUCTION:
Do you know what it means that Jesus took your punishment on the cross?
Yes on the cross Jesus took the punishment you deserved, to pay for your sin. He didn't deserve to die , but He willingly took your place and experience death for you, 1 Peter 3:18 – For Christ also hath once suffered for sins, the just for the unjust, that He might bring us to God , being put to death in the flesh, but quickened by the spirit : Why? Because of the great love He has for you.
PROGRESSION OF EVENTS:
A. Judas accompanied by a crowd of Roman soldiers armed with swords and clubs found Jesus with His disciples, and betrayed His with a kiss. Matthew 18:1-3, Mathew 26:46
B. As Jesus willingly submitted to soldiers, Peter angrily cut off the ear of Malchus – the high priest's servant, but Jesus restored it, commanding Peter to put away his sword.
C. After false witness testified against Jesus, Caiphas claimed Jesus is not the God's Son and allowed members of the court to blindfold, beat and spit on Him Luke 22: 63-65, Mark 15:16, 20.
D. The soldiers then brought Jesus to Pilate, who asked Jesus if He was a king. Jesus replied that He was, but "not of this world" 18:28-37
E. Although governor Pilate found no fault in Jesus, he sent Him to Herod another Roman ruler, who mocked and ridiculed Jesus and then return Him to Pilate's court Luke 28:6-12
When governor Pilate asked the Jews if Jesus should be released to them or Barabbas a well-known rebel and murderer, they responded release Barabbas and crucify Jesus John18:39-40
G. To satisfy the people, Pilate had Jesus whipped and a purple robe placed on His shoulders and crown of thorns on His head, but still the Jews demanded His death 19:1-5 (the whipping was done with strips of leather embedded with pieces of metal and bone. The purple robe, suggesting royalty and the crown of thorns were used to mock Jesus' declaration of Kingship)
H. Jesus was crucified along with two criminal; one on His left and one on His right(19:17-22)
I. As Jesus looked down from the cross upon the soldiers who crucified Him. He asked God to forgive them 19:23-24, Luke 23:24 (Jesus' payment for our sins, being punished for our sins, is an expression of His love for you and for me. The bible says in Colossians 1:14 that we have "redemption through His blood")
CLIMAX : Jesus cried out "It is finished" and died on the cross taking the punishment for all sin forever 19:30
CONCLUSION: He was buried, His tomb was sealed and guards were placed at the entrance. But Jesus rose on the third day.
LESSON EIGHT (08)
TOPIC: THE MERCY OF GOD
BIBLE TEXT : GENESIS 2: 7-3:24
MEMORY VERSE : Psalm 136:1 "O give thanks unto the LORD; for he is good: for His mercy endureth for ever".
LESSON AIM : God is merciful
CHILD RELATED TRUTH : The mercies of god brought you salvation.
INTRODUCTION :
Does the fact that you could have been a vessel of wrath prepared for destruction but instead you are a vessel of mercy which God prepared beforehand for glory cause you to marvel and thank god always?
If God can by His great mercy give you His son to die in your place. Romans 8: 32 surely you can trust him for lesser needs by His mercy.
PROGRESSION ON EVENTS:
A. God made man from the dust of the earth and placed him in a beautiful garden 2:7-9.
You can see how powerful God is! He has power to do anything; He had the power to create the world and all that is in it, that includes you and me. Because He made us, He loves us very much. The bible says God is love. 1john 4; 8b.
He loves you and me much more than we can imagine.
B. God gave this first man Adam, the task of working in this garden and taking care of it. Gen 2:15.
C. God told Adam then he could eat of every tree in the garden expect the tree of knowledge of good and evil. Gen 2:16-17.
D. God knew man's need to be with others of his kind, so He formed a woman using Adam's rib. Gen 2:18-24
E. One day as the woman [Eve] walked alone in garden, the serpent questioned her concerning God's command Gen. 3:11
F. Eve explained they could eat from all tree except one. Gen. 3:2-3
G. Satan tempted Eve, assuring her that she and Adam would not die but would "be like God , knowing good and evil" Gen. 3:4-5.
H. Eve disobeyed God and ate the fruit also gave it to Adam her husband Gen. 3:6-7
This is how sin entered the world and every person born into the world inherits sinful nature, a nature that does not want to please God. Romans 5:12. The punishment for sin is death or separation from God forever. Sin is a very serious. It causes great unhappiness. It ruin God's perfect plan for man.
I. Having their eyes opened, Adam and Eve knew they were naked and tired to cover themselves with fig leaves. Gen. 3:7.
J. God came into the garden seeking for Adam and Eve but they hid. Gen. 3:8-9
K. Adam and Eve were afraid; they knew they had disobeyed God. Gen 3:10
L. As God questioned about their sin, Adam blamed Eve and Eve blamed the serpent. Gen 3: 12-13
M. God showed His great mercy. He made a promise that He would one day send one who would put away sin and have victory over Satan. Gen 3:15(gospel verse)
The seed of the woman represented the Lord Jesus Christ who came from heaven to the cross for sin of the whole world. God in His great mercy did not leave you and I in our state of sin, but send down Jesus who took our punishment by going to the cross to die a painful death, what a God of mercy.
Because the lord Jesus took the serious punishment of sin on himself you can receive God's gift of forgiveness and everlasting life today.
CLIMAX : John 10:10 says "The thief cometh not but for to steal and to kill and to destroy. I have come that they might have life and that they might have it more abundantly"
CONCLUSION : Ephesians 2:4-5: But God, who is rich in mercy for His great love where within He loves us. Even when we were dead in sins, hath quickened us together with Christ (by grace ye are saved). The mercy of God brought us salvation.
IMPORTANT TOPICS
LESSON NINE (09)
TOPIC : THE WORKS OF GRACE
BIBLE TEXT : *ACT 10:1-3
LESSON AIM: Jesus Christ paid the price for your salvation
CHILD RELATED TRUTH : Your salvation is a gift to you by God through Jesus Christ.
INTRODUCTION :
Grace is an unmerited favour of God towards man. It is Gods love freely shown towards guilty sinners who deserves to be punished but instead received pardon, forgiveness and adoption paid for by the lord Jesus Christ. Grace is a free gift from God.
PROGRESSION OF EVENTS :
A. Jesus, the saviour of mankind see the heart of all people all over the world, those who are Jew and those who are gentles but seek to please the true and living God. He said in John 14:6 "No one comes to the Father expect by me"
B. There was a certain Roman Officer called Cornelius was a captain in the Italian Army. (He was not an Israelite, he was not a Jew, but he knows that God exists, so he had fear and respect for God and He carried his households along). Vs.1-2, Proverbs 8:13
C. God send an Angel to Cornelius in a vision, the Angel called him by name. God knows Cornelius name because God loves him. God loves you too and knows you by your name and He also cares about how you live because He made you so He has an unconditional love and unmerited favour for you.
D. The angel has goodnews for Cornelius_He said "Your prayers and gift to the poor has come up to God as a memorial, Now send men to Joppa to bring down a man named Simon who is Peter (vs…4-6). Cornelius never knew Peter nor the reason why he should send for a Jew to come to his house. Will he come? Jew and Gentiles don't relate. (God by Himself planned and executed Cornelius salvation).
E. Cornelius immediately sent men for the journey. (Vs.7) (But will Peter follow them being a Jew? Jesus was already planning: He put peter in a trance and spoke to him in a vision) vs..9-16
F. Peter was thinking about the vision just then Cornelius men arrived and asked after him. The Holy Spirit told him "Three men are looking for you don't hesitate to go with them get up go down stairs" ( vs..17-20)
God gave you way out of punishment by work of Grace not by your own effort or power. He sent His Son Jesus to come to the World to save out of sin. Jesus did not hesitate to go to the cross at calvary so that you can be forgiven; He gave His life blood for you, died buried and rose again (Ephesians 2: vs 8-10)*
CLIMAX : Peter went down, listen to the men and the next day peter with the men and the next day peter with the men from Joppa set out to caesarea to see Cornelius who was waiting for them.
CONCLUSION : Peter saw large crowd gather in Cornelius' house and he preached to them all, they all believed and were baptized in the name of Jesus Christ. Vs.47
RCCG JUNIOR ZEAL (AGE 4-5) TEACHER'S MANUAL SUNDAY 15TH OF NOVEMBER, 2020
LESSON TEN (10)
TOPIC: THE LOVE OF THE WORLD
Subscribe to Blog via Email
BIBLE TEXT: 1 John 2:15-17
[15]Love not the world, neither the things that are in the world. If any man love the world, the love of the Father is not in him.
[16]For all that is in the world, the lust of the flesh, and the lust of the eyes, and the pride of life, is not of the Father, but is of the world.
[17]And the world passeth away, and the lust thereof: but he that doeth the will of God abideth for ever.
*MEMORY VERSE: 1John 5:4 "For whosoever is born of God overcometh the world".
LESSON AIM: The Love of the world turns you against God.
CHILD RELATED TRUTH : You are in the world but not of the world.
INTRODUCTION :
Friendship with the world is enmity with God those that wants to be friends with the world make themselves the enemies of God. To be God' s friend you must hate the ungodly thing in this world.
PROGRESSION OF EVENTS :
A. Do not love the world or things in the world.
The things in world are:-
(I) Lust of the flesh
(ii) Lust of the eye.
(iii) Pride of life – Pride and arrogance is not of the Father
B. All of these passes away, but whoever does the will of God abides forever.
C. The end time is near, when the Antichrist will come and the end will come. Vs. 19
D. Some will follow the antichrist because they are not of God. Vs.19
E. But you have anointing from the holy one and you know all things (who is the Whole One -Jesus) vs. 20
CLIMAX : You know the truth, who is a liar? But he who denies that Jesus is the Christ. He is an antichrist who denies the Father and the Son. Vs 21-22.
CHALLENGE : Tell others about Jesus.
DAILY DEVOTIONAL
SUNDAY – LUKE 4:39-41
MONDAY – LUKE 4:42-44
TUESDAY – LUKE 5:1-3
WEDNESDAY – LUKE 5:4-6
THURSDAY – LUKE 5:7-9
FRIDAY – LUKE 5:10-12
SATURDAY – LUKE5:13-15
RCCG JUNIOR ZEAL (AGE 4-5) TEACHER'S MANUAL SUNDAY 15TH OF NOVEMBER, 2020