RCCG JUNIOR ZEAL (AGES: 6-8) TEACHER'S MANUAL SUNDAY 15TH OF NOVEMBER, 2020
LESSON ELEVEN (11)
TOPIC: REVISION
•Revise the previous lessons with the Children.
•Ask them questions to ensure lessons have been well understood.
•Tell your class to review the previous lessons during the wee before the revision day.
SUMMARY OF LESSONS 7-10
LESSON SEVEN (07)
TOPIC: CHRIST EXPRESSION OF LOVE
BIBLE TEXT: JOHN 3:16*
MEMORY VERSE: 1 John 4:19 "We love Him because He first loved us."
LESSON AIM: The children will know how important Christ's love is in their lives.
CHILD RELATED TRUTH: God loves you and you love God.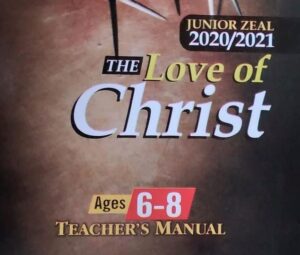 INTRODUCTION:
I know that some of you may know that John 3:16 is one of the most popular verses in the whole Bible. But I wonder, does knowing the words mean you know what it means and how important it really is?
This really is a great verse to know. It tells us Jesus' whole purpose in just a few short words. So, let us take some time to really learn what Jesus was saying.
PROGRESSION OF EVENTS: John 3:16
1. For God so loved the world
GOSPEL CONNECTION: Do you believe that? God really does love the whole world. The good, bad, rich, poor, young, old, sick, healthy, angry, and joyful. God loves us all. He loves those who love Him, and He loves those who hate Him. (John 3:16a)
2. That He gave His one and only Son
GOSPEL CONNECTION: If you ever think that maybe God does not love you, just think about this part. God loves you so much that He gave up His own Son for you. God knew you needed a perfect sacrifice, and He knew His son Jesus was the only one who is that sacrifice. Jesus took all your sins and went to the cross to give His lifeblood for you to be saved (Romans 5:8)
3. That whoever believes in Him shall not perish but have eternal life.
GOSPEL CONNECTION: We all sin sometimes, but it is so nice to know that God will still love you even when you do things that are not good. (Romans 3:23)
CLIMAX:
With that perfect sacrifice, you can live forever with God. And that is God's biggest wish.
CONCLUSION: God wants nothing more than for you to live with Him in heaven.
INVITATION:
The only way you can live with God in heaven is to accept Jesus as your Lord and Saviour (John 1:12)
LESSON EIGHT (08)
TOPIC: THE MERCY OF GOD
BIBLE TEXT: 1 King 18:16-45
MEMORY VERSE: Daniel 9:9 "You are the Lord our God. You show us your tender love. You forgive us. But we have turned against you".
LESSON AIM: The children will know to rely on God for His mercies.
CHILD RELATED TRUTH: God has enduring mercy.
INTRODUCTION: Children, have you ever heard something someone in the movie or on TV begging and crying and saying something like, " please have mercy on me". What do you think the word mercy means and what the person in that situation might be asking for? Mercy is undeserved love, compassion , pity, and grace. Children, listen for an example of mercy in today's story.
PROGRESSION OF EVENTS:
1. Elijah was a prophet of God and one of the few left in Isreal.
2. Queen Jezebel had captured most of the prophets and the rest were in hiding.
3. The land of Israel was suffering from famine and drought because most of the people worshipping a false God called Baal.
4. Elijah present himself before King Ahab and told him that that they would decide once and for all if God was God or Baal was the god.
GOSPEL CONNECTION: Elijah did this because God wanted to show His children mercy. He needed them to know that He is God whose mercy endures. He needed to know that He is God (Psalms 136). Because of God's love for you, His mercy upon you is renewed everyday. Jesus for your sin so that whenever you ask for the forgiveness of sin, He is able to plead on your behalf to God to have mercy on you and forgive your sin (Romans 8:48).
5. Elijah had King Ahab summon all the prophets of Baal to Mount Carmel for a contest.
6. Elijah told the prophets of Baal to build an altar and put a bull on it and not to light a fire.
7. He asked them to call on Baal to send fire to burn their sacrifice, the prophets of Baal cried all morning long but nothing happened.
8. Elijah teased and joked that properly Baal was sleeping or busy, so they should shout louder, still nothing happened.
9. Elijah repaired an old altar to Hod, arranged the bull on it, had twelve jars of water poured over the whole altar, the bull and the firewood were soaked and he prayed and asked God to show that He is God.
CLIMAX: God sent fire from heaven and burned up the whole altar and the dirt around it. When the people saw what God had done, they repented and turned back to God asking for mercy.
CONCLUSION: Elijah had all the prophets of Baal killed and then God sent rain down on the land of Israel.
IMPORTANT TOPICS
LESSON NINE (09)
TOPIC: THE WORKS OF GRACE
BIBLE TEXT: 1 SAMUEL 1-2
MEMORY VERSE: Romans 8:32 "He that spared not His own son, but delivered Him up for us all, how shall He not with Him also freely give us all things".
LESSON AIM: The children will know that it is only through God's grace they can be saved.
CHILD RELATED TRUTH: Faith can save you through grace.
INTRODUCTION: What is Grace? Grace can be defined as getting what we don't deserve, and that God is gracious to us by giving us what we don't deserve. We offer grace to people in our lives when we choose to respond with a kind word instead of being cruel. When someone is mean to us it is very easy to be mean back. Even when others deserve mean words that is where grace comes in and gives them kindness.
PROGRESSION OF EVENTS:
1. There was a man named Elkanah who had two wives, Hannah and Penninah.
2. Penninah had children but Hannah had none.
3. Every year, Elkanah took his family to worship to worship and sacrifice to the Lord at Shiloh.
4. One year while they were at Shiloh. Hannah got really upset and wept and cried out to the Lord in prayer.
5. She promised God that if He would give her a son, that she would give him back to serve God.
6. Eli the priest saw her and thought that she was drunk he confronted her, but Hannah told him she was praying so he prayed for her as well.
7. Elkanah and his family went home and soon Hannah was pregnant.
GOSPEL CONNECTION: God had shown grace to Hannah by giving her a son. Romans 6:23says we have sinned and deserve death. Then, God showed His grace to us by sending His only son, Jesus to die so that we might live. God's grace towards us is because of the love He has towards me and you. That love made him send His son Jesus to die for our sins. Jesus who did not know any sin willingly went to the cross to shed His lifeblood. The good news is that Jesus rose from the grave on the third day and now lives in Heaven with God pleading for mercy for you when you ask for forgiveness from your sins.
CLIMAX: She named the baby Samuel when he was born because she asked the Lord for Him.
CONCLUSION: Hannah took Samuel back to Shiloh when he was very young and handed him over to Eli according to the promise she made to God that the child will serve Him.
INVITATION: To benefit from Gods works of grace, you need to believe in the Lord Jesus and be saved (Acts 16:31)
LESSON TEN (10)
TOPIC: THE LOVE OF THE WORLD
BIBLE TEXT: 1 Timothy 6: 6-10a
MEMORY VERSE: 1 John 2:15 "Love not the world, neither the things that are in the world. If any man love the world, the love of the Father is not in him".
LESSON AIM: The children will learn to rely on God for what is best for their lives.
CHILD RELATED TRUTH: God wants what is best for you.
Subscribe to Blog via Email
INTRODUCTION:
"What are some of the things you want in life?" (Give room for the children to answer). What are the things you think God wants for you in your life? (Let the children answer). What is more important? What you want in your life or what God wants for you in your life?
PROGRESSION OF EVENTS: 1 Timothy 6:6-10a
1. God says there is great gain in godliness and contentment
What are godliness and contentment?
A. Godliness is being like God, living your life in such a way each day learning about Him and practicing what you have learned (e.g. doing your quiet time and follow God's promises for that day)
B. Contentment is being happy with what you have. You do not live wanting everything you see or hear about, but, instead, you are satisfied with what you already have because Jesus lives in you.
2. When you were born, you did not come with anything and you will not go back with anything.
3. What you really need is only food and clothing.
GOSPEL CONNECTION:
Now, what happens to a person who is not happy with having just food and clothing? What happens to a person who wants to become rich? It is hard to be happy with only food and clothing, isn't it? Once you get one then you just want to get more and then even when you have two or five you want to get even more. That is the problem with wanting material things: you can never get enough to be happy. It is so hard to be content when all you want are material things. But God wants you to be content with whatever He has given you because he loves you and will give you the best. God demonstrated His love for you and me when He sent His only begotten Son Jesus to die for our sins.
(John 3:16: For God so loved the world, that he gave his only begotten Son, that whosoever believeth in him should not perish, but have everlasting life.)
CLIMAX: Temptation, snares, senseless, harmful, destruction, ruin, and all kinds of evils happen to a person who wants to be rich.
CONCLUSION: For people who desire to be rich by all means and love money above God, they are not content. They are not happy with what God has given them.
SUNDAY: LUKE 8:45-48
MONDAY: LUKE 8:49-56
TUESDAY: LUKE 9:1-6
WEDNESDAY: LUKE 9:7-9
THURSDAY: LUKE 9:10-17
FRIDAY: LUKE 9:18-22
SATURDAY: LUKE 9.23-27