RCCG JUNIOR ZEAL (AGES: 9-12) TEACHER'S MANUAL SUNDAY 15TH OF NOVEMBER, 2020
LESSON ELEVEN (11)
TOPIC: REVISION
•Revise the previous lessons with the Children.
•Ask them questions to ensure lessons have been well understood.
•Tell your class to review the previous lessons during the wee before the revision day.
SUMMARY OF LESSONS 7-10
LESSON SEVEN (07)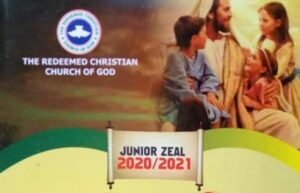 TOPIC: CHRIST EXPRESSION OF LOVE
MEMORY VERSE: John 1:29  "The next day John seeth Jesus coming unto him, and saith, Behold the Lamb of God, which taketh away the sin of the world."
BIBLE TEXT: Isaiah 53:7
He was oppressed, and He was afflicted, yet He opened not His mouth: He is brought as a lamb to the slaughter, and as a sheep before her shearers is dumb, so He openeth not His mouth.
LESSON AIM: To let the children know the love of Christ.
CENTRAL TRUTH: Jesus laid down His life for our sins.
INTRODUCTION: Jesus Christ was led as a sheep to the slaughter and like a lamb before His sharers, so opened He not His mouth. He was oppressed for our sakes and He did not try to set Himself free. He did this in order to die for our sins on the cross of Calvary. What a great love.
STUDY GUIDE:
A: THE SACRIFICES JESUS CHRIST MADE FOR MANKIND
1. Jesus was born of a virgin, Mary. Matthew 1:23
2. He was born by a carpenter as father.  Mark 6:1-3
3. Jesus grew in stature, wisdom and favour with God and man. Luke 2:52
4. He was without a roof on His head.  Matthew 8:20
5. He was said to have demons. Matthew 12:23-25
6. He was told to be blasphemous. Matthew 26:65
7. He was accused of wrongdoing and was sentenced to die on the cross. Matthew 27:22
8. Jesus was beaten with many stripes.
9. They placed on Him the crown of thorns. Matthew 27:29
10. He was stripped of His clothes. Matthew 27:28
11. He was made to bear a cross.
12. Jesus was pierced by the side and nailed to the cross. John 19:34
B. OTHER WAYS CHRIST EXPRESSED HIS LOVE TOWARDS US
1. Jesus Christ turned water to wine in the marriage of Cana of Galilee in love. He rescued a hopeless situation.  John 2:1-11
2. Jesus healed the sick in love. Matthew 2:1-12, 14:14
3. Jesus raised the dead in love. John 11:32-35
4. Jesus fed the hungry in love. Matthew 15:32
5. Jesus freely forgives our offences in love. Matthew 18:21-35
6. Jesus preached the gospel in love. Mark 6:34
7. Jesus humbly served His followers in love. John 13:13-16
8. Jesus cast out demons in love. Matthew 8:16
9. Jesus prayed for His disciples and His church in love. John 17:20-21
10. Jesus laid down His life in love. John 3:16
CONCLUSION: The love that Christ has for us is sacrificial. 
INVITATION: God loves you so. Come to Him by accepting Jesus Christ as your Lord and Saviour.  
LESSON EIGHT (08)
TOPIC: THE MERCY OF GOD
BIBLE TEXT: Psalms 136
MEMORY VERSE: Romans 9.16 – "So then it is not of him that willeth, nor of him that runneth, but of God that sheweth mercy."
LESSON AIM: To let the children know the importance of God's mercy.
CENTRAL TRUTH: God is rich in mercy.
INTRODUCTION: The mercy of God endures forever. When the children of Israel came out of Egypt with the power of God they sang a song to God in appreciation of His might. It was a call for the creation to praise their creator. They narrated the various things that God did for them like the destruction of the firstborn of Egypt, the parting of the Red Sea, feeding them in the wilderness, destruction of great kings who oppose them and the protection in the wilderness.
STUDY GUIDE:
A: WHAT IS MERCY?
1 Mercy is an expression of love.
2 Mercy is tenderness of heart towards the needy.
3 Mercy is a compassionate attitude towards an offender.
4 Mercy is the nature, character and attribute of God.
5 Mercy is God's gift to the repentant heart.
6 God's mercy is closely related with forgiveness.
7 God's mercy is His pity, compassion and kindness towards people.
8 Mercy is the result and effect to God's goodness.
B. BENEFITS OF GOD'S MERCY:
1 The mercy of God draws sinners to repentance. Numbers 14:19
2 God's mercy triumphs over judgement. James 2:13
3 Mercy of God brings salvation. Titus 3:5
4 Mercy of God brings forgiveness.  1 John 1:9
5 Mercy of God preserves us. Titus 3:5
C: HOW TO RECEIVE GOD'S MERCY:
1 Repentance. Matthew 4:17, Luke 13:5
2 Love the Lord.  Deuteronomy 5:10
3 Fear God.  Luke 1:50
4 Have faith in God.  Matthew 9:2, Matthew 23:23
5 Prayer.  Psalm 119:76, Psalm  55:17
6 Show mercy to others.  Matthew 5:7
7 Wait on God. Romans 9:15
D: HOW DO YOU SHOW MERCY AS A CHILD OF GOD?
1 Feed the hungry.
2 Give drink to the thirsty.
3 Clothe the naked.
4 Shelter the homeless.
5 Visit the sick and the imprisoned.
CONCLUSION: We need the mercy of God to be able to live a victorious christian life.
INVITATION: For to enjoy the benefits of God's mercy, you must accept Jesus Christ as your Lord and Saviour.
IMPORTANT TOPICS
LESSON NINE (09)
TOPIC: THE WORKS OF GRACE
BIBLE TEXT: Titus 2:11-‬12
MEMORY VERSE: Hebrews 4:16 – "Let us therefore come boldly unto the throne of grace, that we may obtain mercy, and find grace to help in time of need."
LESSON AIM: To let the children know the works of grace.
CENTRAL TRUTH: The works of grace are enormous in the christian life.
INTRODUCTION: Grace is the  unmerited favour we receive from God. It qualifies us for what we don't deserve. We don't deserve to be forgiven of all our sins. We don't deserve to be called the sons and daughters of God, but grace qualifies us. Grace qualified Noah to be preserved by God. Grace gives a man preference in life. You will only be preferred above others when you have found grace. We all obtain salvation on the platform of grace. It makes those who are not qualified for a blessing to be qualified.
STUDY GUIDE:
A. WHAT IS GRACE?
Grace has been defined in different ways by different people. Below are some of the definitions for grace:
– Grace is the love of God shown to the unlovely; it is the peace of God given to the restless; it is the unmerited favour of God.
– Grace is free sovereign favour to the ill-deserving.
– Grace is unconditional love towards a person who doesn't deserve it.
Grace has been defined as unmerited favour of God towards man. Grace is what turns a sinner into a saint. As oil is in the engine of a car, for without the engine oil, the engine will stop to function. So also a life void of the grace of God cannot function to his full capacity. Grace is that what makes our work with God possible and easy.
B. HOW CAN YOU OBTAIN GRACE?
1. Tremble at the word of God. Isaiah 66:1-2
2. Live a holy life, for this will give you confidence before Him. Hebrews 4:16a, Psalm 24:3-4
3. Seek for God's mercy. Hebrews 4:16b
4. Grace comes from Jesus Christ. Having Christ is having grace. John 1:16-17
5. Grace is a gift from God. 1 Corinthians 3:10
6. You obtain grace when you witness for Jesus Christ. Acts 4:33
7. Loving the Lord Jesus Christ will attract grace to your life. Ephesians 6:24
C: WHAT ARE THE WORKS OF GRACE?
1. It spares a man from the wrath of God. Genesis 6:7-8
2. Grace helps us to know God and to understand His ways. Exodus 33:13
3. We are saved by grace because Jesus paid the penalty of our sins. Ephesians 2:8
4. God's grace helps us to live a godly life. Titus 2:11-12
5. Grace helps us to say no to worldly lust.  Titus 2:11-12
6. God's grace trains us, who are saved, to be zealous for good deeds. Titus 2:14
D: OTHER WORKS OF GRACE TO BELIEVERS
Grace is the basic for:
– Our christian identity. 1 Corinthians 1:10
– Our standing before God: "this grace in which we stand". Romans 5:2
– Our behaviour: "We behaved in the world… by the grace of God". 2 Corinthians 2:12
– Our living: those who receive "the abundance of grace and the free gift of righteousness reign in life through the one man Jesus Christ," Romans 5:17
– Our holiness: God "called us to a holy calling… because of His own purpose and grace". 2 Timothy 2:9
– Our strength for living: "Be strengthened by the grace that is in Jesus Christ ". 2 Timothy 2:1 for "it is good for the heart to be strengthened by grace". Hebrews 13:9
– Our way of speaking: "Let your speech always be gracious". Colossians 4:16
– Our sufficiency: "My grace is sufficient for you". 2 Corinthians 2:9 "God is able to make all grace abound to you, so that having all sufficiency in all things at all times, you may abound in every good work". 2 Corinthians 2:8
– Our response to difficulty and suffering: We get "grace to help in time of need". Hebrews 4:16
– Our hope beyond death: "grace  [reigns] through righteousness leading to eternal life through Jesus Christ our Lord". Romans 5:21
CONCLUSION: Grace is God preaching downward to people who are in rebellion against Him. Grace is unconditional love towards a person who does not deserve it. Grace is more needed and best understood in the midst of sin, suffering and brokenness. Note that grace can be frustrated and be taking for granted. Please maximise the grace of God in your life.
INVITATION: God of grace is calling you today
LESSON TEN (10)
TOPIC: THE LOVE OF THE WORLD
 BIBLE TEXT: 2 Timothy 4.10
MEMORY VERSE: 1 John 2.15  "Love not the world, neither the things that are in the world. If any man love the world, the love of the Father is not in him".
LESSON AIM: Children should not be of the world.
CENTRAL TRUTH: The world is passing away and its lust.
INTRODUCTION: The first incentive John gives is that "if anyone loves the world, that the love of the father is not in him." In other words, the reason you should not love the world is that you cannot love the world and God at the same time. Love for the world pushes out the love for God and the love for God pushes out the love for the world.
STUDY GUIDE:
A. WAYS OF THE WORLD
1 Indecent culture. Genesis 19:1-6
2 Indecent dressing. 1 Corinthians 6:9
3 Rebellion. 1 Samuel 15:23
4 Idolatry. Acts 17:16, Exodus 32:8
5 Worldly music. Exodus 32:6
6 Love of money. 1 Timothy 6:10
7 Lesbianism and homosexualism. 1 Corinthians 6:9, Genesis 19:5
8 Lovers of pleasures. 2 Timothy 3:4
9 Sexual immorality. 1 Corinthians 6:9
10 Covetousness. 2 Timothy 3:2
11 Disobedience to parents. 2 Timothy 3:2
B. WAYS OF ESCAPE:
1 Obedience to the word of God  Isaiah 1:19, 1 Peter 1:14
2 Do the work of an evangelist. 2 Timothy 4:5
3 Be expectant of Jesus second coming. 1 John 2:28
4 Follow the teachings of Jesus Christ. John 15:10
5 Give heed to sound doctrine. 2 John 1:10
6 Be faithful. Ephesians 6:14
7 Watch and pray. Mark 14:38
Subscribe to Blog via Email
8 Fulfil your ministry. Acts 12:25, Acts 20:24, 2 Corinthians 5:18
9 Give your life to Christ. John 3:3
10 Fight the good fight of faith. 1 Timothy 6:12
11 Abide in the love of Christ. John 15:4-7
C. BIBLICAL EXAMPLES OF THOSE THAT LOVED THE WORLD
1 Demas. 2 Timothy 4:10
2 Gehazi. 2 Kings 5:20-27
3 King Saul. 1 Samuel 28:7
4 Adam and Eve. Genesis 3:6-7
CONCLUSION: No man, having put his hand to the plough, and looking back, is fit for the Kingdom of God.
INVITATION: Come to Jesus and abide in Him forever.
DAILY DEVOTIONAL:
1. SUNDAY:  Matthew 25:1-13
2. MONDAY: Matthew 25:14-30
3. TUESDAY: Matthew 25:31-46
4. WEDNESDAY: Matthew 26:1-13
5. THURSDAY: Matthew 26:14-25
6. FRIDAY: Matthew 26:26-35
7. SATURDAY: Matthew 26:36-56