RCCG TEENS TEACHER'S MANUAL LESSON ELEVEN (11) SUNDAY 15TH OF NOVEMBER, 2020
TOPIC: THE IMPORTANCE OF THE LOVE OF CHRIST
BIBLE TEXT: John 13:34-35, Rom 5:1-8
[32]If God be glorified in him, God shall also glorify him in himself, and shall straightway glorify him. [34]A new commandment I give unto you, That ye love one another; as I have loved you, that ye also love one another. [35]By this shall all men know that ye are my disciples, if ye have love one to another.
Romans 5:1-8
[1]Therefore being justified by faith, we have peace with God through our Lord Jesus Christ: [2]By whom also we have access by faith into this grace wherein we stand, and rejoice in hope of the glory of God. [3]And not only so, but we glory in tribulations also: knowing that tribulation worketh patience; [4]And patience, experience; and experience, hope: [5]And hope maketh not ashamed; because the love of God is shed abroad in our hearts by the Holy Ghost which is given unto us. [6]For when we were yet without strength, in due time Christ died for the ungodly. [7]For scarcely for a righteous man will one die: yet peradventure for a good man some would even dare to die. [8]But God commendeth his love toward us, in that, while we were yet sinners, Christ died for us.
MEMORY VERSE: John 48 "He that loveh not knoweth not God, for God is love"
HYMN FOR TODAY: Through the love of God our saviour all be well – Hymn 473
LESSON AIM: To show us the importance of the Love of Christ.
CENTRAL TRUTH: The love of Christ brought us Salvation.
RCCG TEENS TEACHER'S MANUAL LESSON ELEVEN (11) SUNDAY 15TH OF NOVEMBER 2020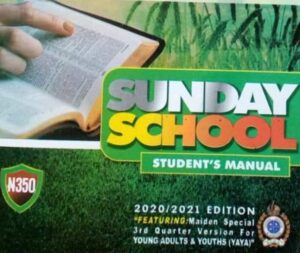 INTRODUCTION: Knowing the importance of the love of Christ will give us the ability to act accordingly. We see from our Bible text that He didn't come to die as a show off for us or for the devil. His love paved the way to our freedom, we were all oppressed, bruised, in bondage being tossed around by the devil, the law that we were given, as much as we strived, we weren't able to fulfil it. The blood of goats and bulls had to be sprinkled cover man's sins for a while (Lev 1:1-17), then Jesus came on the scene to die as a sacrificial lamb, He used His own blood, which was able to wash away all our sins. That's why we can now boldly declare that we are the
children of God, blood washed.
STUDY GUIDE:
A. ATTRIBUTES OF LOVE OF CHRIST – Romans 5:8-15
1. He expressed His love before we knew Him.
2. His love is sacrificial.
3. We are saved by His love
4. His love reconciled us back to God.
B. IMPORTANCE OF THE LOVE OF CHRIST
i. It is Agape – 1 John 4:8
ii. Helps us to love God.
iii. Helps us to love others – Matthew 22:27
iv. By it we are saved – John 3:16
v. By it we will know we are of Christ – John 13:35
vi. We are united by the Love of Christ – Col. 3:14
IMPORTANT TOPICS
INVITATION/APPLICATION: We are blood purchased, blood washed as God's precious people, but we must agree and believe in God's love to become His child.  RCCG TEENS TEACHER'S MANUAL LESSON ELEVEN (11) SUNDAY 15TH OF NOVEMBER 2020
Have you acknowledged Jesus as your Lord and personal Saviour? if you haven't, do so now so that you can begin to enjoy the goodness of God on earth. Jesus is so in love with you, you can't do anything to stop the love. Walk in the consciousness of being precious to God. You're the Apple of His eyes -Zechariah 32.
CONCLUSION: It helps us repose faith in God that because of His Love we stand to enjoy abundant life here on earth and eternal life at the end. RCCG TEENS TEACHER'S MANUAL LESSON ELEVEN (11) SUNDAY 15TH OF NOVEMBER 2020
MY PRAYER POINT FOR THE LESSON:
Father, let me love you with all my heart.
RCCG TEENS TEACHER'S MANUAL LESSON ELEVEN (11) SUNDAY 15TH OF NOVEMBER 2020