Subscribe to Blog via Email
RCCG JUNIOR ZEAL (AGE 4-5) TEACHER'S MANUAL SUNDAY 5TH OF SEPTEMBER, 2021 LESSON ONE (01)
TOPIC: WHAT IS BLESSING?
BIBLE TEXT: Genesis 12:1-9
[1]Now the LORD had said unto Abram, Get thee out of thy country, and from thy kindred, and from thy father's house, unto a land that I will shew thee:
[2]And I will make of thee a great nation, and I will bless thee, and make thy name great; and thou shalt be a blessing:
[3]And I will bless them that bless thee, and curse him that curseth thee: and in thee shall all families of the earth be blessed.
[4]So Abram departed, as the LORD had spoken unto him; and Lot went with him: and Abram was seventy and five years old when he departed out of Haran.
[5]And Abram took Sarai his wife, and Lot his brother's son, and all their substance that they had gathered, and the souls that they had gotten in Haran; and they went forth to go into the land of Canaan; and into the land of Canaan they came.
[6]And Abram passed through the land unto the place of Sichem, unto the plain of Moreh. And the Canaanite was then in the land.
[7]And the LORD appeared unto Abram, and said, Unto thy seed will I give this land: and there builded he an altar unto the LORD, who appeared unto him.
[8]And he removed from thence unto a mountain on the east of Bethel, and pitched his tent, having Bethel on the west, and Hai on the east: and there he builded an altar unto the LORD, and called upon the name of the LORD.
[9]And Abram journeyed, going on still toward the south.
Related RCCG Topics
MEMORY VERSE: Proverbs 10:22: The Blessings of the Lord, maketh rich, and addeth no sorrow with it.
LESSON AIM: Knowing what blessing is.
CHILD RELATED TRUTH: Ask God to single you out for His blessing.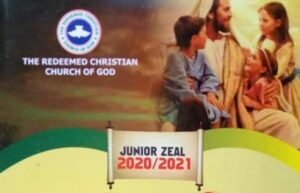 INTRODUCTION: To be blessed is to be singled out for good favor and goodness that changes one's life and situation from bad to good. An example is the life of Abraham, today every child of God claims the blessing of Abraham because God singled him out of his father's house, people and nation and made him father of nations. May you remain connected to this Abraham's blessing as you have Jesus as your Lord and your Saviour
PROGRESSION OF EVENTS – Genesis 12:1-9
A. Now the Lord said to Abram "Get out from your country, from your family and from your father's house, to a land that
I will show you".
God needed to pull out Abram from among idolatry land, family and his people to change him to a blessed person. For you too to be blessed of God you need to change from your sinful life.
B. God said to Abram, He will make him a great nation, Bless him, make his name great, bless who blesses him and curse who curses him and through him the whole earth will be blessed. God showed this great love to Abram because He loves him. That same God loves you and He can do the same for you. He is the only one that can do this and he can do it for you too. John 3:16 says "For God so love the world". He loves you as He loves Abram. vs 2-3.
C. So Abram departed as the Lord had spoken to him and Lot went with him. He took his wife Sarai and his possessions and left Haran. Abram obeyed God's instruction.
D. He passed through the land to the place of Shechem as far as Terebinth tree of Moreh and Canaanites were then in the land.
CLIMAX: Then the Lord appeared to Abram and said "To your descendant I will give this land" and there he built an altar to the Lord who appeared to him.
CONCLUSION: He moved from there to the mountain east, Bethel west Ai on the east there he built an altar to the Lord and called on the name of the Lord. Going on still toward the south.
CHALLENGE: God blesses His own as He wills, He has all the power and all resources to bless. He will single you out too for His blessing, Amen. He has made you part of Abraham's blessings if you have received Jesus as your Lord and Saviour.
To receive God's blessings you must have Jesus as your Lord and Saviour. Believe in Him today. John 3:16.
INVITATION: Receive Jesus as your Lord and Saviour to enjoy God's blessings John 1:12
Open Heavens Daily Devotional
guide was written by
Pastor E.A. Adeboye
, the General Overseer of the Redeemed Christian Church of God, one of the largest evangelical church in the world and also the President of Christ the Redeemer's Ministries.
The Open Heavens devotional
application is available across all mobile platforms and operating systems: iOS, Android, Blackberry, Nokia, Windows Mobile and PC.
SUNDAY – GENESIS 1:1-5
MONDAY – GENESIS 1:6-10
TUESDAY – GENESIS 1:11-15
WEDNESDAY – GENESIS 1:16-21
THURSDAY – GENESIS 1:22-26
FRIDAY – GENESIS 1:27-31
SATURDAY – GENESIS 2:1-6