Subscribe to Blog via Email
RCCG JUNIOR ZEAL (AGES: 13-19) TEEN'S ACITIVITY ZEAL SUNDAY 5TH OF SEPTEMBER, 2021 LESSON 1
TOPIC: WHAT IS BLESSINGS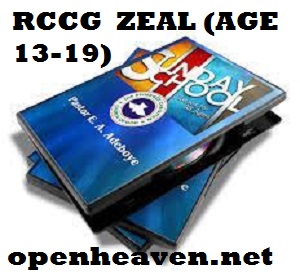 BIBLE TEXT: Genesis 1:26-28
[26]And God said, Let us make man in our image, after our likeness: and let them have dominion over the fish of the sea, and over the fowl of the air, and over the cattle, and over all the earth, and over every creeping thing that creepeth upon the earth.
[27]So God created man in his own image, in the image of God created he him; male and female created he them.
[28]And God blessed them, and God said unto them, Be fruitful, and multiply, and replenish the earth, and subdue it: and have dominion over the fish of the sea, and over the fowl of the air, and over every living thing that moveth upon the earth.
Deuteronomy 28:1-6
[1]And it shall come to pass, if thou shalt hearken diligently unto the voice of the LORD thy God, to observe and to do all his commandments which I command thee this day, that the LORD thy God will set thee on high above all nations of the earth:
[2]And all these blessings shall come on thee, and overtake thee, if thou shalt hearken unto the voice of the LORD thy God.
[3]Blessed shalt thou be in the city, and blessed shalt thou be in the field.
[4]Blessed shall be the fruit of thy body, and the fruit of thy ground, and the fruit of thy cattle, the increase of thy kine, and the flocks of thy sheep.
[5]Blessed shall be thy basket and thy store.
[6]Blessed shalt thou be when thou comest in, and blessed shalt thou be when thou goest out.
MEMORY VERSE: "And all these blessings shall
come on thee, and Overtake thee, if thou
shalt hearken unto the voice of the Lord thy
GOD". Deuteronomy 28:2
Related RCCG Topics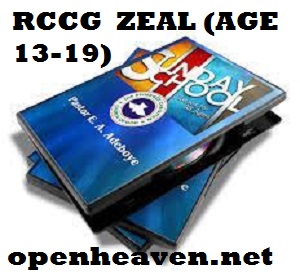 RCCG JUNIOR ZEAL (AGES: 13-19) TEEN'S ACITIVITY ZEAL SUNDAY 5TH OF SEPTEMBER, 2021 LESSON 1
HYMN FOR TODAY: There shall be showers of blessing
LESSON AIM: At the end of the study, I should realize that all good things come from God.
CENTRAL TRUTH: To encourage the teenagers to live their lives in such a way they can receive bless ings from God.
INTRODUCTION: Everybody, young or old needs blessings from God. Blessings come from God who is the creator of the heavens and earth. It is the nature of God to bless, as He desires to bless all His children. His blessings are free and no sorrow is added to it. The blessings from God are long lasting too. As God's children, desire these blessings for your life.
STUDY GUIDE:
A. WHAT ARE BLESSINGS?
The word "blessing" has several meanings, including an authorization that assists or permits you to do something, authorization and assistance from God, a gift, good fortune, or something that is beneficial or contributes to happiness.
Blessings are favours from God. They are all the addition to what you already have.
For example:
• Long life
• ………………………….
• Material things like clothes, food, riches, etc.
• ………………………….
B. HOW TO RECEIVE BLESSINGS FROM GOD:
1. Through Obedience –
(a) To God Deut. 28:1-3, Gen 26:1-3, 12-14
(6) To man e.g. Parents, Elders, Men of God. Col 3:20, 1 Peter 5:5
c) Doing what His word says/Obeying the word.
2. ……………………………………. John 14:14
3. Reading and meditating on the word of God brings prosperity. Joshua 1:8
4. Rendering services to God. Exodus 23:25-28, Gen 17:1-6.
C. SOME BIBLE CHARACTERS THAT OBEYED AND WERE BLESSED:
• Peter – Jesus told him to cast his net. He obeyed and caught many fishes. Luke 5:1-9
• The Zarephath widow who obeyed to give prophet Elijah her last meal. 1 Kings 17:10-16
• The Samaritan woman who finally agreed to give Jesus her water. She got the living water. John 4:15-16.
CONCLUSION: The key to God's blessing is obeying God's word. If you have no been obeying God's word, confess and start today. If you have done the necessary things and your blessings has not come, it is awaiting God's time or the devil is a work. Therefore, pray against delay of blessings. Daniel 10:12-13.
ACTIVITY: Do you get discouraged sometimes that you are not blessed? Search your life, repent and watch how God will surprise you.
INDIVIDUAL REFLECTION:
• What is God saying in today's lesson?
• How can l apply this to my life?
MY PRAYER POINT FOR THE LESSON:
My Father, deal with every Prince of Persia delaying my blessings.