RCCG JUNIOR ZEAL (AGE 4-5) TEACHER'S MANUAL SUNDAY 7TH OF MARCH 2021
LESSON 27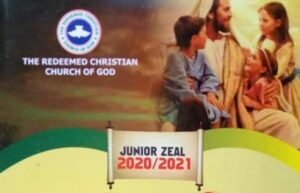 TOPIC: KEEP THE SHEEP
BIBLE TEXT: Matthew 18:12-14, Luke 15:3-7
Matthew 18:12-14
[12]How think ye? if a man have an hundred sheep, and one of them be gone astray, doth he not leave the ninety and nine, and goeth into the mountains, and seeketh that which is gone astray?
[13]And if so be that he find it, verily I say unto you, he rejoiceth more of that sheep, than of the ninety and nine which went not astray.
[14]Even so it is not the will of your Father which is in heaven, that one of these little ones should perish.
Luke 15:3-7
[3]And he spake this parable unto them, saying,
[4]What man of you, having an hundred sheep, if he lose one of them, doth not leave the ninety and nine in the wilderness, and go after that which is lost, until he find it?
[5]And when he hath found it, he layeth it on his shoulders, rejoicing.
[6]And when he cometh home, he calleth together his friends and neighbours, saying unto them, Rejoice with me; for I have found my sheep which was lost.
[7]I say unto you, that likewise joy shall be in heaven over one sinner that repenteth, more than over ninety and nine just persons, which need no repentance.
MEMORY VERSE: Luke 19:10 For the son of man is come to seek and save that which was lost.
LESSON AIM: God does not want anyone to perish.
CHILD RELATED TRUTH: You should remain eternally saved.
INTRODUCTION:
Matthew 12:11 "And what man shall there be among you, that shall have one sheep, and if it fall into a pit on the Sabbath day, will he not lay hold on it, and lift it out?"
Build relationship! Build friendship! Do not break them. Be meek, be gentle and be a peacemaker. Jesus sacrifices all that we may be reconciled to God. You too follow His steps.
PROGRESSION OF EVENTS:
A. Jesus said "Take heed that you do not despite one of these little ones for I say Unto you that in heaven "their angels always see the face of my father who is in heaven"
(This tells us how much love and importance that God has placed on Children).
B. For the son of man has come to save that which was lost. (God sent His son Jesus Christ to come to the world to save you and I from sin. Man inherited sin. Psalms 51:5 says: in sin did my mother conceive me and Romans 6:23 says the wages of sin is death, but God does not want us to die or be separated from Him so He gave us Jesus perfect son. Jesus gave His Blood on the Cross, died and rose again so that your sin and my sin can be forgiven
C. Jesus asked the disciples "what do you think?" If a man has a hundred sheep and one of them goes astray, does he not leave the ninety-nine and go to the mountain to seek the one that is strayed? This tells of God's great love for you and that He does not want anyone of us to be lost in sin, in John 18:9, Jesus
said "of them which thou gavest me have I lost none" You are very precious to God and that is the reason why Jesus came to the world, for this great love you have respond by yielding your heart to Him.
CLIMAX: And if He should find it, assuredly I say to you, he rejoices more over that sheep than over the ninety-nine that did not astray.
(This means that even in our state of sin God loves and cares about you, but hates your sin and made a plan to seek after you so that you
can be found In Him.
God does not condemn you or leave you in sinful state; He does not give up on you and when you turn away from sin, He rejoices for your salvation, He also wants you to seek after lost sheep too by telling sinners of His love and the work of Jesus Christ that brings man back to God).
CONCLUSION: Even so it is not the will of your father who is in heaven that one of these little ones should perish.
CHALLENGE: You that have received Jesus and you are His sheep God wants you to remain His to the end. Do not be lost again and God wants you to witness by telling other to turn to Him by accepting Jesus as their Saviour.
INVITATION: Be part of the fold, by calling on Jesus to save you from your sin. John 3:16. RCCG JUNIOR ZEAL (AGE 4-5) TEACHER'S MANUAL SUNDAY 7TH OF MARCH 2021
LESSON 27
RCCG TOPICS THIS WEEK
DAILY DEVOTIONAL
SUNDAY: LUKE 11:22-24
MONDAY: LUKE 11:25-27
TUESDAY: LUKE 11:28-30
WEDNESDAY: LUKE 11:31-33
THURSDAY: LUKE 11:34-36
FRIDAY: LUKE 11:37-39
SATURDAY: LUKE 11:40-42