RCCG JUNIOR ZEAL (AGE 6-8) TEACHER'S MANUAL SUNDAY 7TH OF MARCH 2021
LESSON TWENTY 27
TOPIC: KEEP THE SHEEP (BE A SHEPHERD)
MEMORY VERSE: "He shall feed his flock like a shepherd: he shall gather the lambs with his arm, and carry them in his bosom, and shall gently lead those that are with young". Isaiah 40:11
BIBLE TEXT: Psalm 23
1. The Lord is my shepherd; I shall not want.
2. He makes me to lie down in green pastures; He leads me beside the still waters.
3. He restores my soul; He leads me in the paths of righteousness For His name's sake.
4. Yea, though I walk through the valley of the shadow of death, I will fear no evil; For You are with me; Your rod and Your staff, they comfort me.
5. You prepare a table before me in the presence of my enemies; You anoint my head with oil; My cup runs over.
6. Surely goodness and mercy shall follow me All the days of my life; And I will dwell in the house of the Lord Forever.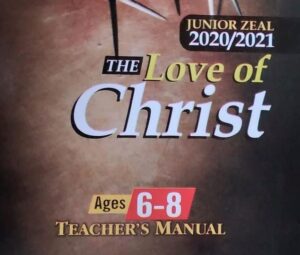 LESSON AIM: The children will know that God is like a shepherd and will care for them as a shepherd cares for his flock.
CHILD RELATED TRUTH: God is your Shepherd and will care for you as a sheep.
INTRODUCTION: Children! For the next three weeks, we are going to play the imaginary game. Imagine you are a sheep. You are a wooly little lamb in a big, big field. All your sheep friends are around you, and you are happily playing and eating and being happy in the green, green grass. You take a big, deep breath, and you can smell all the pretty white and yellow flowers in the field around you. You listen closely and you can hear a stream not far away from where your shepherd leads you to drink.
PROGRESSION OF EVENTS:
The Shepherd does many things for the Sheep Psalm 23
1. The shepherd of the sheep always give them everything they need.
GOSPEL CONNECTION: God is our Shepherd and we, even me, are His sheep. God says this in the Bible over and over again. God wants us to know that He calls our names and we have to listen to His voice in order to stay on the right paths just as a shepherd does to their sheep. He protects us through the dark valleys or hard times we go through and never leaves us. He provides us with strength and cares for our needs, like hunger and thirst, and time to rest. God wants us to know Him more by understanding that He is our Shepherd and we are His sheep. Jesus like the Good Shepherd gave His life for us. He died on the cross for our sins to be forgiven. Jesus took the punishment for all your wrongdoing because of the love
God has for you (John 3:16)
2. He provides good food and water for them to restore their strength
3. He stops them from wandering into danger and leads them in the straight path
4. He prepares a meal for them in the presence of their enemies and welcomes them as honored guests
5. He leads them back to their pens at night fora goodnight rest
CLIMAX: The Shepherd lays down his life for his sheep.
RCCG TOPICS THIS WEEK
CONCLUSION: Jesus laid down His life for His sheep, by dying on the cross so that His people could live .
CHALLENGE: As a follower of Jesus, God sees you as a sheep who needs guidance. This week, you are going to rely on God through Jesus for
1. God's provision.
2. God's guidance in making the right decisions.
3. God's help when we're afraid; and
4. God's blessings and promise of eternal life.
INVITATION: Jesus is the Good Shepherd that laid down His life for you, believe in Him today and be saved (John 5:24 "Most assuredly, I say to you, he who hears My word and believes in Him who sent Me has everlasting life, and shall not come into judgment, but has passed from death into life").
DAILY DEVOTION:
SUNDAY: LUKE 23:44-49
MONDAY: LUKE 23:50-56
TUESDAY: LUKE 24:1-5
WEDNESDAY: LUKE 24: 6-13
THURSDAY: LUKE 24:13-20
FRIDAY: LUKE 24:21-27
SATURDAY: LUKE 24:28-35