RCCG JUNIOR ZEAL (AGES: 9-12) TEACHER'S MANUAL SUNDAY 20TH OF JUNE 2021 LESSON FORTY TWO (42)
TOPIC: FELLOWSHIP WITH OTHER BRETHREN
BIBLE TEXT. Act 2:41-42 (NKJV)
[41]Then those who gladly received his word were baptized; and that day about three thousand souls were added to them.
[42]And they continued steadfastly in the apostles' doctrine and fellowship, in the breaking of bread, and in prayers.
MEMORY VERSE: 1 John 1:7 "But if we walk in the light, as he is in the light, we have fellowship one with another, and the blood of Jesus Christ his son cleanseth us from all sin.
LESSON AIM: To let the children know the importance of fellowship.
CENTRAL TRUTH: God wants us to fellowship with other believers.
RCCG JUNIOR ZEAL (AGES: 9-12) TEACHER'S MANUAL SUNDAY 20TH OF JUNE 2021 LESSON FORTY TWO (42)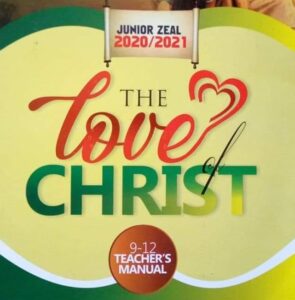 INTRODUCTION: After the conversion of the 3,000(three thousand) souls on the day of Pentecost during Apostle Peters preaching, the believers came together in unity and had everything in common. There was a voluntary
sharing to provide for those who did not have enough.
A. WHAT IS FELLOWSHIP?
1. Amutual bond that Christians have with Christ.
2. Union of believers with God through Jesus Christ.
3 Company of believers that share the same interest.
B. IMPORTANCE OF FELLOWSHIP
1. Opportunity to grow in kindness and forgiving others – Ephesians 4:32; Colossians 3:13
2. Avenue of sharing things in common – Acts 2:44-45
3. It makes us stronger – Matthew 18:19-20
4. It gives us encouragement – Hebrews 10:24-25
5. It builds relationship – 1 Corinthians 12:21
6. Avenue to test our patience
7. Opportunity to serve one another- Luke 22:26
8. Opportunity to love one another – John 13:34
9. Opportunity to use our gifts and talents -Matthew 25:20, Romans 12:6
CONCLUSION: Every Christian should enjoy the blessings of fellowshipping with other believers.
INVITATION: In order to belong to fellowship of believers, you need to give your life to Jesus Christ.
ACTIVITY: Mention 5(five) things you can do in the fellowship of believers.
LIFE APPLICATION: Fellowship with other brethren gives us the opportunity to help and be helped by other believers. Psalm 122:1 says, I was glad when He said let us go into the house of the Lord.
DAILY DEVOTIONAL
SUNDAY – ISAIAH 30:18-26
MONDAY – ISAIAH 30:27-33
TUESDAY – ISAIAH 31:1-3
WEDNESDAY – ISAIAH 31:4-9
THURSDAY – ISAIAH 32:1-8
FRIDAY – ISAIAH 32:9-15
SATURDAY – ISAIAH 9:16-20
RCCG TODAY – SHARE 
RCCG Open Heavens Daily Devotional for the month of June 2021 By Pastor E.A Adeboye
RCCG JUNIOR ZEAL (AGE 6-8) TEACHER'S MANUAL LESSON FORTY-TWO (42) SUNDAY: 20th JUNE 2021
RCCG SUNDAY SCHOOL STUDENT'S MANUAL LESSON FORTY-TWO SUNDAY 20TH JUNE 2021
RCCG 2020/2021 ZEAL (AGE 13-19) TEENS TEACHER'S MANUAL SUNDAY 20TH OF JUNE 2021 LESSON FORTY TWO (42)
RCCG JUNIOR ZEAL (AGES: 9-12) TEACHER'S MANUAL SUNDAY 20TH OF JUNE 2021 LESSON FORTY TWO (42)
RCCG JUNIOR ZEAL (AGE 4-5) TEACHER'S MANUAL LESSON FORTY-TWO (42) SUNDAY: 20th JUNE 2021
RCCG HOUSE FELLOWSHIP LEADERS' MANUAL DATE: SUNDAY 20TJ JUNE 2021 LESSON: 42
Subscribe to Blog via Email
RCCG SUNDAY SCHOOL TEACHER'S MANUAL LESSON FORTY-TWO SUNDAY 20TH JUNE 2021