RCCG JUNIOR ZEAL (AGE 4-5) TEACHER'S MANUAL LESSON FORTY-TWO (42) SUNDAY: 20th JUNE 2021
TOPIC: FELLOWSHIP WITH OTHER BRETHREN
BIBLE TEXT: ACTS 2:41-47, 5:12-15
41 Then those who gladly received his word were baptized; and that day about three thousand souls were added to them. 42 And they continued steadfastly in the apostles' doctrine and fellowship, in the breaking of bread, and in prayers. 43 Then fear came upon every soul, and many wonders and signs were done through the apostles. 44 Now all who believed were together, and had all things in common, 45 and sold their possessions and goods, and divided them among all, as anyone had need.
46 So continuing daily with one accord in the temple, and breaking bread from house to house, they ate their food with gladness and simplicity of heart, 47 praising God and having favor with all the people. And the Lord added to the church daily those who were being saved.
12 And through the hands of the apostles many signs and wonders were done among the people. And they were all with one accord in Solomon's Porch. 13 Yet none of the rest dared join them, but the people esteemed them highly. 14 And believers were increasingly added to the Lord, multitudes of both men and women, 15 so that they brought the sick out into the streets and laid them on beds and couches, that at least the shadow of Peter passing by might fall on some of them.
MEMORY VERSE: Psalm 122:1. I was glad when they said unto me, Let us go into the house of the LORD."
LESSON AIM: The saved child will fellowship with others.
CHILD RELATED TRUTH: God wants you to fellowship with others.
RCCG JUNIOR ZEAL (AGE 4-5) TEACHER'S MANUAL LESSON FORTY-TWO (42) SUNDAY: 20th JUNE 2021
INTRODUCTION: What is fellowship?
Fellowship is an expression of companionship, communion, between fellows that have something in common. The christians shortly after the Pentecost in Acts demonstrated what true fellowship is.
PROGRESSION OF EVENTS:
A. As Apostle Peter just finished preaching the word of God, those who received the word and got baptized were added to the number of fellowship about 3000 souls Vs41.
Before this time when Jesus was still on earth, he told Peter and other disciples in Matthew 16:18 "and I say onto thee, that thou art Peter and upon this rock I will build my church and the gates of hell shall not prevail against it".
B. They devoted themselves to the apostles teaching and to fellowship, to the breaking of bread and to prayer. Everyone was filled with awe at the many wonders and signs performed by the apostles. Vs 42-43
C. All the believers were together and had everything in common.
They sold property and possessions to give to anyone who had need. Vs 44-45
D. Every day they continued to meet together in the temple court they broke bread in their homes and ate together with glad and sincere hearts. Vs 46
E. They praise God and enjoyed the faith of all the people and the Lord added to their number daily.
F. Acts 512 the Bible recorded That's the apostles performed many signs and wonders amongst the people. and all the believers used to meet in solomon's porch and they were highly regarded by the people. The believers were highly regarded by the people because God's presence was clearly seen in them.
God is awesome and His power and presence with His children that have responded to his love is love. He made you and wants you to fellowship with him but sin separates you from him Isaiah 59:2.
By His love He gave you His son Jesus who died for your sins, so that you can be forgiven.
1st Corinthians 15:3-4. Because of what Jesus has done you can have your sins forgiven and become a believer who can join others in fellowship.
CLIMAX: More and more men and women believed in the Lord and were added to their number. Acts 5:14.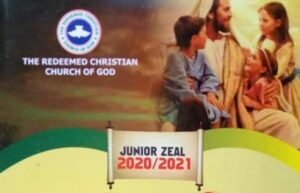 CONCLUSION: As a result, people brought the sick into the street and laid them on the beds and mats so that Peter's shadow may fall on some of them as he passed by. Vs 15.
CHALLENGE: If you are a child of God, God wants you to always be in fellowship with other believers Psalm 55:14, Deuteronomy 31:12-13, Ezra10:1
When you come to church you build friendships with other children and learn more of God through Bible lessons, memory verse, songs, prayers and many more.
INVITATION: You can only become part of the believers' fellowship by accepting Jesus as your Savior. Acts 16:31a.
DAILY DEVOTION
SUNDAY: Luke 19:13-15
MONDAY: Luke 19:16-18
TUESDAY: Luke 19:19-21
WEDNESDAY: Luke 19: 22-24
THURSDAY: Luke 19:25-27
FRIDAY: Luke 19:28-30
SATURDAY Luke 19:31-33
RCCG TODAY – SHARE 
RCCG Open Heavens Daily Devotional for the month of June 2021 By Pastor E.A Adeboye
RCCG JUNIOR ZEAL (AGE 6-8) TEACHER'S MANUAL LESSON FORTY-TWO (42) SUNDAY: 20th JUNE 2021
RCCG SUNDAY SCHOOL STUDENT'S MANUAL LESSON FORTY-TWO SUNDAY 20TH JUNE 2021
RCCG 2020/2021 ZEAL (AGE 13-19) TEENS TEACHER'S MANUAL SUNDAY 20TH OF JUNE 2021 LESSON FORTY TWO (42)
RCCG JUNIOR ZEAL (AGES: 9-12) TEACHER'S MANUAL SUNDAY 20TH OF JUNE 2021 LESSON FORTY TWO (42)
RCCG JUNIOR ZEAL (AGE 4-5) TEACHER'S MANUAL LESSON FORTY-TWO (42) SUNDAY: 20th JUNE 2021
Subscribe to Blog via Email
RCCG HOUSE FELLOWSHIP LEADERS' MANUAL DATE: SUNDAY 20TJ JUNE 2021 LESSON: 42
RCCG SUNDAY SCHOOL TEACHER'S MANUAL LESSON FORTY-TWO SUNDAY 20TH JUNE 2021