Subscribe to Blog via Email
RCCG 2020/2021 ZEAL (AGE 13-19) TEENS TEACHER'S MANUAL SUNDAY 20TH OF JUNE 2021 LESSON FORTY TWO (42)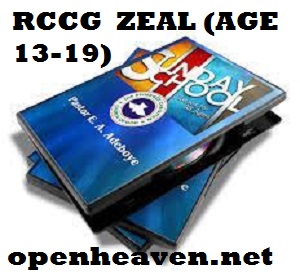 TOPIC: FELLOWSHIP WITH OTHER BRETHREN
BIBLE TEXT: Act 2:41-42 (NKJV)
[41]Then those who gladly received his word were baptized; and that day about three thousand souls were added to them.
[42]And they continued steadfastly in the apostles' doctrine and fellowship, in the breaking of bread, and in prayers.
MEMORY VERSE: Heb 10:25 "Not forsaking the assembling of ourselves together, as the manner of some is; but exhorting one another: and so much the more, as ye see the day approaching"
HYMN FOR TODAY:
I Need Thee Every Hour: Hymn 356
LESSON AIM: To let them know that God want them to fellowship with others.
CENTRAL TRUTH: Christian fellowship is essential to spiritual growth.
INTRODUCTION: Fellowship is a friendly association, especially with people who share one's interests. God created man for fellowship. Genesis 3:8-9. When He created the first man, He said it is not good for the man to be alone and said "I will make a helper suitable for him". Many aspects of our spiritual lives depend on being together with other believers to encourage, teach, serve, and share life together – Acts 2:41-42, 46-47
STUDY GUIDE:
Why Is Fellowship So Important?
• For discipleship – Acts 2:41-42
• It helps believers to encourage one another -Prov 27:17
• It encourages good works – Heb 10:24-25
• Christian love can influence the unsaved toward faith in Jesus Christ – John 13:35
• It brings joy and freshening to the soul – Ps 133
Ingredients Of Good Fellowship:
Those who fellowship together must share the same: belief, faith, need, conviction, purpose and hope. If you are part of a fellowship where all
these are not common, then you are in the wrong place.
DISCUSSION: In what ways can we improve on our fellow-shipping together.
INVITATION/APPLICATION: It is not good for a believer to isolate himself from the gathering of the brethren, far from counsel and covering.
Come back home, be involved, grow together, do not isolate yourself.
CONCLUSION: God is pleased when He sees His children gather. There's nothing but goodness when believers gather. The grace to utilize
fellowship of the brethren is given by the Holy Spirit.
ACTIVITY:
How can I apply this to my life?
What is God saying in the text?
MY PRAYER POINT FOR THE LESSON:
Father, enlarge the coast of your church in Jesus name.
RCCG TODAY – SHARE 
RCCG Open Heavens Daily Devotional for the month of June 2021 By Pastor E.A Adeboye
RCCG JUNIOR ZEAL (AGE 6-8) TEACHER'S MANUAL LESSON FORTY-TWO (42) SUNDAY: 20th JUNE 2021
RCCG SUNDAY SCHOOL STUDENT'S MANUAL LESSON FORTY-TWO SUNDAY 20TH JUNE 2021
RCCG 2020/2021 ZEAL (AGE 13-19) TEENS TEACHER'S MANUAL SUNDAY 20TH OF JUNE 2021 LESSON FORTY TWO (42)
RCCG JUNIOR ZEAL (AGES: 9-12) TEACHER'S MANUAL SUNDAY 20TH OF JUNE 2021 LESSON FORTY TWO (42)
RCCG JUNIOR ZEAL (AGE 4-5) TEACHER'S MANUAL LESSON FORTY-TWO (42) SUNDAY: 20th JUNE 2021
Open Heavens Daily Devotional
guide was written by
Pastor E.A. Adeboye
, the General Overseer of the Redeemed Christian Church of God, one of the largest evangelical church in the world and also the President of Christ the Redeemer's Ministries.
The Open Heavens devotional
application is available across all mobile platforms and operating systems: iOS, Android, Blackberry, Nokia, Windows Mobile and PC.
RCCG HOUSE FELLOWSHIP LEADERS' MANUAL DATE: SUNDAY 20TJ JUNE 2021 LESSON: 42
RCCG SUNDAY SCHOOL TEACHER'S MANUAL LESSON FORTY-TWO SUNDAY 20TH JUNE 2021