RCCG JUNIOR ZEAL FOR AGE 13-19 TEACHER'S MANUAL SUNDAY 26TH OF JUNE 2022 LESSON FORTY THREE (43)
TOPIC: THE BLESSING OF RESTORATION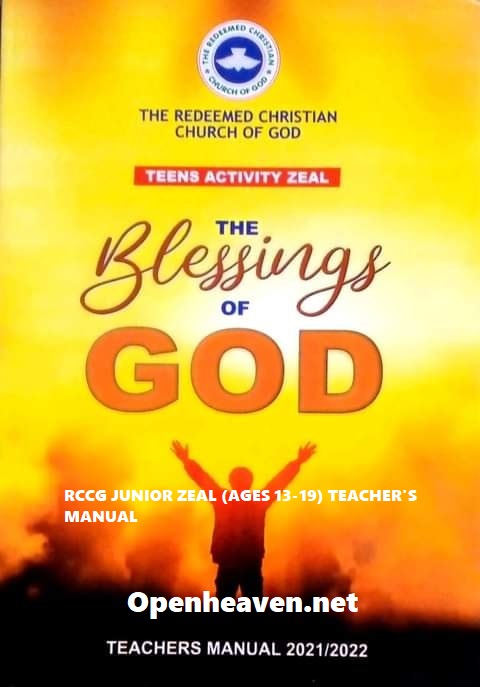 BIBLE TEXT: Joel 2:23-32
[23]Be glad then, ye children of Zion, and rejoice in the LORD your God: for he hath given you the former rain moderately, and he will cause to come down for you the rain, the former rain, and the latter rain in the first month.
[24]And the floors shall be full of wheat, and the fats shall overflow with wine and oil.
[25]And I will restore to you the years that the locust hath eaten, the cankerworm, and the caterpiller, and the palmerworm, my great army which I sent among you.
[26]And ye shall eat in plenty, and be satisfied, and praise the name of the LORD your God, that hath dealt wondrously with you: and my people shall never be ashamed.
[27]And ye shall know that I am in the midst of Israel, and that I am the LORD your God, and none else: and my people shall never be ashamed.
[28]And it shall come to pass afterward, that I will pour out my spirit upon all flesh; and your sons and your daughters shall prophesy, your old men shall dream dreams, your young men shall see visions:
[29]And also upon the servants and upon the handmaids in those days will I pour out my spirit.
[30]And I will shew wonders in the heavens and in the earth, blood, and fire, and pillars of smoke.
[31]The sun shall be turned into darkness, and the moon into blood, before the great and the terrible day of the LORD come.
[32]And it shall come to pass, that whosoever shall call on the name of the LORD shall be delivered: for in mount Zion and in Jerusalem shall be deliverance, as the LORD hath said, and in the remnant whom the LORD shall call.
HYMN FOR TODAY: Be Glad in the Lord and Rejoice
MEMORY VERSE: 'And the Lord restored the fortunes of Job, when he had prayed for his friends. And the Lord gave Job twice as much as he had before' Job 42:10
LESSON AIM: At the end of this study, the teens should know about the blessings of restoration.
CENTRAL TRUTH: God is able to fully restore anything that we have lost.
INTRODUCTION
Restoration is the act of bringing something or someone back to a former condition or position. Divine restoration is positive act that leads to an improved and better condition, a state that is greater than the original condition. We as God's people, sometime go through moments of loss. This can really be trying periods for us but God has promised us He will restore our lost years. However, we need to walk closely with God and the lost years will be gained back fully and better: God's restoration will renew your joy Isaiah 54:1, Joel 2:23, and will remove shame. Isaiah 54:4-6
STUDY GUIDE
From the following verses write out what can be restored:
1. Joel 2:25-26………………………………….
2. Jeremiah 30:17 …………………………………..
3. Psalm 51:12 …………………………………..
4. Job 42:10………………………………..
5. Acts 3:19-21………………………………..
6. Psalm 23:1-3………………………………..
What Else Can God Restore? Broken relationships: with God, with families, friends, broken marriages, losses etc.
Steps for Restoration: In Luke 15:11-24, the Bible tells us the story of the prodigal son and his restoration. In this story are practical steps that we must take if we desire restoration:
1. We must acknowledge that we have done something wrong and lost something valuable as a result – Luke 15:17-18.
2. Return to God and confess our sins – Luke 15:21, 1 John 1:9, John 3:37.
3. Receive God's mercy and forgiveness – 2 Corinthian 6:2.
4. Reject the devil's condemnation – Romans 8:1, John 8:36
5. Walk in your liberty – Galatians 5:1
Examples of People that experienced Restoration:
1. Mark 3:1 – The man with the withered hand.
2. Job – Job 42:12.
3. David recovered all. 1 Samuel 30:18
4. Lazarus in John 11
LIFE APPLICATION: Search your life and if there is any area you are falling or not measuring to God's expectation – spiritually, physically, mentally, emotional, etc.; confess, repent and ask God to restore you.
CONCLUSION: Unlike the general meaning of "restoration," which is to return something back to its original condition, the biblical act of restoration is usually to greater heights. And God is able to restore both Spiritual and physical conditions. Call on Him today for divine restoration.
RCCG JUNIOR ZEAL FOR AGE 13-19 TEACHER'S MANUAL SUNDAY 26TH OF JUNE 2022 LESSON FORTY THREE (43)
INDIVIDUAL REFLECTION
Ask them – What is God saying in today's lesson?
…………………………..
How can they apply this to their lives?
…………………………..
Let them put their prayer points here:
…………………………..