RCCG LOWER JUNIOR ZEAL FOR AGE 6-8 TEACHER'S MANUAL SUNDAY 26TH OF JUNE 2022 LESSON 43
TOPIC: THE BLESSING OF RESTORATION
Subscribe to Blog via Email
ALL RCCG SUNDAY SCHOOL MANUALS FOR TODAY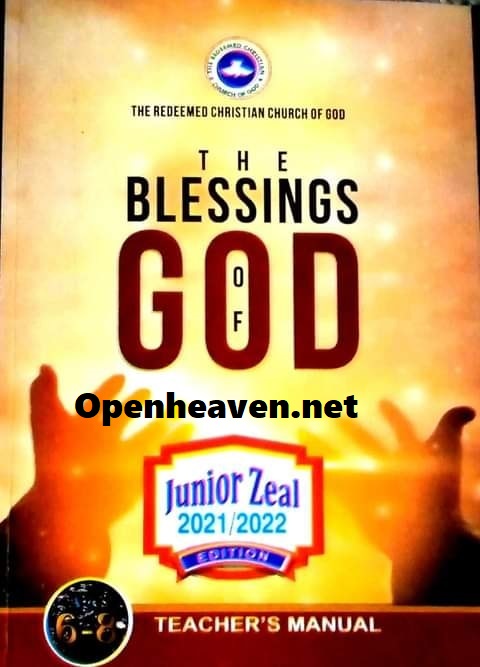 BIBLE TEXT: John 21:1-17
[1]After these things Jesus shewed himself again to the disciples at the sea of Tiberias; and on this wise shewed he himself.
[2]There were together Simon Peter, and Thomas called Didymus, and Nathanael of Cana in Galilee, and the sons of Zebedee, and two other of his disciples.
[3]Simon Peter saith unto them, I go a fishing. They say unto him, We also go with thee. They went forth, and entered into a ship immediately; and that night they caught nothing.
[4]But when the morning was now come, Jesus stood on the shore: but the disciples knew not that it was Jesus.
[5]Then Jesus saith unto them, Children, have ye any meat? They answered him, No.
[6]And he said unto them, Cast the net on the right side of the ship, and ye shall find. They cast therefore, and now they were not able to draw it for the multitude of fishes.
[7]Therefore that disciple whom Jesus loved saith unto Peter, It is the Lord. Now when Simon Peter heard that it was the Lord, he girt his fisher's coat unto him, (for he was naked,) and did cast himself into the sea.
[8]And the other disciples came in a little ship; (for they were not far from land, but as it were two hundred cubits,) dragging the net with fishes.
[9]As soon then as they were come to land, they saw a fire of coals there, and fish laid thereon, and bread.
[10]Jesus saith unto them, Bring of the fish which ye have now caught.
[11]Simon Peter went up, and drew the net to land full of great fishes, an hundred and fifty and three: and for all there were so many, yet was not the net broken.
[12]Jesus saith unto them, Come and dine. And none of the disciples durst ask him, Who art thou? knowing that it was the Lord.
[13]Jesus then cometh, and taketh bread, and giveth them, and fish likewise.
[14]This is now the third time that Jesus shewed himself to his disciples, after that he was risen from the dead.
[15]So when they had dined, Jesus saith to Simon Peter, Simon, son of Jonas, lovest thou me more than these? He saith unto him, Yea, Lord; thou knowest that I love thee. He saith unto him, Feed my lambs.
[16]He saith to him again the second time, Simon, son of Jonas, lovest thou me? He saith unto him, Yea, Lord; thou knowest that I love thee. He saith unto him, Feed my sheep.
[17]He saith unto him the third time, Simon, son of Jonas, lovest thou me? Peter was grieved because he said unto him the third time, Lovest thou me? And he said unto him, Lord, thou knowest all things; thou knowest that I love thee. Jesus saith unto him, Feed my sheep.
MEMORY VERSE: Psalm 51:12 *Restore unto me the joy of thy salvation; and uphold me with thy free spirit."*
LESSON AIM: The children will realize that God will forgive them their sins if they repent from them
CHILD-RELATED TRUTH: Jesus can forgive sins
RCCG LOWER JUNIOR ZEAL FOR AGE 6-8 TEACHER'S MANUAL SUNDAY 26TH OF JUNE 2022 LESSON 43
INTRODUCTION:
Have you ever denied someone before and felt very guilty about it? (Give the children room to contribute). Mary, a girl in a bible club, told how she denied her grandmother once because she was ashamed of her. She said her grandmother came to visit her in boarding school one day wearing two different legs of slippers and her blouse did not match the wrappers she was wearing. Mary's mother had traveled and the grandma promised to visit her. Mary told her classmates that she did not know the woman and the grandma left in tears with all the goodies she brought for Mary. Mary later apologized to her grandma when her mom explained to her the importance of family. Grandma forgave Mary and the next time she came to Visit, Mary was very proud to introduce her to her friends. In our today's lesson, even though Peter had denied Jesus during his trial, Jesus forgave Peter and accepted him back as a friend.
PROGRESSION OF EVENTS: John 21: 1-17
1. Peter had gone back to being a fisherman after Jesus rose from the dead
2. And he was out in his sailboat with James and John.
3. They had fished all night and not had a single fish swim into their nets, and they were tired and hungry.
4. Jesus came by and told them to try putting their nets on other side of the boat.
5. When they did, they caught more fish than they could ever hold!
6. Peter realized that it was Jesus who was there on the shore and he jumped out of the boat and swam as fast as he could to Him.
GOSPEL CONNECTION: The disciples didn't recognize Jesus. This was the third time he had appeared to them following his death. and yet his friends seemed too busy with their fishing to recognize their Lord. Jesus' love doesn't waver. He reveals His identity by using his power to overflow their nets with fish and welcomes them back into the community. Jesus also welcomes you and me each time will confess our sins and forsake them. Jesus died on the cross to take the punishment for your sins. God's love for the world is so strong that He does not want anyone to perish (John 3:16)
7. Once there, Jesus built a campfire and cooked some fish for breakfast.
8. Then Jesus started talking to Peter and asked if Peter loved Him.
CLIMAX: Jesus asked this three times, and three times Peter told Him he did love Him, and Jesus told him to "feed my sheep".
CONCLUSION: This meant that Jesus was giving Peter a very special job of taking care of people
CHALLENGE: God used Peter to draw others into a relationship with Jesus, and the same is true for us! Jesus' sacrifice means we can repent of our sins, be forgiven by God, and continue serving according to His will. Repenting from our sins and accepting God's forgiveness will enable our continued service. God knows we are imperfect, but He wants to use us anyway!" Read Romans 8:1-2.
Emphasize that regrets and shame should certainly bring us back into a right relationship with the Lord, but we should never let them control our lives.
INVITATION: You need Jesus to forgive you before you can be restored (1 John 1 :9) RCCG LOWER JUNIOR ZEAL FOR AGE 6-8 TEACHER'S MANUAL SUNDAY 26TH OF JUNE 2022 LESSON 43
DAILY DEVOTION
SỤNDAY – EXODUS 8:1-6
MONDAY – EXODUS 8:7-12
TUESDAY- EXODUS 8:13-18
WEDNESDAY – EXODUS 8:19-24
THURSDAY – EXODUS 8:25-32
FRIDAY – EXODUS 9:1-6
SATURDAY – EXODUS 9:7-12