RCCG LOWER JUNIOR ZEAL FOR 2022/2023 AGE 4-5 TEACHER'S MANUAL SUNDAY 2ND OF OCTOBE  2022 LESSON FIVE (5)
TOPIC: THE NEW BIRTH (SALVATION)
Subscribe to Blog via Email
ALL RCCG SUNDAY SCHOOL FOR THIS SUNDAY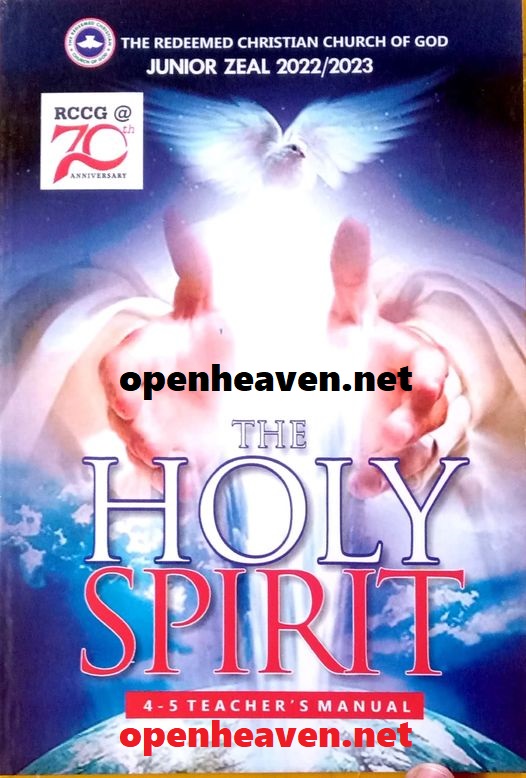 BIBLE TEXT: Acts 9:1-19
[1]And Saul, yet breathing out threatenings and slaughter against the disciples of the Lord, went unto the high priest,
[2]And desired of him letters to Damascus to the synagogues, that if he found any of this way, whether they were men or women, he might bring them bound unto Jerusalem.
[3]And as he journeyed, he came near Damascus: and suddenly there shined round about him a light from heaven:
[4]And he fell to the earth, and heard a voice saying unto him, Saul, Saul, why persecutest thou me?
[5]And he said, Who art thou, Lord? And the Lord said, I am Jesus whom thou persecutest: it is hard for thee to kick against the pricks.
[6]And he trembling and astonished said, Lord, what wilt thou have me to do? And the Lord said unto him, Arise, and go into the city, and it shall be told thee what thou must do.
[7]And the men which journeyed with him stood speechless, hearing a voice, but seeing no man.
[8]And Saul arose from the earth; and when his eyes were opened, he saw no man: but they led him by the hand, and brought him into Damascus.
[9]And he was three days without sight, and neither did eat nor drink.
[10]And there was a certain disciple at Damascus, named Ananias; and to him said the Lord in a vision, Ananias. And he said, Behold, I am here, Lord.
[11]And the Lord said unto him, Arise, and go into the street which is called Straight, and enquire in the house of Judas for one called Saul, of Tarsus: for, behold, he prayeth,
[12]And hath seen in a vision a man named Ananias coming in, and putting his hand on him, that he might receive his sight.
[13]Then Ananias answered, Lord, I have heard by many of this man, how much evil he hath done to thy saints at Jerusalem:
[14]And here he hath authority from the chief priests to bind all that call on thy name.
[15]But the Lord said unto him, Go thy way: for he is a chosen vessel unto me, to bear my name before the Gentiles, and kings, and the children of Israel:
[16]For I will shew him how great things he must suffer for my name's sake.
[17]And Ananias went his way, and entered into the house; and putting his hands on him said, Brother Saul, the Lord, even Jesus, that appeared unto thee in the way as thou camest, hath sent me, that thou mightest receive thy sight, and be filled with the Holy Ghost.
[18]And immediately there fell from his eyes as it had been scales: and he received sight forthwith, and arose, and was baptized.
[19]And when he had received meat, he was strengthened. Then was Saul certain days with the disciples which were at Damascus.
RCCG LOWER JUNIOR ZEAL FOR 2022/2023 AGE 4-5 TEACHER'S MANUAL SUNDAY 2ND OF OCTOBE 2022 LESSON FIVE (5)
MEMORY VERSE: John 3:3 "Jesus answered and said to him; truly truly I say to you, unless one is born again he cannot see the kingdom of God"
LESSON AIM: Jesus is the only way to God.
CHILD RELATED TRUTH: Receive Jesus as your Savior and Lord.
INTRODUCTION: Jesus paid it all. All to Him I owe; Sin had left a crimson stain; He washed it white as snow. The King of love my Shepherd is, Whose goodness faileth never; I lack nothing if l am His and He is mine forever.
Salvation is Simple! All you have to do is receive Jesus, God's Son, by asking Him into your heart.
PROGRESSION OF EVENTS
A. Saul was one of the Jewish religious leaders who had been persecuting the believers in Jerusalem.To persecute someone is to treat him or her in a mean or cruel way because of what he believes.
B. Saul went to the high priest for letters that would grant him authority to arrest believers in Damascus and have them taken back to Jerusalem to be put in prison VS. 1,2. He hated the disciples and wanted them punished thinking he was doing the right thing but it was sin. Have you been mean to someone because he or she is different from you? Have you made fun of someone else's cloth or house? These things are sin.
God says you and I are born in sin Psalm 51:5. Sin separates you from God. You cannot save yourself from the punishment of sin only Jesus can save you. Saul was a sinner separated from God; he could not please God by trying to keep rules – hating those who disagree with him.
C. As Saul traveled along the road of Damascus, a bright light from heaven suddenly shown around him VS.3
D. Falling to the ground. Saul heard a voice, "Saul, Saul, why are you persecuting me (treating me cruelly) VS. 4.
E. When Saul asked. "who are you Lord?" the Lord replied; " I am Jesus whom you are persecuting. VS 5. Do you know Jesus? Jesus is the perfect son of God, sent to the world to die for your sin. He is perfect, has no sin but came died on the cross, gave His blood and rose again so that your sin can be forgiven. Hebrew 9:22b.
God was waiting for Saul to believe Jesus had died and came alive for him.
F. Trembling and astonished, Saul believed in Jesus and said "Lord what to do you want me to do?" VS.5
G. The Lord told him to go to Damascus VS. 6
H. Still blinded by the light Saul was led to the city VS 8
I. After 3 days God sent Ananias and Saul received his sight VS. 9-18.
Ananias told him the special plan God has for his life because God loves him.
Also, God loves you and He sent His Son Jesus Christ to you. He loves you because He made you and does not want you to perish in your sin. You have to believe Jesus the Son of God died for your sins and receive Him as your Saviour so you can experience the New Birth (salvation) like Saul.
RCCG LOWER JUNIOR ZEAL FOR 2022/2023 AGE 4-5 TEACHER'S MANUAL SUNDAY 2ND OF OCTOBE 2022 LESSON FIVE (5)
CLIMAX: Saul, now a believer began to preach that Jesus is the son of God VS.20.
CONCLUSION: Saul experienced the new birth (salvation) and became Paul. You too need new birth so that you can do what God planned for your life. New Birth is to be born again, to forsake your sins and have a New life of Christ Jesus.
INVITATION: Do you believe Jesus died for you to be saved? Call on Him now to be saved from your sins. Romans 10:13.
DAILY DEVOTION
SUNDAY – ACTS 4:4-6
MONDAY – ACTS 4:7-9
TUESDAY – ACTS 4:10-12
WEDNESDAY – ACTS 4:13-15
THURSDAY – ACTS 4:16-18
FRIDAY – ACTS 4:19-21
SATURDAY – ACTS 4:22-24
RCCG LOWER JUNIOR ZEAL FOR 2022/2023 AGE 4-5 TEACHER'S MANUAL SUNDAY 2ND OF OCTOBE 2022 LESSON FIVE (5)