RCCG LOWER JUNIOR ZEAL FOR AGE 6-8 TEACHER'S MANUAL SUNDAY 2ND OF OCTOBER 2022 LESSON FIVE (5)
 TOPIC: THE NEW BIRTH (SALVATION)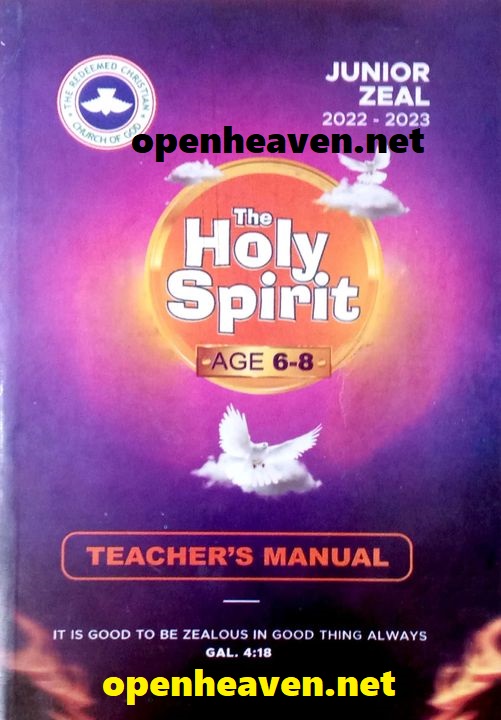 BIBLE TEXT: John 3:1-17
[1]There was a man of the Pharisees, named Nicodemus, a ruler of the Jews:
[2]The same came to Jesus by night, and said unto him, Rabbi, we know that thou art a teacher come from God: for no man can do these miracles that thou doest, except God be with him.
[3]Jesus answered and said unto him, Verily, verily, I say unto thee, Except a man be born again, he cannot see the kingdom of God.
[4]Nicodemus saith unto him, How can a man be born when he is old? can he enter the second time into his mother's womb, and be born?
[5]Jesus answered, Verily, verily, I say unto thee, Except a man be born of water and of the Spirit, he cannot enter into the kingdom of God.
[6]That which is born of the flesh is flesh; and that which is born of the Spirit is spirit.
[7]Marvel not that I said unto thee, Ye must be born again.
[8]The wind bloweth where it listeth, and thou hearest the sound thereof, but canst not tell whence it cometh, and whither it goeth: so is every one that is born of the Spirit.
[9]Nicodemus answered and said unto him, How can these things be?
[10]Jesus answered and said unto him, Art thou a master of Israel, and knowest not these things?
[11]Verily, verily, I say unto thee, We speak that we do know, and testify that we have seen; and ye receive not our witness.
[12]If I have told you earthly things, and ye believe not, how shall ye believe, if I tell you of heavenly things?
[13]And no man hath ascended up to heaven, but he that came down from heaven, even the Son of man which is in heaven.
[14]And as Moses lifted up the serpent in the wilderness, even so must the Son of man be lifted up:
[15]That whosoever believeth in him should not perish, but have eternal life.
[16]For God so loved the world, that he gave his only begotten Son, that whosoever believeth in him should not perish, but have everlasting life.
[17]For God sent not his Son into the world to condemn the world; but that the world through him might be saved.
MEMORY VERSE: 2 Corinthians 5:17 "Therefore if any man be in Christ, he isa new creature: old things are passed away; behold, all things are become new.
LESSON AIM: The children will know that when they receive Jesus as Saviour that the Holy Spirit gives birth to the spirit that was dead because of sin"
CHILD-RELATED TRUTH: The Holy Spirit gives new life when you receive Jesus as Lord and Saviour.
INTRODUCTION:
Have you ever seen a pregnant lady before? How do you know she is pregnant? Her belly! And why does her belly get so big? Because a baby is growing inside and as the baby grows, her belly grows.
Do you think I could fit back in my mom's belly? Do you think I am too big? (let the children contribute).
Well, what about you? Could you fit back in your mom's belly? Are you too big too? (Give room for answers)
These questions might sound a little silly, but someone actually asked Jesus these same questions.
His name was Nicodemus, and he was confused about being born again.
PROGRESSION OF EVENT: JOHN 3:1-17
1. There was a religious man named Nicodemus who was a Pharisee and very important
2. He had heard about Jesus and wanted to ask Him some questions about who He was and what He was doing.
3. He came to Jesus at night time and started asking Him how He was doing the things He did
4. Jesus told Nicodemus that he needed to be born again, and Nicodemus had a hard time understanding that.
5. Was he supposed to shrink down and become a tiny baby all over again? How could that happen?
6. Jesus explained that this was a different kind of birth
7. We have physical bodies and physical birth, but being born again happens through the Holy Spirit
GOSPEL CONNECTION: Jesus meant that faith gives us new life. We become new creations and have a special kind of birth that saves us eternally. Do you know what you have to do to receive this? Nothing! All you have to do is believe, and trust in God and accept His free gift of salvation and receive eternal life.
CLIMAX: Jesus told Nicodemus that God loved us so much, He gave up His Son.
CONCLUSION: God sent His Son Jesus into the world to save and not condemn it
CHALLENGE: Being born of the spirit can happen at any time no matter how old or young. And in order for this to happen, all you have to do is believe in Jesus and accept His gift of eternal life. And just like babies have parents that teach and take care of them after they are born, when you are born again you have another parent to be right there with you. Do you know who that is? It's our Heavenly Father, God!
INVITATION: All you have to do is believe and receive a new life. (John 1:12)
DAILY DEVOTION
SUNDAY – ACTS 4:4-6
MONDAY – ACTS 4:7-9
TUESDAY – ACTS 4:10-12
WEDNESDAY – ACTS 4:13-15
THURSDAY – ACTS 4:16-18
FRIDAY – ACTS 4:19-21
SATURDAY – ACTS 4:22-24