Subscribe to Blog via Email
RCCG SUNDAY SCHOOL STUDENT'S MANUAL MAIDEN SPECIAL FOR YOUNG ADULTS AND YOUTHS (YAYA)
SUNDAY 28TH MARCH 2021 30
TOPIC: A PURPOSE-DRIVEN LIFE (PT1)
NOTE: SPECIAL 3RD QUARTER LESSONS FOR YOUNG ADULTS AND YOUTHS.
Please be informed that the idea of the special Quater 3 lessons for YAYA is to deal extensively with issues/subjects peculiar to YOUTHS and needed for their well-being as Christians.
Therefore:
1. All Youth Parishes should SWITCH completely to the lessons dedicated to YOUTHS throughout the 3rd quarter.
2. Parishes with special classes for YOUTHS should allow the youth classes SWITCH completely to the lessons dedicated to YOUTHS throughout the 3rd quarter while the rest of the church continues with the regular 3rd quarter for ADULTS.
3. Other Parishes without special classes for YOUTHS should re-group the members of the church and create a special class for the Youth so that the youths of the parish can SWITCH completely to the lessons dedicated to YOUTHS throughout the 3rd quarter while the rest of the church continues with the regular 3rd quarter for ADULTS.
MEMORY VERSE: "Pilate therefore said to Him, " Are You a king then?" Jesus answered "You say rightly that I am a king. For this cause I was born, and for this cause I have come into the world, that I should bear witness to the truth. Everyone who is of the truth hears My voice". — John 18:37 (NKJV)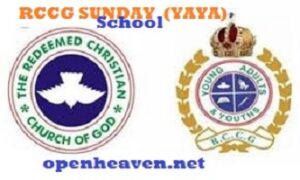 BIBLE PASSAGE: LUKE 4:17-22
Luke:4.17
And He was handed the book of the prophet Isaiah. And when He had opened the book, He found the place where it was written:
Luke:4.18
"The Spirit of the LORD [is] upon Me, Because He has anointed Me To preach the gospel to [the] poor; He has sent Me to heal the brokenhearted, To proclaim liberty to [the] captives And recovery of sight to [the] blind, To set at liberty those who are oppressed;
Luke:4.19
To proclaim the acceptable year of the LORD."
Luke:4.20
Then He closed the book, and gave [it] back to the attendant and sat down. And the eyes of all who were in the synagogue were fixed on Him.
Luke:4.21
And He began to say to them, "Today this Scripture is fulfilled in your hearing."
Luke:4.22
So all bore witness to Him, and marveled at the gracious words which proceeded out of His mouth. And they said, "Is this not Joseph's son?"
INTRODUCTION
We see from the scriptures that our God is a God of purpose (Ephesians 1:11). He has a purpose for your life, right from when you were conceived in your mother's womb (Jeremiah 1:4-5). Therefore, a purpose-driven life is one that set out to identify and fulfil the purpose of existence. Ignorance of your purpose of existence can make you waste or under use Heaven's allocated resources. God allocates resources according to His mandate to individuals. Events, situations, circumstances, tests and trials come to you according to the purpose of your existence (Romans 8:28-29).
LESSON OUTLINES
1. DISCOVER YOUR PURPOSE IN LIFE
2. LIVE TO FULFIL IT
DISCOVER YOUR PURPOSE IN LIFE
Every creation of God is for purpose. The sun gives light and never ceases to shine (Psalm 139:7-9). The cloud gives rain in due season and trees provide food and shade accordingly (Leviticus 26:4). Other animals play their parts without hesitation. Amazingly, man struggles to understand and fulfil his purpose for living. Once you become a new creation in Christ (2Corinthians 5:17). You must begin to crave for the understanding of your purpose for living on earth (Philippians 3:12). That purpose has been predetermined by God before you were born (Jeremiah 1:5; Galatians 1:15). It is your duty to discover and fulfil it. Here are some practical pointers to your purpose for living:
1. Potential: You need to identify your in-built abilities, talents and God-given gifts (Ephesians 4:7). Find out the things you do with less stress e.g., singing, drawing talking to a crowd, helping others etc. The knowledge or skills you acquired in life should be to shape and sharpen your potentials (Acts 7:22).
2. Passion: What are those things you exceptionally have flare or zeal for, and do often? Build your vocation or career on such things. The things that get you excited and give you joy and satisfaction can lead you to fulfilment of your purpose in life (Psalm 69:9; Colossians 4:12-13).
3. Prayer: After you have identified your potential (s) and thing(s) you are passionate about, you need to pray for divine guidance and direction, so that the world and enemy will not hijack your potential in life (Acts 9: 1-2; 10:9-20).
LIVE TO FULFIL IT
These seven things will help every child of God fulfil purpose of life.
1. Ask God to reveal to you His plan for your life (Jeremiah 1:4-5). Then, draw a vision and mission statement (Proverbs 29:18; Habakkuk 2:2).
2. Set achievable goals and pursue them (Acts 20:24; Psalm 57:7). Take a step at a time, be consistent at what you do and do not be a mediocre (Psalm 37:23; Hebrews 6:1).
3. Identify and relate with people of like passion: learn from their mistakes and build on their success (2Kings 2:1-2,14).
4. Submit yourself for mentoring and counselling: do not claim to know it all (Acts 18:24-26; Proverbs 11:14; 15:22).
5. Live as if you have just one more day on earth: do not procrastinate (Luke 9:61). However, be patient to grow through the processes/stages to reach your goal in life.
6. Focus your attention on God (Hebrews 12:2). Make sure all that you do is to His pleasing (Colossians 1:10).
7. Always return all the glory to God: do not ascribe anything to yourself (Malachi 2:2; Daniel 4:30-34(. Remember you are a work-in-progress in God's hand (Jeremiah 18:1-6; Isaiah 45:9).
RCCG THIS WEEK
OPEN HEAVENS 2021 MARCH 22,23,24,25,26,27,28,29,30,31 Daily Devotional
RCCG SUNDAY SCHOOL TEACHER'S MANUAL MAIDEN SPECIAL FOR YOUNG ADULTS AND YOUTHS (YAYA) 28TH MARCH 2021 LESSON THIRTY
RCCG HOUSE FELLOWSHIP LEADERS' MANUAL DATE: SUNDAY 28TH MARCH 2021 LESSON: 30
RCCG Coastline Worship Centre NATIONAL HQTS PARISH BUILDING
RCCG JUNIOR ZEAL (AGE 4-5) TEACHER'S MANUAL SUNDAY 28TH OF MARCH 2021 LESSON THIRTY (30)
RCCG JUNIOR ZEAL (AGES: 9-12) TEACHER'S MANUAL SUNDAY 28OF MARCH 2021 LESSON THIRTY (30)
RCCG 2020/2021 ZEAL (AGE 13-19) TEENS TEACHER'S MANUAL SUNDAY 28TH OF MARCH 2021 LESSON THIRTY (30)
RCCG SUNDAY SCHOOL STUDENT'S MANUAL LESSON THIRTY SUNDAY 28TH MARCH 2021
RCCG SUNDAY SCHOOL TEACHER'S MANUAL LESSON THIRTY SUNDAY 28TH MARCH 2021
RCCG JUNIOR ZEAL (AGE 6-8) TEACHER'S MANUAL LESSON THIRTY (30) SUNDAY: 28TH MARCH 2021
RCCG TOPIC: EMPOWERED TO FACE THE GIANT DIGGING DEEP
RCCG SUNDAY SCHOOL STUDENT'S MANUAL MAIDEN SPECIAL FOR YOUNG ADULTS AND YOUTHS (YAYA) SUNDAY 28TH MARCH 2021 30
Open Heavens Daily Devotional
guide was written by
Pastor E.A. Adeboye
, the General Overseer of the Redeemed Christian Church of God, one of the largest evangelical church in the world and also the President of Christ the Redeemer's Ministries.
The Open Heavens devotional
application is available across all mobile platforms and operating systems: iOS, Android, Blackberry, Nokia, Windows Mobile and PC.
CONCLUSION
So many people live and die without leaving any positive mark. Be different. You are not nonentity.
QUESTIONS
1. Discuss the practical pointers to the discovery of one's purpose in life.
2. Mention the paths to the fulfilment of purpose in life.