RCCG 2020/2021 ZEAL (AGE 13-19) TEENS TEACHER'S MANUAL SUNDAY 18TH OF APRIL, 2021 LESSON THIRTY THREE (33)
TOPIC: COUNSEL THE SHEEP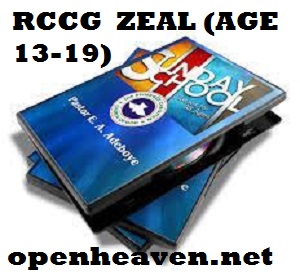 BIBLE TEXT: John 4:1-19
[1]When therefore the Lord knew how the Pharisees had heard that Jesus made and baptized more disciples than John,
[2](Though Jesus himself baptized not, but his disciples,)
[3]He left Judaea, and departed again into Galilee.
[4]And he must needs go through Samaria.
[5]Then cometh he to a city of Samaria, which is called Sychar, near to the parcel of ground that Jacob gave to his son Joseph.
[6]Now Jacob's well was there. Jesus therefore, being wearied with his journey, sat thus on the well: and it was about the sixth hour.
[7]There cometh a woman of Samaria to draw water: Jesus saith unto her, Give me to drink.
[8](For his disciples were gone away unto the city to buy meat.)
[9]Then saith the woman of Samaria unto him, How is it that thou, being a Jew, askest drink of me, which am a woman of Samaria? for the Jews have no dealings with the Samaritans.
[10]Jesus answered and said unto her, If thou knewest the gift of God, and who it is that saith to thee, Give me to drink; thou wouldest have asked of him, and he would have given thee living water.
[11]The woman saith unto him, Sir, thou hast nothing to draw with, and the well is deep: from whence then hast thou that living water?
[12]Art thou greater than our father Jacob, which gave us the well, and drank thereof himself, and his children, and his cattle?
[13]Jesus answered and said unto her, Whosoever drinketh of this water shall thirst again:
[14]But whosoever drinketh of the water that I shall give him shall never thirst; but the water that I shall give him shall be in him a well of water springing up into everlasting life.
[15]The woman saith unto him, Sir, give me this water, that I thirst not, neither come hither to draw.
[16]Jesus saith unto her, Go, call thy husband, and come hither.
[17]The woman answered and said, I have no husband. Jesus said unto her, Thou hast well said, I have no husband:
[18]For thou hast had five husbands; and he whom thou now hast is not thy husband: in that saidst thou truly.
[19]The woman saith unto him, Sir, I perceive that thou art a prophet.
MEMORY VERSE: Prov 11:14 "Where no counsel is, the people fall: but in the multitude of counsellors, there is safety"
RCCG TOPICS THIS WEEK
RCCG JUNIOR ZEAL (AGE 4-5) TEACHER'S MANUAL SUNDAY 18TH OF APRIL 2021 LESSON THIRTY THREE(33)
RCCG JUNIOR ZEAL (AGE 6-8) TEACHER'S MANUAL LESSON THIRTY THREE (33) SUNDAY: 18TH APRIL 2021
RCCG SUNDAY SCHOOL STUDENT'S MANUAL YOUNG ADULTS AND YOUTHS (YAYA) LESSON THIRTY-THREE
RCCG SUNDAY SCHOOL STUDENT'S MANUAL LESSON THIRTY-THREE SUNDAY 18TH APRIL 2021
RCCG 2020/2021 ZEAL (AGE 13-19) TEENS TEACHER'S MANUAL SUNDAY 18TH OF APRIL, 2021 LESSON THIRTY THREE (33)
RCCG HOUSE FELLOWSHIP LEADERS' MANUAL 18TH APRIL 2021 LESSON: 33
RCCG SUNDAY SCHOOL TEACHER'S MANUAL LESSON THIRTY-THREE SUNDAY 18TH APRIL 2021
RCCG SUNDAY SCHOOL TEACHER'S MANUAL MAIDEN SPECIAL FOR YOUTHS (YAYA) LESSON 33 18TH APRIL 2021
HYMN FOR TODAY:
Subscribe to Blog via Email
Go and tell of the good tidings. Hymn 277
LESSON AIM: To teach the teens how to counsel others.
CENTRAL TRUTH: Only the wise can counsel effectively, seek the wisdom of God.
INTRODUCTION: The conversation recorded in our passage of today in John 4 was between Jesus and an unnamed woman who was from the village of Sychar in Samaria. The conversation occurred at a well, the source of water for the village. It was a private conversation. They were alone at the well. There can be no better source of learning about counselling than from our Lord, Master and Savior, Jesus the Christ. Jesus gently but firmly led and guided her to salvation, He crossed cultural, racial and religious barriers to do so. He is our example of wise counselling.
STUDY GUIDE:
To effectively counsel others, keep in mind the following 10 steps:
1. Listen to God – "The Spirit searches all things, even the deep things of God"- 1 Cor 2:10)
2. Be wise. Don't judge others – Eph 5:15; Rom 14:13
3. Speak the truth in love – Eph 4:15
4. Pay attention to carefully – James 1:19
5. Let the scriptures guide you – Heb 4:12
6. Don't take offence – 1 Sam 8:7
7. Make up with others, even if they offended you – Gal 6:1
8. Correct others with love – James 5:20
9. Continually pray for those seeking advice – Eph 6:18
10. Do not seek any personal gains from giving advice to others – 2 Cor 2:17
DISCUSSION: Why do some teenagers shy away from seeking counsel from elders?
INVITATION/ APPLICATION: God made it clear that anyone and keep on refusing His counsel (through His Word and through wise believers) will incur "disaster" (Prov. 1:26), "calamity" (Prov 1:26) " distress and trouble"(Prov 1:27) and even death (Prov 1:32). If you hear His voice today, do not harden your heart! Come to Him as the author and finisher of your faith.
CONCLUSION: God may place you in a position of honor in ministering to His people. Take care of this precious gift from Him by keeping your heart humble and tender towards those He sends your way. Also, remember that seeking advice is a command from God Himself. God personified as 'Lady Wisdom' in Proverbs commands all people everywhere to seek her counsel (Prov. 1:20-33). Ultimately, God Himself is the Counsellor. His name is Counsellor (Isa. 9:6) this refers to Jesus Christ) and His Spirit is the Spirit of Counsel (Isa. 11:2).
PRAYER: Father, turn me to be a good counselor for your glory in Jesus name
ACTIVITY:
• What is God saying in the text?
• How can I apply this to my life?
MY PRAYER POINT FOR THE LESSON:
Father, turn me to be a good counselor for your glory in Jesus name.