Subscribe to Blog via Email
RCCG JUNIOR ZEAL (AGE 6-8) TEACHER'S MANUAL LESSON FORTY-FOUR (44) SUNDAY: 4TH JULY 2021
TOPIC: BUILD GODLY RELATIONSHIP WITH OTHERS
BIBLE TEXT: PHILEMON 1:1-25
1Paul, a prisoner of Christ Jesus, and Timothy our brother,
To Philemon our beloved brother and fellow worker,
2and to Apphia our sister, and to Archippus our fellow soldier, and to the church in your house:
3Grace to you and peace from God our Father and the Lord Jesus Christ.
4I thank my God always, making mention of you in my prayers,
5because I hear of your love and of the faith which you have toward the Lord Jesus and toward all the saints;
6and I pray that the fellowship of your faith may become effective through the knowledge of every good thing which is in you for Christ's sake.
7For I have come to have much joy and comfort in your love, because the hearts of the saints have been refreshed through you, brother.
8Therefore, though I have enough confidence in Christ to order you to do what is proper,
9yet for love's sake I rather appeal to you—since I am such a person as Paul, the aged, and now also a prisoner of Christ Jesus—
10I appeal to you for my child Onesimus, whom I have begotten in my imprisonment,
11who formerly was useless to you, but now is useful both to you and to me.
12I have sent him back to you in person, that is, sending my very heart,
13whom I wished to keep with me, so that on your behalf he might minister to me in my imprisonment for the gospel;
14but without your consent I did not want to do anything, so that your goodness would not be, in effect, by compulsion but of your own free will.
15For perhaps he was for this reason separated from you for a while, that you would have him back forever,
16no longer as a slave, but more than a slave, a beloved brother, especially to me, but how much more to you, both in the flesh and in the Lord.
17If then you regard me a partner, accept him as you would me.
18But if he has wronged you in any way or owes you anything, charge that to my account;
19I, Paul, am writing this with my own hand, I will repay it (not to mention to you that you owe to me even your own self as well). 20Yes, brother, let me benefit from you in the Lord; refresh my heart in Christ.
21Having confidence in your obedience, I write to you, since I know that you will do even more than what I say.
22At the same time also prepare me a lodging, for I hope that through your prayers I will be given to you.
23Epaphras, my fellow prisoner in Christ Jesus, greets you,
24as do Mark, Aristarchus, Demas, Luke, my fellow workers.
25The grace of the Lord Jesus Christ be with your spirit.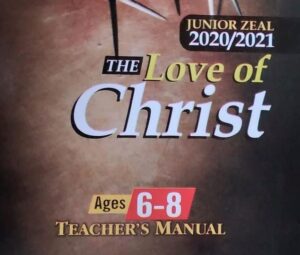 MEMORY VERSE: Psalm 119:63 "I am a companion of all them that fear thee, and of them that keep thy precepts".
LESSON AIM: Children will learn that they should always seek to please God by building a godly relationship with others.
CHILD RELATED TRUTH: Always live a godly life to please Jesus.
INTRODUCTION: What makes a person a good friend? (Give room for children to answer).
If you are a believer, the best friend you will ever have is Jesus. If you have good friends in this life, they are gifts from God. In 2 Samuel 18, Jonathan's choice to be David's friend revealed godly character traits. Jonathan was a Prince and would be the next king after his father Saul. He selflessly became friends with David who had been anointed as the new king. In our lesson today, we will see how believing in the Lord Jesus can make people build a godly relationship with others.
RCCG RELATED TOPICS
OPEN HEAVEN 3 JULY 2021 – THE ALPHA AND OMEGA
GOD BLESS YOU – PART 7 (PERFECT BLESSING) MINISTERING: PASTOR E.A. ADEBOYE
RCCG JUNIOR ZEAL (AGE 6-8) TEACHER'S MANUAL LESSON FORTY-FOUR (44) SUNDAY: 4TH JULY 2021
RCCG JUNIOR ZEAL (AGES: 9-12) TEACHER'S MANUAL 4TH OF JULY 2021 LESSON FORTY FOUR (44)
RCCG JUNIOR ZEAL (AGE 4-5) TEACHER'S MANUAL LESSON FORTY-FOUR (44) SUNDAY: 4TH JULY 2021
RCCG JUNIOR ZEAL (AGES: 13-19) TEACHER'S MANUAL SUNDAY 4TH OF JULY 2021 LESSON FORTY FOUR (44)
RCCG HOUSE FELLOWSHIP LEADERS' MANUAL DATE: 4TH JULY 2021 LESSON: 44
RCCG SUNDAY SCHOOL TEACHER MANUAL 4 JULY 2021 – SWEET SLEEP
Open Heavens Daily Devotional
guide was written by
Pastor E.A. Adeboye
, the General Overseer of the Redeemed Christian Church of God, one of the largest evangelical church in the world and also the President of Christ the Redeemer's Ministries.
The Open Heavens devotional
application is available across all mobile platforms and operating systems: iOS, Android, Blackberry, Nokia, Windows Mobile and PC.
RCCG SUNDAY SCHOOL STUDENT MANUAL 4 JULY 2021 – LESSON 44
PROGRESSION OF EVENTS:
1. Paul imprisoned in Rome wrote a letter to Philemon a wealthy man, greeting him and other believers in Christ who gathered in his house.
2. Paul thanked God for the love and faith Philemon had for Jesus and all the believers.
GOSPEL CONNECTION:
In Christ was a key phrase that we marked in Philemon. Jesus is the only way to be made right before God. Before you can have a relationship with God the father you must believe in His son Jesus. The moment you believe you are protected from the punishment of sins because Jesus died on the cross in your place. The love God has for you made Him send Jesus to take the punishment for your sin by shedding his lifeblood and dying a shameful death on the cross for your sins to be forgiven.
3. Paul prayed that the fellowship of his faith may become effective through the knowledge of every good thing which is in him for Jesus' sake.
4. That he knew that believers had been refreshed through Philemon.
5. Paul wanted Philemon to do something not because he had the authority to command him to do it but because of the faith they both had in Christ.
6. Although Paul was an old man, he was in prison not for committing a crime but for sharing the message about Jesus Christ.
7. That he asking Philemon to forgive Onesimus and accept him as he would he, (Paul).
8. Onesimus who was Philemon's slave who had been separated from him for a while had become a follower of Christ in Rome and was extremely useful in helping him spread the gospel.
CLIMAX: Paul said by accepting as a friend, Philemon should accept Onesimus back not just as a slave but also as a brother and that will greatly encourage him because Philemon will not only be doing this favor for him in obedience but also as a brother in Christ.
CONCLUSION: Paul prayed that God would answer Philemon's prayers of Paul coming to spend some time with him and also send greetings from those who were with him in Rome
CHALLENGE: As a child who already believes in Jesus as Lord and Saviour, you need to ask yourself whether you know what it is to build a godly relationship.
• Am I in Christ?
• Has anyone offended me that I have not forgiven? If not, why not?
• How often do I pray for other believers?
• Am I willing to obey God no matter where I am to share the good news?
• Is there any group of people that I am not comfortable sharing the good news with?
• Have I ever shared the good news with another person and they believed?
INVITATION: If you choose to be in Jesus as Lord and savior, you will be saved (John 5:8)
DAILY DEVOTION
SUNDAY: Acts 16: 35-40
MONDAY: Acts 17:1-4
TUESDAY: Acts 17:5-9
WEDNESDAY: Acts 17:10-15
THURSDAY: Acts 17:16-21
FRIDAY: Acts 17:22-28
SATURDAY: Acts 17:29-34