RCCG JUNIOR ZEAL (AGES: 9-12) TEACHER'S MANUAL 4TH OF JULY 2021 LESSON FORTY FOUR (44)
TOPIC: BUILD GODLY RELATIONSHIP WITH OTHERS
BIBLE TEXT 1 Samuel 18:1-4
[1]Now when he had finished speaking to Saul, the soul of Jonathan was knit to the soul of David, and Jonathan loved him as his own soul.
[2]Saul took him that day, and would not let him go home to his father's house anymore.
[3]Then Jonathan and David made a covenant, because he loved him as his own soul.
[4]And Jonathan took off the robe that was on him and gave it to David, with his armor, even to his sword and his bow and his belt.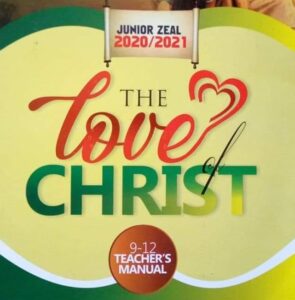 MEMORY VERSE Acts 11:25 "Then departed Barmabas to Tarsus, for to seek Saul"
LESSON AIM: To let the chilidren know how to identify godly relationship
CENTRAL TRUTH: Godly relationship will build our Christian life.
INTRODUCTION: The friendship between Jonathan and David was a godly relationship. Jonathan made a covenant with David because he loved him as he loved himsef. He gave David his clothes, bow, sword and belt in recognition that God has chosen David to be king instead of him. They promised to protect each other. Jonathar's love for David was selfess.
STUDY GUIDE
A. HOWTO BUILD A GODLY RELATIONSHIP
1. Put God first – Colossians 1:18
2. Choose a godly and wise person – Proverbs 9:9
3. Follow Jesus' example in the way you treat others
4 Guard your heart -bProverbs 4:23
5. Flee appearance of evil -1 Thessalonians 5:22
6.Check your thought and emotion – Philippians 4:18
7. Have integrity – Romans 15:20
8 Show love – Colossians 1:4, John 13:34
9 Seek Gods wil-Psalm 40:8
B. WHYYOU NEED TO BUILD GODLY RELATIONSHIP
1. To be blessed – Psalim1
2.. So as not to be corrupted – 1 Corinthians 15:33
3. To be at peace with others – Hebrews 12:14
4. Iron sharpens iron – Proverbs 27:17
5. To make heaven – 2 Corinthians 112
6. Help you to grow in the Lord – Romans 12:10
7. To be set apart – Psalm 4:3
8. To be sUccessful in your academics.
9. To be fulfilled in life.
C. Questions to ask yourself before relating with any child
1. Does this person draw me closer to God?
2. Does this person bring out the best in me?
3. Is this person open and honest?
4. Does this relationship make me compromise my values?
5. Does this person challenge me to read my books and be attentive in class?
6. Does this person encourage me to be obedient to my parents and teachers?
7. Is the person an obedient child?
CONCLUSION: Godly relationship will help you to fulfl your divine destiny.
INVITATION: To have a godly friend, you must first be a friend of Jesus.
ACTIVITY: Memorize Psalm 1-end.
LIFE APPLICATION: The kind of relationship we keep will have effect on your Christian life. Evil associate comupts manners Psalm 1:1-6. Let your relationship with others be Godly always. Flee all appearances of evil always.
RCCG RELATED TOPICS
OPEN HEAVEN 3 JULY 2021 – THE ALPHA AND OMEGA
GOD BLESS YOU – PART 7 (PERFECT BLESSING) MINISTERING: PASTOR E.A. ADEBOYE
RCCG JUNIOR ZEAL (AGE 6-8) TEACHER'S MANUAL LESSON FORTY-FOUR (44) SUNDAY: 4TH JULY 2021
RCCG JUNIOR ZEAL (AGES: 9-12) TEACHER'S MANUAL 4TH OF JULY 2021 LESSON FORTY FOUR (44)
RCCG JUNIOR ZEAL (AGE 4-5) TEACHER'S MANUAL LESSON FORTY-FOUR (44) SUNDAY: 4TH JULY 2021
RCCG JUNIOR ZEAL (AGES: 13-19) TEACHER'S MANUAL SUNDAY 4TH OF JULY 2021 LESSON FORTY FOUR (44)
RCCG HOUSE FELLOWSHIP LEADERS' MANUAL DATE: 4TH JULY 2021 LESSON: 44
RCCG SUNDAY SCHOOL TEACHER MANUAL 4 JULY 2021 – SWEET SLEEP
RCCG SUNDAY SCHOOL STUDENT MANUAL 4 JULY 2021 – LESSON 44
DAILY DEVOTIONAL
SUNDAY: ISAIAH 36:1-11
MONDAY: ISAIAH 36:12-22
TUESDAY: ISAIAH 371-7
WEDNESDAY: ISAIAH 37:8-20
THURSDAY: ISAIAH 3721-29
FRIDAY: ISAIAH 37:30-38
SATURDAY: ISAIAH 38:1-8