RCCG JUNIOR ZEAL (AGES: 13-19) TEACHER'S MANUAL SUNDAY 4TH OF JULY 2021 LESSON FORTY FOUR (44)
TOPIC: BUILD GODLY RELATIONSHIP WITH OTHERS
BIBLE TEXT: 1 Samuel 18:1-4
[1]Now when he had finished speaking to Saul, the soul of Jonathan was knit to the soul of David, and Jonathan loved him as his own soul.
[2]Saul took him that day, and would not let him go home to his father's house anymore.
[3]Then Jonathan and David made a covenant, because he loved him as his own soul.
[4]And Jonathan took off the robe that was on him and gave it to David, with his armor, even to his sword and his bow and his belt.
MEMORY VERSE: Eph 4:32 – And be ye kind one to another, tenderhearted, forgiving one another. even as God for Christ s sare hath forgiven you.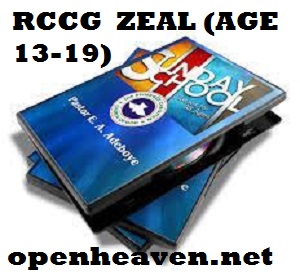 HYMN FOR TODAY:
Shine Jesus shine
LESSON AIM: To let the teens learn how to build godly relationship with others.
CENTRAL TRUTH: Godly relationships glorify God and demonstrate the reality of the gospel in our lives.
INTRODUCTION: "Who is in your circle? Faith was asked. She pondered and pondered until it became clear she had no names to mention.
Friendship is like a plant; it needs to be nurtured and well attended to.
Relationships can make you or mar you, therefore, choose wisely Godliness must cut across every relationship we are in. Be it with parents, siblings, friends, opposite sex and neighbors. Let people be happy being
around you.
STUDY GUIDE
A. How to build godly relationships:
From the following verses, highlight how to build good relationship5;
1. Forbearing one another – Eph 4:2
2. Speak the truth in love – Eph 4:15
3. Love others -1 Peter 4:8
4. Avoid corrupt communication – Eph 4:29
5. Avoid foolish talking, norjesting – Eph 5:4
6. By submitting to one another in the fear of God – Eph 5:211
Facts about building godly relationship:
a. Be rightly related to God: it is the God factor in any relations that makes it a godly one.
b. Learn to define every relationship you are in, relationships are in levels. For some you may need to set boundaries for yourself e.g
when relating to opposite sex.
c. Do not be in a relationship solely for your own advantage or where someone is taking advantage of you.
c. Communicate in a tactful and sensitive manner. Proverbs 15:1
e. You cannot be a friend to everybody, befriend people of like minds.
Key factors in a godly relationship:
The "you" actor:
•Honesty
•Love
•Loyalty
•Prayer and studying
•Selflessness.
The "friend" factor:
•Manner of communication: be careful of people who has something negative to say about everyone
•The voice of influence matters. Observe the voices that guides the person's life and their principles and convictions in life.
•Must be born again and filled with the Holy Spirit.
DISCUSSioN: What is the most important key to building a Godly relationship?What is your view on friendship with the opposite sex?
INVITATION/ APPLICATION: Spend some time reflecting on how you extend friendship to others. Take note of the areas you need to change.
RCCG RELATED TOPICS
OPEN HEAVEN 3 JULY 2021 – THE ALPHA AND OMEGA
GOD BLESS YOU – PART 7 (PERFECT BLESSING) MINISTERING: PASTOR E.A. ADEBOYE
RCCG JUNIOR ZEAL (AGE 6-8) TEACHER'S MANUAL LESSON FORTY-FOUR (44) SUNDAY: 4TH JULY 2021
RCCG JUNIOR ZEAL (AGES: 9-12) TEACHER'S MANUAL 4TH OF JULY 2021 LESSON FORTY FOUR (44)
RCCG JUNIOR ZEAL (AGE 4-5) TEACHER'S MANUAL LESSON FORTY-FOUR (44) SUNDAY: 4TH JULY 2021
RCCG JUNIOR ZEAL (AGES: 13-19) TEACHER'S MANUAL SUNDAY 4TH OF JULY 2021 LESSON FORTY FOUR (44)
RCCG HOUSE FELLOWSHIP LEADERS' MANUAL DATE: 4TH JULY 2021 LESSON: 44
RCCG SUNDAY SCHOOL TEACHER MANUAL 4 JULY 2021 – SWEET SLEEP
Subscribe to Blog via Email
RCCG SUNDAY SCHOOL STUDENT MANUAL 4 JULY 2021 – LESSON 44
CONCLUSION: The Bible instructs you to show yourself friendly. This means that you need to be a friend that adds value to people's live.
ACTIVITY:
1. What is God saying in the text?
2. How can I apply this to my life?
MY PRAYER POINT FOR THE LESSON:
Father, put your love in my heart to love others.