RCCG JUNIOR ZEAL SUNDAY 7TH OF FEBRUARY, 2021 (AGE 4-5) TEACHER'S MANUAL  LESSON TWENTY-THREE (23)
TOPIC: LIVE IN THE SPIRIT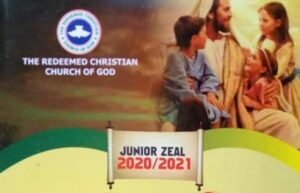 BIBLE TEXT: Romans 8:1-14 (NIRV)
1. The Holy Spirit Gives Life Those who belong to Christ Jesus are no longer under God's sentence.
2. I am now controlled by the law of the Holy Spirit. That law gives me life because of what Christ Jesus has done. It has set me free from the law of sin that brings death.
3. The written law was made weak by our sinful nature. But God did what the written law could not do. He made his Son to be like those who have a sinful nature. He sent him to be an offering for sin. In that way, he judged sin in his Son's human body.
4. Now we can do everything the law requires. Our sinful nature no longer controls the way we live. The Holy Spirit now controls the way we live.
5. Don't live under the control of your sinful nature. If you do, you will think about what your sinful nature wants. Live under the control of the Holy Spirit. If you do, you will think about what the Spirit wants.
6. The way a sinful person thinks leads to death. But the mind controlled by the Spirit brings life and peace.
7. The sinful mind is at war with God. It does not obey God's law. It can't.
8. Those who are controlled by their sinful nature can't please God. 9. But your sinful nature does not control you. The Holy Spirit controls you. The Spirit of God lives in you. Anyone who does not have the Spirit of Christ does not belong to Christ.
10. Christ lives in you. So your body is dead because of sin. But your spirit is alive because you have been made right with God.
11. The Spirit of the One who raised Jesus from the dead is living in you. So the God who raised Christ from the dead will also give life to your bodies, which are going to die. He will do this by the power of his Spirit, who lives in you.
12. Brothers and sisters, we have a duty. Our duty is not to live under the control of our sinful nature.
13. If you live under the control of your sinful nature, you will die. But by the power of the Holy Spirit you can put to death the sins your body commits. Then you will live.
14. Those who are led by the Spirit of God are children of God.
MEMORY VERSE: Gal 5:16 "This I say then, walk in the spirit, and ye shall not fulfill the lust of flesh."
LESSON AIM: A saved child will live by the Holy Spirit who will keep you away from sin.
CHILD RELATED TRUTH: Fleshly living can only lead to destruction.
INTRODUCTION:RCCG JUNIOR ZEAL SUNDAY 7TH OF FEBRUARY 2021 (AGE 4-5) TEACHER'S MANUAL  LESSON TWENTY-THREE (23)
DO you ever experience being guided by "unseen Hands"? You just feel that someone led you to where you did not plan to go or brought answer into your thought as you think over an issue. Or like someone you did not see, speaks to you.
Like you will want to do something wrong and you heard a voice that says "don't do it" it is wrong or why did you do it? Who is this
unseen one trying to put you right?
PROGRESSION OF EVENTS:
A. The Holy Spirit delivers from power of the flesh. With the Holy Spirit you can overcome falling into sinful dictate of the flesh. vs. 2
B. Living by the Spirit is a journey of walking day by day by the guidance of the Holy Spirit. He helps a child of God to live right and please God.
C. The mind of a sinful man leads to death but a mind controlled by the Spirit is life and peace. Rom 8:6
If you allow the flesh to control you, you will commit sin and the wages of sin is death. Rom 6:23; this means physical death or spiritual death which is separation from God, but God loves you and gave His son to die on the cross for you. John 3:16.
Jesus shed his blood, died and rose again so that you can have your sins forgiven Heb. 9:13b
D. Your responsibility or duty is to live according to the Holy Spirit. The Holy Spirit helps you to deal with inherited nature of sin vs.13
CLIMAX: Those who are led by the Spirit of God are the sons of God vs.14
RCCG THIS WEEK
CONCLUSION:
Subscribe to Blog via Email
Those who belong to Jesus have crucified the sinful nature of sin in them.
CHALLENGE: If you know Jesus as Saviour, live in union with the Holy Spirit so that he can help you in your spiritual journey. Seek His help day by day in all you do, He will help you.
– Read your bible.
– Give you understanding and wisdom.
– Help you to pray.
– He will help you to do right things and live a life that is pleasing to God.
INVITATION: Only those who have received Jesus Christ as their Saviour can live in the Holy Spirit. You want to live in the spirit? Receive Jesus into your heart. John 1:12.
DAILY DEVOTIONAL
SUNDAY: LUKE 9:43-45
MONDAY: LUKE 9:46-48
TUESDAY: LUKE 9:49-51
WEDNESDAY: LUKE 9:52-54
THURSDAY: LUKE 9:55-57
FRIDAY: LUKE 9:58-60
SATURDAY: LUKE 9:61-62