RCCG SUNDAY SCHOOL STUDENT'S MANUAL FOURTH QUARTER REVIEW: SUMMARY OF LESSONS 40-51LESSON FORTY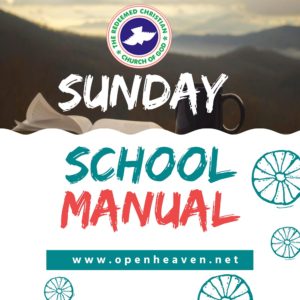 TOPIC: FOURTH QUARTER REVIEW: SUMMARY OF LESSONS 40-51LESSON FORTY
MEMORY VERSE: "For thought I preach the gospel, I have nothing to glory of: for necessity is laid upon me; yea, woe is unto me, if I preach not the gospel". — 1Corinthians 9:16
BIBLE PASSAGE: MARK 16:15-20
INTRODUCTION
Shortly after the baptism and wilderness experiences of Jesus Christ, his earthly ministry started with the preaching of the gospel and ended with the commissioning of the disciples for the same assignment (Mark 1:9-14; Matthew 28:18-20). Without doubt, this must have been an issue topmost in the heart of the lord Jesus Christ for all generations.
LESSON OUTLINES
1. A MUST FOR ALL BELIEVERS
2. THE MESSAGE IS SIMPLE
The Lord commands all believers to go and preach the gospel (Matt. 28:18-20), the power and the wisdom of God (1Cor. 1:24). A refusal to preach, as apostle Paul was concerned, is a curse (1Cor. 9:16). It is a duty that is not limited by seasonal changes, societal, spiritual or marital status (2Tim. 4:2; Act 18:26).
The Lord does not want anyone to perish (2Peter 3:9; 1Timothy 2:4). He promises rest for the weary, rescue for the perishing soul and everlasting life for the repentant sinner (Matt. 11:28; Isaiah 61:1-3; John 3:36). He remains our advocate with the heavenly father (1John 2:1-2) and his blood still cleanses from all sins (1John 1:7). Therefore, every believers must see the task of preaching the gospel and soul winning as an inevitable one (1Cor. 9:16). Do not shy away from it (Rom. 1:16).
However, to do this divine assignment probably, you need godly wisdom (James 1:5-8; Acts 17:15-34), a heart of compassion (Matt. 9:36; 23:37) and the power of he Holy Spirit (Act 1:8; 4:31; 16:16-18).
The word from the beginning (John 1:1, 14) makes it abundantly clear that all the souls are His (Ezekiel 18:4) and that these souls have all sinned (Romans 3:23). Whosoever confesses and forsakes his or her sins will obtain mercy (Proverbs 28:13; 1John 1:8-10) Since the grace of God in Christ will grant him or her eternal life (Romans 6:23). This is a new covenant in the blood of Jesus, which alone can atone for the sins of the whole world (Hebrews 9:14).
CONCLUSION
If the Lord Jesus Christ saw the preaching of the gospel unavoidable, then, Believers therefore have no excuse. He has promised that we will do greater works (John 14:12) and that he will be with us always (Matt. 28:20). Pray and obey now.
TOPIC: THE CHRISTIAN MISSIONARY
MEMORY VERSE: "And he said unto them, Go ye into all the world, and preach the gospel to every creature". — Mark 16:15
BIBLE PASSAGE: MATTHEW 28:19-20
INTRODUCTION
The business of missions includes the Almighty God, the Lord Jesus Christ, the Holy Spirit and the Church. Mission is a must and all real Christians should be interested.
LESSON OUTLINES
1. CHRISTIAN MISSIONS AND HOME SUPPORT
2.YOU CAN BE PERSONALLY INVOLVED
CHRISTIAN MISSIONS AND HOME SUPPORT
Missionaries are those Christians sent across geographical and cultural boundaries to proclaim the gospel. The take off point is usually from an established body of Christ. It automatically follows, therefore, that the upkeep of the missionary there is the sole responsibility of other members of the body at home. It is written that if a member suffers, other members suffer also (1Corinthians 12:25-26). Christians are supposed to be colabourers together with God (1Corinthians 3:8-9). Support in prayers and provision of physical needs for the missionaries on the field are the responsibilities of Christians at home. This is missions by proxy. There, on the mission field, it is expected of the missionary to concentrate in order to achieve the purpose for which God has sent him of her (Matthew 6:20-21). Any distractions whatsoever may hinder the speed of his or her primary assignments. Hence, the need for active and prompt home supports.
YOU CAN BE PERSONALLY INVOLVED
The woman of Shunem in her spiritual perception found out the man of God (2Kings 4:8-10). God needed a place for the Man of God to lay his head. Both she and her husband agreed to make a chamber for the Man of God and put there some essential things needed by him. Apostle Paul commended the Macedonian and Philippians churches for submitting themselves to the will of God and giving their substances for the cause of the gospel (2Corinthians 11:9; Philippians 4:15-19). Similarly, Priscilla and Aquila, a wonderful Christian couple, were also helpers of Apostle Paul (Romans 16:3-4).
It is obvious that not all born again Christians can be out there on the mission field but all can be involved either directly or by proxy. If you cannot go, you can give and/or groan (pray) in support of missions.
CONCLUSION
God is still calling today. Whosoever is willing should respond. You can decide to begin to support a missionary, at least.
MEMORY VERSE: "Beware of dogs, beware of evil workers, beware of the concision". — Philippians 3:2
BIBLE PASSAGE: 2PETER 2:9-22
INTRODUCTION
The word 'beware' is 'to be careful of' or to 'be mindful of' a thing, a person or a circumstance. The scripture warn us to beware of dogs, evil workers and of the concision (fleshly circumcision upon which the Judaizers insisted as being necessary for gentile converts). Dogs are naturally domesticated as per or for security purposes. However, dogs are also dangerous animal; they can bite, destroy, and even kill. In the New testament times, dogs were regarded as scavenger (Matthew 15:26-27). In the content of Philippians 3:2 the word 'dog' is used figuratively to represent some classes of people. Who are these 'dogs' and why should believers beware of 'dogs'.
LESSON OUTLINES
1. DESCRIPTION OF 'DOGS'
2. DANGERS POSED BY 'DOGS' AND THE WAY OUT
The scripture is explicit in the way the issue of dogs is being addressed. Philippians 3:1-3 describes 'dogs' as evil workers; people who are deceitful (2Corinthians 11:13); unfaithfully and deceitfully (2Corinthians 4:1-2). 'Dogs' are people who endeavour to subvert the Gospel of Christ, and the faith of men (Acts 13:8-11). Isaiah 56:10-11 further gave a description of dogs as minister or leaders who are lazy, greedy, self-centered, and look out only for their own interests. Gnashing teeth biting, and barking are behaviours common to dogs, so it is with people of violent spirit (Galatians 5:15).
Jesus Christ also speaks in symbolic term about dogs: He instructed "Give not that which is holy unto the dogs neither cast ye your pearls before swine, lest they trample them under their feet, and turn again and rend you." (Matthew 7:6). 'Dogs' are those who go back to their 'vomit'-old sinful ways-after salvation (2Peter 2:22; Hebrews 10:38).
Dogs are also mentioned in Deuteronomy 23:18, alluding to the behaviour of homosexually and male prostitution, which is abominable in the judgement of God. From these examples we can conclude that one aspect of the warning about "dogs" is to beware of people who live and promote a sinful lifestyle in doctrines and deeds.
DANGERS POSED BY 'DOGS' AND THE WAY OUT
'Dogs' are destroyers of the faith; they pollute the faith of believers by confusing fundamental doctrines (2Timothy 3:7-8; 2Timothy 4:3-4). They weaken the conscience of young believers through meanness and inconsiderable behaviours. They live their lives as if they do not have a responsibility to help young believers grow (1Corinthians 8:9-12). They defile the church with their pervasive way of life (2Corinthians 11:13) introducing homosexualism, prostitution and other abominable things into the Christian faith.
To avoid being victims of the antics of dogs, Christians should avoid taking pleasure in those who are regarded as 'dogs' by the scriptures (Romans 1:32). Believers should give attention to the study of the scriptures in other not to be tossed by the wind of doctrines (1Thimothy 4:13; Ephesians 4:14); Be watchful and prayerful (1Peter 5:8; Matthew 26:41); Make holiness your lifestyle (Romans 12:1-2) and live in the spirit (Galatians 5:16).
CONCLUSION
Anyone who goes back to his sins after forsaking them is regarded as dogs, be watchful!.
MEMORY VERSE: "Having therefore these promises, dearly beloved, let us cleanse ourselves from all filthiness of the flesh and spirit, perfecting holiness in the fear of God". — 2Corinthians 7:1
BIBLE PASSAGE: HEBREWS 10:19-23
INTRODUCTION
God's desire is that His people will be clean outwardly and inwardly (Zechariah 3:4). He loved those whose hearts and lives are perfect towards Him and has made adequate provision for their all-round cleansing (Hebrews 10:22). In Psalms 51:7, David prayed for God's cleansing. We also have a crucial role to play in this matter.
LESSON OUTLINES
1. SELF-CLEANSING AND ITS BENEFITS
2. HOW CAN A MAN CLEANSE HIMSELF?
SELF-CLEANSING AND ITS BENEFITS
Self cleansing is a conscious and decisive effort put in by man to purge himself of all filthiness (2Corinthians 1:7) in order to become whole and acceptable to God, through the help of the Holy Spirit. It involves thorough sanitation of a life whose filth has been revealed through the mirror of God's word. It is a renewal of one's mind (Romans 12:2). It is putting away evil deeds (Isaiah 1:16), wickedness of the heart and impure thoughts (Jeremiah 4:14). It is giving no room for sin in one's life (Romans 6:12).
Self cleansing makes us honourable and useful vessels (2Timothy 2:21). It is essential for those that have the hope of eternal life with Jesus (1John 3:3). It provides a platform to appear before God blameless and to obtain answers to prayers (Hebrews 10:22; Hebrews 4:6).
HOW CAN A MAN CLEANSE HIMSELF?
It is absolutely true that we are purged and cleansed through the shed blood of our Lord Jesus Christ (Hebrews 9:14,22). However, the Bible raises a fundamental question in Psalms 119:9, "Wherewithal shall a young man cleanse his way?…" The Bible also provides the answer,"… by taking heed thereto according to thy word. "Having identified the gray areas in your life, 'take heed thereto' necessary adjustments and make changes to show that you fear God. Lay aside weight and besetting sins (Hebrews 12:1). Steer clear of the appearances of evil (1Thessalonians 5:22). Wash thoroughly in the water of God's word (Ephesians 5:26; Ezekiel 36:25). Mortify the deeds of the flesh (Romans 8:13; Colossians 3:5)- and draw near to God (James 4:8).
CONCLUSION
God is looking for a clean and pure vessels. You can be available for His use by cleansing yourself.
MEMORY VERSE: "The sleep of a labouring man is sweet whether he eat little or much: but the abundance of the rich will not suffer him to sleep". — Ecclesiastes 5:12
BIBLE PASSAGE: PROVERBS 3:21-24
INTRODUCTION
Sleep is a state of natural muscle relaxation and periodic suspension of consciousness (reduced interactions with surroundings). Like everything else God has made, sleep is good but can also be greatly abused. Can we sleep too much, too little, and how important is sleep?
LESSON OUTLINES
1. WHAT DOES THE BIBLE SAY ABOUT SLEEP?
2. WHY IS SLEEP IMPORTANT?
WHAT DOES THE BIBLE SAY ABOUT SLEEP?
The Bible says good sleep is the result of faith and trust in God (Psalm 4:8; 127:2). Sweet sleep is a reward for good labour (Ecclesiastes 5:12; Proverbs 3:24). Sleep is one of the medium through which God communicates with man (1Kings 3:5). However, the Bible says that it is not good to love sleep (Proverbs 20:13); sleep too much (Proverbs 6:9-11); sleep at the wrong time ( Ecclesiastes 3:1; Matthew 26:40-46); deprive oneself of sleep for inordinate ambitious pursuit of wealth (Ecclesiastes 8:16; Psalm 127:1-2). Sleep is something portrayed as a gift from God in passages such as Proverbs 3:24 and Psalm 4:8.
Sleep is a good thing. One possible explanation for our need for sleep is that sleep reminds us that we are creatures, not the Creator. Our physical bodies must be constantly replenished with food, water, oxygen, and sleep in order to continue functioning. We know that sleeping is part of being a healthy person because Jesus had to sleep just like we do (Luke 8:23; Mark 1:35). Sleep is a basic human need and essential for good health, boosts memory, aids body system against infections, replenishes the body, and improves immune function. It is also essential for good quality of life and performing well during the day (better productivity and concentration).
Sometimes, God spoke to people while they slept through dreams and visions (Matthew 2:13,19; 1Kings 3:5). Too much of sleep, however, is bad (Proverbs 10:5).
CONCLUSION
Sleeping at the right time and in the right proportion is good for the health of every believers
MEMORY VERSE: "And there sat in a window a certain young man named Eutychus, being fallen into deep sleep: and as Paul was long preaching, he sunk down with sleep, and fell down from the third loft, and was taken up dead". — Acts 20:9
BIBLE PASSAGE: PROVERBS 6:9-11
INTRODUCTION
Sleep health is a phenomenon that captures the nature of sleep in humans, the associated disorders and remedies. In this context, it is important to have the knowledge of how much or how well we sleep and deal with any lifestyle habits that run contrary to proper sleeping habits. We shall therefore consider the stages and spectrum of sleep as well as some sleep disorders in this study.
LESSON OUTLINES
1. STAGES AND SPECTRUM OF SLEEP
2. SLEEP DISORDERS
STAGES AND SPECTRUM OF SLEEP
Sleep can be in stages. It starts from slumbering or dozing (Matthew 25:1-5). Sleep (Proverbs 3:24), Deep sleep (Genesis 2:21-23;Job 4:13), sleep of death or coma(Psalm 13:3; Jeremiah 51:57), Death ( John 11:11-14).
Physically, the amount of sleep you need varies significantly over the course of your lifetime. It depends on your age and activity-level as well as your general health and lifestyle habits. However, on a sleep spectrum (scale), one can have lack/shortage of sleep (Daniel 6:18), moderate sleep (Ecclesiastes 5:12) or excessive sleep (Acts 20:9). If one does not sleep moderately, it could be as a result of a lifestyle habit (Proverbs 6:9-10;19:15;20:13) or sleep disorder.
Sleep disorder varies. 'Insomnia' is difficulty falling asleep or staying asleep, even when a person has the chance to do so. Sleep deprivation occurs when an individual gets less sleep than they need to feel awake and alert. Ongoing lack of sleep can lead to excessive daytime sleepiness, emotional difficulties, poor job performance, obesity, risk of heart disease (stroke) and a lowered perception of quality of life.
Oversleeping is called hypersomnia or "long sleeping". People with hypersomnia might require as many as 10 to 12 hours of sleep per night to feel their best. But oversleeping has been linked to a host of medical problems, including diabetes, heart disease, and increased risk of death.
Sleep apnea is a temporary cessation of breathing during sleep. It is a potentially serious sleep disorder in which breathing repeatedly stops and starts. If you snore loudly and feel tired even after a full night's sleep, you might have sleep apnea.
Sleep paralysis occurs when your mind is conscious but you are unable to move your body especially when you are in the process of waking up.
Sleep-walking or talking loud while sleeping is another sleep challenge especially in adults
Anyone with sleep challenge should pray, seek professional counsel and change his/her lifestyle habits.
CONCLUSION
Like in every other area of life, sleep should also be in moderation.
TOPIC: SPIRITUAL AWAKENING
MEMORY VERSE: "Therefore let us not sleep, as do others; but let us watch and be sober". — 1Thessalonians 5:6
BIBLE PASSAGE: 1THESSALONIANS 5:1-8
INTRODUCTION
Spiritually, sleep could either be caused naturally (Proverbs 3:24) or supernaturally (Genesis 2:21). Sleep is also used as a figurative expression of death (John 11:11-13), spiritual weakness or lukewarmness (Ephesians 5:14). Spiritual sleep is considered dangerous for any believers. This calls for spiritual awakening, i.e. waking up from spiritual sleep.
LESSON OUTLINES
1. SIGNS AND DANGERS OF SPIRITUAL SLEEP
2. REMEDIES FOR SPIRITUAL SLEEP
SIGNS AND DANGERS OF SPIRITUAL SLEEP
There are signs or indicators of spiritual sleep that every believer should watch out for. When you notice that you are:more interested in the things of the world or vigorously pursuing wealth(1John 2:15; Ecclesiastes 5:10); manifesting more of the works of the flesh (Galatians 5:19-21); not hungry for spiritual food (Colossians 3:15-16); no longer impacted by the word of God (Isaiah 6:9-10; Jeremiah 15-16); no longer praying or hearing the voice of God (Romans 11:7-8); no longer thirsty for righteousness (Matthew 5:6). In addition, you may be sleeping spiritually when you think you do not need to learn(Proverbs 18:2; Galatians 6:3); pursuing fame or self-glory (Jeremiah 45:5); unmindful of danger(Judges 16:16-25; Jonah 1:3-5); lack commitment in spiritual relationships with spiritually-minded Christians (Hebrews 10:25).
If you are asleep spiritually you cannot discern spiritual matters (1Corinthians 2:11-14; Proverbs 29:18). By implication whatever you cannot see you cannot get (Genesis 13:14-18; Jeremiah 17:5-6). You are open to spiritual attack(1Kings19:1-8; Matthew 13:24-30) and sudden destruction ( Acts 20:9-12; Judges 4:17-21). You will become weak (Judges 16:20) and bring disappointment (2Timothy 4:10). You can miss divine appointment (Matthew 25:1-12).
REMEDIES FOR SPIRITUAL SLEEP
The Bible calls for spiritual awakening especially for believers that are slumbering or already asleep in spiritual matters (Romans 13:11). Why should and how can such believers wake up?
One clear reason for spiritual awakening is the nearness of the second coming of Jesus Christ (Romans 13:11b; Matthew 24:42-44). Believers should also note that we are children of light and of 'the day' and not of 'the night' nor of darkness (1Thessalonians 5:5). To enjoy the true light in Christ, those that are sleeping spiritually must wake up (Ephesians 5:14). Another reason to awake from spiritual sleep is to receive deliverance from the snare of the devil (2Timothy 2:26). Believers should wake up spiritually because, we are in the season of harvest of souls into God's kingdom (Luke 10:2). Also, it is a time of war and the enemy is wide awake (Matthew 13:25; 1Peter 5:8).
1Corinthians 15:34 charges every believer to awake to righteousness, strive to know God and stop sinning. If you claim to be a believer in Christ, you must constantly check your lifestyle habits to know whether you are slumbering or sleeping spiritually (2Corinthians 13:5; Luke 21:34). Watch and pray constantly in order to remain spiritually alert (Luke 21:36; Matthew 26:41).
CONCLUSION
Learn to walk in the power of the Holy Spirit in order not to sleep spiritually. If you are already sleeping, wake up.
MEMORY VERSE: "Thou shalt not avenge, nor bear any grudge against the children of thy people, but thou shalt love thy neighbour as thyself: I am the LORD". — Leviticus 19:18
BIBLE PASSAGE: ROMANS 12:17-21
INTRODUCTION
Retaliation is a violent response to an act of harm or perceived injustice. To retaliate is to do something harmful or negative, to get revenge for some harm; to fight back or respond I kind to an injury or affront. Both the Hebrew and Greek word translated "vengeance", "revenge", and "avenge" have the idea of punishment in their root meaning. The question of non-retaliation or non-violence is often discussed in relation to *Matthew 5:38-44*.
LESSON OUTLINES
1. WHAT DOES THE BIBLE SAY ABOUT RETALIATION?
2. THE PROPER CHRISTIAN ACTION
WHAT DOES THE BIBLE SAY ABOUT RETALIATION?
The Bible has much to say about retaliation (revenge, avenge or vengeance) that contradicts everything that feels right to many people (Isaiah 55:9). For instance, in *Romans 12-19*, believers are not expected to pay any evil done against them. *Proverbs 25:21-22* and *Romans 12:20* admonish us not to stoop low to the level of the offender. Believers should learn not to join their offenders in their errors (Romans 12:21; Matthew 5:39). Hebrews 10:30 also teaches us not to take matters out of God's hands and insist on fixing things ourselves.
THE PROPER CHRISTIAN ACTION
*Matthew 5:38-44* serve to drive home the point that a Christian, rather than avenging himself upon a brother who has done him a personal wrong should love his enemies, bless those that curse him, do good to those that hate him, and pray for those who despitefully use and persecute him. Self-vengeance has no place in the Christian life; we should allow God to bring his vengeance on our enemies rather than taking vengeance ourselves (Romans 12:19).
As believers, we must resist the impulse to retaliate but rather live at peace with all men as much as possible (Romans 12:18). Our job as Christians is to forgive, not to retaliate (Luke 6:27-31). When we follows God's commands to love, forgive and do well those who wrong us (Matthew 5:44), we can trust that our Defender will do what is right (Psalm 20:1; Zachariah 12:8). We can also set healthy boundaries in destructive relationships (2Corinthians 6:17; Proverbs 22:24; Ezra 10:11) and make our ways pleasing unto God (Proverbs 16:7).
CONCLUSION
The scripture enjoins us to live peaceably with all men as much as possible. *Romans 12:18*
MEMORY VERSE: "This know also, that in the last day perilous times shall come". — 2TIMOTHY 3:1
BIBLE PASSAGE: 2TIMOTHY 3:1-5
INTRODUCTION
The translated word for "perilous" in 2Timothy 3-1 is 'chalepos', which means troublesome, dangerous, harsh, fierce, full of risk, hazardous, harmful, dreadful, threatening. The term,"last days", refers to the period between Christ's accession into Heaven and his second coming. "Perilous" constitute part of the last days.'The last days' is not just a prophecy, it started from the days of the Bible (Hebrew 1:2; 1John 2:18-19). The importance of the prophecy and warning against the perilous times cannot be over emphasised because we are living in the fulfillment of the perilous times. The purpose of this study is to carefully consider the writing of Paul to Timothy in 2Timothy 3:1-5 on the things that characterise the 'Perilous Times' and the position every believer in Christ should take.
LESSON OUTLINES
1. THE CHARACTERISTICS OF PERILOUS TIMES
2. CAUTION FOR BELIEVERS
THE CHARACTERISTICS OF PERILOUS TIMES
According to Paul, the conduct of the people will create the perilous times. Some people will be 'lovers of their own selves' (2Timothy 3:2) i.e.they will be self-centred (Phillippians 2:21); 'covetous'- having just of the eyes, craziness for wealth and materialism (Luke 12:15; 2Peter 2:3); 'boasters'- expressing vain glory (Psalm 10:3); 'proud'- valuing themselves above all others (Proverbs 21:4); 'blasphemers'- those who speak immorally of God and sacred things (Mark 3:29); 'disobedient to parents' – disrespect and dishonoring parents both physically and spiritually (Ephesians 6:1-2); 'unthankful' – not appreciating God and others for good deeds (Romans 1:21); 'unholy' – not pleasing God (Jude18).
Furthermore, *2Timothy 3:3* says some people will be 'without natural affection'- no family affection and lack of tender love (Romans 1:31); 'trucebreakers'- treacherous and betraying true friendship (Romans 1:31); 'False accusers' – character assassination (Proverbs 10:18); 'incontinent'- without self control or unrestrained (2Peter 2:14); 'fierce'-wild or violent, having or displaying an intense, ferocious aggressiveness (Psalm11:5); 'despisers of those that are good'- All forms of lies, evil speaking against true believers and godliness (Romans 1:30; Nehemiah 2:19).
*2Timothy 3:4* also make mention of the'traitors'- a betrayer of trust
(Acts 7:52); 'heady'- to be rash, reckless or head strong (Proverbs 21:29a); 'highminded'- those who are full of themselves, puffed-up (1Timothy 3:6); 'lovers of pleasures more than lovers of God'- All forms of immorality and ungodliness that satisfy the flesh (Phillipians 3:19).
In addition, *2Timothy 3:5* speaks of them as 'Having a form of godliness but denying the power thereof'- Being religious but not victorious above sin, outwardly looking good but inwardly rotten in unrighteousness (Matthew 23:27)
Scriptures admonish all believers living in this 'last days' to turn away from all ungodly practices in order not to be caught in the web of the perilous times (2Timothy 3:5). As true believers, we must therefore receive the prophecies/warning and be conscious of it at all times. We must separate fro m the company and fellowship of people with the characters above(2Corinthians 6:14-17). We must avoid all forms of carnality and false doctrines (Romans 8:6-7; Ephesians 4:14). We must be watchful and be prayerful to guide against deception and temptation to sin (Matthew 26:41; 2Corinthians 2:11). We must release ourselves to the Holy Spirit and be sensitive to his leading (James 4:7; Romans 8:14).
CONCLUSION
This is a perilous time; every believer that wants to get to Heaven must heed the warning, careful to live a separate life from the world and false brethren in order to please God.
TOPIC: THERE IS NO URGATORY
MEMORY VERSE: "And as it is appointed unto men once to die, but after this the judgement". – Hebrews 9:27
BIBLE PASSAGE: 2CORINTHIANS 5:6-8
INTRODUCTION
Some church denominations believe that all who die in God's grace and friendship but still imperfectly purified are indeed assured of their eternal salvation but will undergo the process of purification which they call purgatory, so as to achieve the holiness necessary to enter the joy of heaven. According to them, Purgatory is also a place or condition of temporal punishment for those who, departing this life in God's grace, are not entirely free from forgivable faults, or have not fully paid the price due to their transgressions. Is this doctrine of purgatory in agreement with the bible? Absolutely not!
LESSON OUTLINES
1.WHAT DOES THE BIBLE SAY ABOUT PURGATORY?
2.DEBUNKING THE WRONG CONCEPT
WHAT DOES THE BIBLE SAY ABOUT PURGATORY?
The doctrine of purgatory was falsely formulated by reference to biblical verses that speak of purifying fire (1Corinthians3:15 and 1Pet.1:7) and to the mention by Jesus of 'forgiveness in the age to come' (Matthew 12:32). The analogy made in 1Corinthians3:11-15 affects only believers that have made it to heaven and are awaiting their rewards at the judgement seat of Christ. Sinners or unbelievers are not included here, they go straight to hell.
The eternal destination of everyone is determined instantly after death (2Corinthians 5:6-8). Apostle Paul wrote that believers are "builders" whose quality of works, on the foundation of Christ, shall be tested "by fire" on the day of Judgement (2Corinthians5:10) 1Corinthians3:11-15 does not say that believers pass through the fire for cleansing. Rather, it is the believer's works that will pass through the fire. Fire, in this context, is symbolic of the test of motive or objectivity behind the believer's works.
The statement made by Jesus"… it shall not be forgiven him, neither in this world , neither in this world, neither in the world to come" (Matthew 12:32)was a proverbial expression among the Jews for a thing that will never be done. This scripture does not paint a picture of a chance of forgiveness of sins after death. God's wrath shall overtake any sinner who refuses to genuinely repent before death (Psalm 9:17; Matthew 13:49-50). Hence, it is baseless to pray to God for the forgiveness of sins on behalf of the dead.
DEBUNKING THE WRONG CONCEPT
Purgatory, like many other heretical beliefs, is based on a misunderstanding of the nature of Christ's sacrifice. The proponents of purgatory fail to understand that Jesus' once-for-all sacrifice was absolutely and perfectly sufficient (Hebrews 7:27). They view meritorious works as contributing to salvation due to a failure to recognize that Jesus' sacrificial payment has no need of additional "contribution" (Ephesians 2:8-9). Similarly, Purgatory is understood by them as a place of cleansing in preparation for heaven because they do not recognise that because of Jesus' sacrifice, we are already cleansed (1John 1:7-9). They also base their teaching on the practice of praying for the dead because they fail to recognise that Jesus' death was sufficient to pay the penalty for ALL of our sins. Jesus, who was God incarnate (John 1:1, 14), paid an infinite price for our sins. Jesus died for our sins (1Corinthians 15:3). Jesus is the atoning sacrifice for our sins (1John 2:2; Romans 5:8, Isaiah 53:5). The idea that we have to suffer for our sins after death is contrary to everything the Bible says about salvation.
CONCLUSION
There is no basis for purgatory in the bible. Therefore, make your ways right before you die.
TOPIC: END TIME PROPHECIES
MEMORY VERSE: "But the day of the Lord will come as a theif in the night; in the which the heavens shall pass away with a great noise, and the elements shall melt with fervent heat, the earth also and the works that are therein shall be burned up". – 2Peter 3:10
BIBLE PASSAGE: ISAIAH 13:6-22
INTRODUCTION
The event usually referred to as "the end of the world" (eschaton) is described in *2Peter 3:10* This is the culmination of a series of events called "the day of the Lord," The Bible has a lot to say about the end times. Nearly every book of the Bible contains prophecy regarding the end times.Taking all of these prophecies and organizing them can be difficult. Following is a very brief summary of what the Bible declares will happen in the end times.
LESSON OUTLINES
1. FROM RAPTURE TO THE GREAT TRIBULATION
2. THE MILLENNIAL REIGN TO THE END
FROM RAPTURE TO THE GREAT TRIBULATION
Christ will remove all born-again believers from the earth in an event known as the "rapture" (1Thessalonians 4:13-18; 1Corinthians 15:51-54). At the judgement seat of Christ, these believers will be rewarded for good works and faithful service during their time on earth or will lose their rewards, but not eternal life, for lack of service and disobedience (1Corinthians 3:11-15; 2Corinthians 5:10).
The Antichrist (the beast) will come into power and will sign a covenant with Israel for seven years (Daniel 9:27). This seven years period of time is known as the "tribulation". During the tribulation, there will be terrible wars, famines, plagues and natural disasters. God will be pouring out His wrath against sin, evil and Wickedness.
About half way through the seven years, the antichrist will break the peace covenant with Israel and make war against it. The antichrist will commit "the abomination of desolation" and set up an image of himself to be worshipped in the Jerusalem temple (Daniel 9:27); 2Thessalonian 2:3-10), which will have been rebuilt. The second half of the tribulation is known as "the great tribulation" (Revelation 7:14) and "the time of Jacob's trouble" (Jeremiah 30:7).
THE MILLENNIAL REIGN TO THE END
At the end of the seven-year tribulation, the Antichrist will launch a final attack on Jerusalem, culminating in "the battle of Armageddon" (Revelation 16:16;19:19-20). Jesus Christ will return, destroy the Antichrist and his armies, and cast them into the lake of fire (Revelation 19:11-21). Christ will then bind Satan in "the Abyss – bottomless pit" for one thousand years. Christ will rule His earthly kingdom for this thousand years period. (Revelation 20:1-6)
At the end of the thousand years, Satan will be released and will deceive many. He will be defeated again and then cast into the lake of fire. (Revelation 20:7-9) for eternity. Christ then judges all unbelievers at the great white throne judgement, casting then all into the lake of fire. Death and hell will also be cast into the lake of fire. (Revelation 20:10-15). Christ will then usher in a new heaven and New earth and the new Jerusalem – the eternal dwelling place of believers. There will be no more sin, sorrow, or death. (Revelation 21-22)
CONCLUSION
The knowledge of this end time events is for believers to be well prepared.
TOPIC: THE NEW HEAVEN AND THE NEW EARTH
MEMORY VERSE: "But the day of the Lord will come as a thief in the night; in the which the heavens shall pass away with a great noise, and the elements shall melt with fervent heat, the earth also and the works that are therein shall be burned up". – 2Peter 3:10
BIBLE PASSAGE: REVELATION 21:1-5
INTRODUCTION
In Noah's day, the world was destroyed with water, but God has promised that He would not more destroy the world with flood (Genesis 9:11). The end of the world described in 2Peter 3:10 as the day of the Lord will occur after the final judgment by God (Revelation 20:7-10). This scripture reveals that the universe will be destroyed by fire. Therefore, believers should bear in mind that this present world will not last forever (Matthew 5:18;24:35).
LESSON OUTLINES
1. THE PASSING AWAY OF THE HEAVENS AND THE EARTH
2. EMERGENCE OF THE NEW HEAVEN AND THE NEW EARTH
THE PASSING AWAY OF THE HEAVENS AND THE EARTH
The prophet Isaiah foretold the passing away of heaven and earth (Isaiah 34:4;51:6). This refers to the physical heaven and earth-the material world and all it contains- but not to inhabitants of heaven and earth. To "pass away" is to disappear or be no more.
The "heavens" in *2Peter 3:10* refers to the physical universe-the star planets, and galaxies-which will be consumed by some kind of tremendous explosion, possibly a nuclear or atomic reaction that will consume and wipe out all matter as we know it. All the elements that make up the universe will be melted in the"fervent heat" (2Peter 3:12). This will also be a noisy event, described in different Bible versions as a "roar" (NIV), a "great noise" (KJV), a "loud noise" (CEV) and a "thunderous crash" (AMP). There will be a no doubt as to what is happening. Everyone will see and hear it because we are also told that "the earth and everything in it will be laid bare."
EMERGENCE OF THE NEW HEAVEN AND THE NEW EARTH
In *Revelation 21:1,* John writes of a new heaven and a new Earth in the eternal state, having seen that "the first heaven and the first earth has passed away" (Isaiah 65:17; 2Peter 3:13). God will create a "new heaven and a new Earth" (Revelation 21:1), which will include the "New Jerusalem" (Revelation 21:2), the capital city of heaven, a place of perfect holiness , which will come down from heaven to the new Earth. This is the city where the saints-those whose name were written in the "Lamb's book of life" (Revelation 13:8) – will live forever. Peter refers to this new creation as "the home of righteousness" (2Peter 3:13).
Knowing that heaven and earth will pass away gives us perspective in life. This world is not our home. "We are looking forward to a new heaven and a new earth, where righteousness dwells" (2Peter 3:13). Jesus tells us to have the proper priorities (Matthew 6:19-20). Also Peter, after reminding us of the temporary nature of this world, says, "Wherefore, beloved, seeing that ye look for such things, be diligent that ye may be found of him in peace, without spot, and blameless." (2Peter 3:14).
CONCLUSION
Believers should remain faithful to the end because there is hope of eternal life with God beyond this present world.