Subscribe to Blog via Email
RCCG SUNDAY SCHOOL STUDENT'S (YAYA) MANUAL MAIDEN SPECIAL FOR YOUNG ADULTS AND YOUTHS
LESSON 34 25TH APRIL 2021
TOPIC: BEWARE OF SEDUCTIONS
SUNDAY SCHOOL HYMN
1. O Sunday School, on the Lord's day,
O how I love Thee well,
I am happy, it makes me glad
To rejoice at Thy birth.
2. O Sunday School, on the Lord's day,
Thy friend friendship suits me well,
Both young and will sing Thy song,
We long for Sunday School.
3. O Sunday School, on the Lord's day,
Christ was Thy first teacher,
The Holy Spirit, great teacher,
Does manifest in thee.
4. O Sunday School, on the Lord's day,
This testimony is sure,
That God, the Father Almighty,
Poured His blessing on Thee
5. O Sunday School, on the Lord's day,
Though the sun be so bright,
Or if the clouds be black with rain,
I'll be in Sunday School.
6. O Sunday School, on the Lord's day,
I rejoice to see Thee,
Will thou pass over me today?
Without my being blest?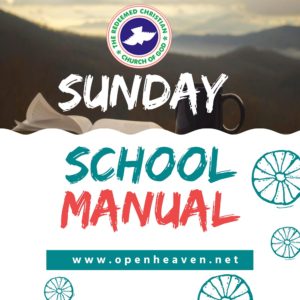 MEMORY VERSE: "It is good neither to eat meat nor drink wine nor do anything by which your brother stumbles or is offended or is made week" . — Romans 14:21 (NKJV)
BIBLE PASSAGE: PROVERBS 7:4-23
Proverbs:7.4
Say to wisdom, "You [are] my sister," And call understanding [your] nearest kin,
Proverbs:7.5
That they may keep you from the immoral woman, From the seductress [who] flatters with her words.
Proverbs:7.6
For at the window of my house I looked through my lattice,
Proverbs:7.7
And saw among the simple, I perceived among the youths, A young man devoid of understanding,
Proverbs:7.8
Passing along the street near her corner; And he took the path to her house
Proverbs:7.9
In the twilight, in the evening, In the black and dark night.
Proverbs:7.10
And there a woman met him, [With] the attire of a harlot, and a crafty heart.
Proverbs:7.11
She [was] loud and rebellious, Her feet would not stay at home.
Proverbs:7.12
At times [she was] outside, at times in the open square, Lurking at every corner.
Proverbs:7.13
So she caught him and kissed him; With an impudent face she said to him:
Proverbs:7.14
"[I have] peace offerings with me; Today I have paid my vows.
Proverbs:7.15
So I came out to meet you, Diligently to seek your face, And I have found you.
Proverbs:7.16
I have spread my bed with tapestry, Colored coverings of Egyptian linen.
Proverbs:7.17
I have perfumed my bed With myrrh, aloes, and cinnamon.
Proverbs:7.18
Come, let us take our fill of love until morning; Let us delight ourselves with love.
Proverbs:7.19
For my husband [is] not at home; He has gone on a long journey;
Proverbs:7.20
He has taken a bag of money with him, [And] will come home on the appointed day."
Proverbs:7.21
With her enticing speech she caused him to yield, With her flattering lips she seduced him.
Proverbs:7.22
Immediately he went after her, as an ox goes to the slaughter, Or as a fool to the correction of the stocks,
Proverbs:7.23
Till an arrow struck his liver. As a bird hastens to the snare, He did not know it [would cost] his life.
INTRODUCTION
Seduction is the process of deliberately enticing a person to engage in a relationship or to lead astray as from duty, morality and the like. Also, it could be an attempt to corrupt, persuade or induce into engaging in sexual behaviour that is as enticing someone to desire having sex with the other by doing things by doing this which makes sex appealing and desirable. There is also a relationship between sexual seduction and dressing, of which every Christian youth must beware
LESSON OUTLINE
1. SOME SEDUCTIVE TOOLS
2. DRESSING WITH CAUTION
SOME SEDUCTIVE TOOLS
It is an established fact that some things can trigger sexual desire especially among youths. David committed adultery because he saw the nakedness of Beersheba while she was bating (2Samuel 11:1-4). Sexual lust is induced when people who are promiscuous use nakedness to Lure careless ones to an unwholesome desires (Proverbs 7:10-13). This is the same as using pornographic films, magazines or dresses to display acts and images which make people sexually excited (Job 31:1). Some other tools that could be adopted for sexual seduction include fragrance, dance, body language, voice tone, etc (Proverbs 7:12-15). A true Christian must desist from all such things. (1Thessalonians 5:22). It is a terrible offence before God to desire to see other people's nakedness (Matthew 5:28). Only insane people walk the street naked without any feeling of shame because they're understanding is a darkened (Ephesians 4:18).
DRESSING WITH CAUTION
When the purpose of a thing is unknown, abuse is inevitable. God was forced to dress man when man was not 'well dressed' (Genesis 37: 21). The primary purpose of dress is to cover nakedness. Some dresses that are only good for bedroom some not the one on the streets. commercial sex workers and known with certain dressing style to boost their trade. Christian youths should not take to such forms of dressing in the name of modernization (Proverbs 7:10). This has led to the harassment of many youths there is a strong relationship between what we see and what we think (James 11:4). Therefore, your dressing must not induce unrighteous thoughts in orders (1Corinthians 14:40; Romans 14:21). There is a two-fold responsibility on dressing the man is responsible to guide his eyes from impurity (Philippians 4:8 Job 31:1); The woman is responsible to dress decently and avoid exposing sensitive parts of the body (Proverbs 7:6-27; 2Samuel 11:2). This principle is also applicable in the reverse order. RCCG SUNDAY SCHOOL STUDENT'S (YAYA) MANUAL MAIDEN SPECIAL FOR YOUNG ADULTS AND YOUTHS LESSON 34 25TH APRIL 2021
CONCLUSION
Any form of dressing likely to excite people sexually should not be worn by a Christian youth especially in public places (Philippians 4:5; 1Corinthians 8:13).
QUESTION
1. Mention some tools used for sexual seduction.
2. What is the primary purpose of dressing?
RCCG THIS WEEK
RCCG JUNIOR ZEAL (AGE 4-5) TEACHER'S MANUAL SUNDAY 25TH OF APRIL, 2021 LESSON THIRTY FOUR (34)
RCCG 2020/2021 ZEAL (AGE 6-8) TEACHER'S MANUAL SUNDAY 25TH OF APRIL, 2021 LESSON THIRTY FOUR (34)
JUNIOR ZEAL (AGES: 9-12) TEACHER'S MANUAL SUNDAY 25TH OF APRIL 2021 LESSON THIRTY-FOUR (34)
RCCG 2020/2021 ZEAL (AGE 13-19) TEENS TEACHER'S MANUAL SUNDAY 25TH OF APRIL, 2021 LESSON THIRTY FOUR (34)
RCCG HOUSE FELLOWSHIP LEADERS' MANUAL DATE: SUNDAY, 25TH APRIL 2021 LESSON: 34
RCCG SUNDAY SCHOOL STUDENT'S (YAYA) MANUAL MAIDEN SPECIAL FOR YOUNG ADULTS AND YOUTHS  LESSON 34 25TH APRIL 2021
Open Heavens Daily Devotional
guide was written by
Pastor E.A. Adeboye
, the General Overseer of the Redeemed Christian Church of God, one of the largest evangelical church in the world and also the President of Christ the Redeemer's Ministries.
The Open Heavens devotional
application is available across all mobile platforms and operating systems: iOS, Android, Blackberry, Nokia, Windows Mobile and PC.
RCCG (YAYA) SUNDAY SCHOOL TEACHER'S MANUAL MAIDEN SPECIAL FOR YOUNG ADULTS AND YOUTHS  LESSON 34 25TH APRIL 2021
RCCG SUNDAY SCHOOL STUDENT'S MANUAL LESSON THIRTY-FOUR SUNDAY 25TH APRIL 2021
RCCG SUNDAY SCHOOL TEACHER'S MANUAL LESSON THIRTY-FOUR SUNDAY 25TH APRIL 2021