JUNIOR ZEAL (AGES: 4-5) TEACHER'S MANUAL SUNDAY 11TH OF APRIL, 2021 LESSON 32
TOPIC: REVISION 5
• Revise the previous lessons with the children.
• Ask them questions to ensure lessons have been well understood
•Tell your class to review the previous lessons during the week before the revision day
SUMMARY OF LESSONS 27 – 31
LESSON TWENTY-SEVEN (27)
TOPIC: KEEP THE SHEEP
BIBLE TEXT: Matthew 18:12-14, Luke 15:3-7
MEMORY VERSE: Luke 19:10 For the son of man is come to seek and save that which was lost.
LESSON AIM: God does not want anyone to perish.
CHILD RELATED TRUTH: You should remain eternally saved.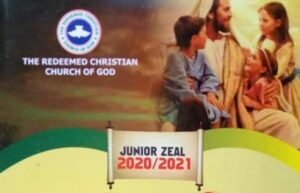 INTRODUCTION:
Matthew 12:11 "And what man shall there be among you, that shall have one sheep, and if it fall into a pit on the Sabbath day, will he not lay hold on it, and lift it out?"
Build relationship! Build friendship! Do not break them. Be meek, be gentle and be a peacemaker. Jesus sacrifices all that we may be reconciled to God. You too follow His steps.
PROGRESSION OF EVENTS:
A. Jesus said "Take heed that you do not despite one of these little ones for I say Unto you that in heaven "their angels always see the face of my father who is in heaven"
(This tells us how much love and importance that God has placed on Children).
B. For the son of man has come to save that which was lost. (God sent His son Jesus Christ to come to the world to save you and I from sin. Man inherited sin. Psalms 51:5 says: in sin did my mother conceive me and Romans 6:23 says the wages of sin is death, but God does not want us to die or be separated from Him so He gave us Jesus perfect son. Jesus gave His Blood on the Cross, died and rose again so that your sin and my sin can be forgiven
C. Jesus asked the disciples "what do you think?" If a man has a hundred sheep and one of them goes astray, does he not leave the ninety-nine and go to the mountain to seek the one that is strayed? This tells of God's great love for you and that He does not want anyone of us to be lost in sin, in John 18:9, Jesus
said "of them which thou gavest me have I lost none" You are very precious to God and that is the reason why Jesus came to the world, for this great love you have respond by yielding your heart to Him.
CLIMAX: And if He should find it, assuredly I say to you, he rejoices more over that sheep than over the ninety-nine that did not astray.
(This means that even in our state of sin God loves and cares about you, but hates your sin and made a plan to seek after you so that you
can be found In Him.
God does not condemn you or leave you in sinful state; He does not give up on you and when you turn away from sin, He rejoices for your salvation, He also wants you to seek after lost sheep too by telling sinners of His love and the work of Jesus Christ that brings man back to God).
RCCG TOPICS THIS WEEK
OPEN HEAVEN 10 APRIL 2021 – THE WORD PROPHECY AND POWER
RCCG SUNDAY SCHOOL TEACHER'S MANUAL LESSON THIRTY-TWO SUNDAY 11TH APRIL 2021 TOPIC: SEXUAL INTIMACY IN MARRIAGE (PRT 1)
RCCG HOUSE FELLOWSHIP LEADER 'S MANUAL DATE: SUNDAY, 11th APRIL 2021 LESSON: 32
RCCG SUNDAY SCHOOL TEACHER'S MANUAL MAIDEN SPECIAL FOR YOUNG ADULTS AND YOUTHS (YAYA) 11TH APRIL 2021 LESSON 32
YAYA RCCG SUNDAY SCHOOL STUDENT'S MANUAL MAIDEN SPECIAL 11TH APRIL 2021 LESSON THIRTY-TWO
RCCG 2020/2021 ZEAL (AGE 13-19) TEENS TEACHER'S MANUAL SUNDAY 11TH OF APRIL, 2021 LESSON 32
RCCG SUNDAY SCHOOL STUDENT'S MANUAL LESSON THIRTY-TWO SUNDAY 11TH APRIL 2021
JUNIOR ZEAL (AGES: 9-12) TEACHER'S MANUAL 11TH OF APRIL 2021 LESSON THIRTY-TWO (32)
RCCG 2020/2021 ZEAL (AGE 6-8) TEACHER'S MANUAL SUNDAY 11TH OF APRIL, 2021 LESSON THIRTY TWO (32)
JUNIOR ZEAL (AGES: 4-5) TEACHER'S MANUAL SUNDAY 11TH OF APRIL, 2021 LESSON 32
CONCLUSION: Even so it is not the will of your father who is in heaven that one of these little ones should perish.
CHALLENGE: You that have received Jesus and you are His sheep God wants you to remain His to the end. Do not be lost again and God wants you to witness by telling other to turn to Him by accepting Jesus as their Saviour.
INVITATION: Be part of the fold, by calling on Jesus to save you from your sin. John 3:16.
LESSON TWENTY-EIGHT (28)
TOPIC: FEED THE SHEEP
BIBLE TEXT: John 21:15-17
MEMORY VERSE: Isaiah 40:11a "He shall feed His flock like a Shepherd".
LESSON AIM: God wants you to feed the sheep with spiritual food.
CHILD RELATED TRUTH: You need the word of God to grow Spiritually.
INTRODUCTION:
Psalm 119;11 says "Thy word have I hid in mine heart, that I might not sin against thee" and 1 Peter 2:2 also says that as new born babes,
desire the sincere milk of the word, that ye may grow thereby.
Just as you need physical food to grow, you also need more importantly the spiritual food which is the word of God.
PROGRESSION OF EVENTS
A. So when they had dined, Jesus saith to Simon Peter, Simon, son of Jonas, lovest thou me more than these? He saith unto Him, yea,
Lord; thou knowest that I love thee. He saith unto him feed my.lambs. Jesus love the l children, the lambs represents little children.
God loves you and cares about you in-spite of your state of sin. God wants the little children to know Him.
What is sin, sin is wanting to have your way rather than God's way. Examples of sin,
lying, stealing, fighting, cheating etc. Romans 3:23 says we are all born in sin and Romans 6:23 tells of the punishment for sin. God does not want you punished so He gave his son Jesus to for your sin. Hebrew 9:22b says "without shedding of blood no forgiveness of sin." Jesus gave His blood, died and buried and He rose again for you to have your sin forgiven.
B. He saith to him again the second time, Simon, son of Jonas lovest thou me? He saith unto Him yea, lord; thou knowest that I love the.
He saith into him, feed my sheep. God wants every believer to be fed with His word. The person in our church and in our neighbourhood needs to be fed effectively with God's word. We
should follow the example of Peter as instructed by Jesus to fish and feed people inside and outside the church with the word of God.
C. He said unto him the third time, Simon son of Jonas, lovest thou me? Peter was grieved because he said unto him the third time thou lovest me? And he said unto Him, Lord thou knowest all things; thou knowest that I love thee, Jesus saith unto him, feed my sheep.
CLIMAX: What is the difference between sheep and little lambs? The lambs are younger and the sheep are older.
CHALLENGE: Jesus gives the lamb the first place in His command because the lambs cannot find pasture by themselves; they cannot fend for themselves and depends on others for everything. The lambs represent children, they need the word of God daily in life because;
(I). The future is in their hands. Deut. 4:9,6:7
(ii.) They are open to the gospel and good biblical teachings Psalms 78.
(iii.) They can be saved. Matthew 18:6.
(iv.) They need to be saved. Matthew 18:11-14
INVITATION: You need to be saved then grow by feeding on God's word, call on Jesus now. Rom 10:13
LESSON TWENTY-NINE (29)
TOPIC: LOVE THE SHEEP
Subscribe to Blog via Email
BIBLE TEXT: Luke 18:15-17; Mark 10:13-16
MEMORY VERSE: Matthew 18:4 And whosoever shall receive one such little child in my name receives me.
LESSON AIM: God wants you to love little ones.
CHILD RELATED TRUTH: Show love to little children and young believers.
INTRODUCTION:
Romans 5:8 For God commendeth his love towards us, in that while we were yet sinners, Christ died for us. This is the greatest act of love to humanity. God's love for you and I is an
everlasting love. He wants you to also as his child, show love to others by telling them about His love.
PROGRESSION OF EVENTS
A. And they brought young children to Him, that He should touch them and His disciple rebuke those that brought them. (The disciple did not understand that the plan of God for salvation
includes children. John 3:16; says "for God so loved the world." Children too need to come to Jesus. Romans says for all have sinned and come short of the glory God. Sin is having your way instead of God's way. Lying, stealing, hatred, jealousy is sin and these separate you from God. Romans 6:23 says there is punishment for sin which is death. God loves you and does not want you to die in your sin. John 3:16 so He gave His son to die in your place.
B. But when Jesus saw it, He was much displeased and said unto them, sutfer the little children to come unto me and forbid them
not for of such is the kingdom of God.
Jesus loves little children and He does not want anyone to hinder them from coming to Him. Matthew 18:6 Jesus warned against offending children that believed in Him Matthew 10:42. Jesus promised reward to whosoever gives a cup of water to the little ones in His name.
C. He said verily I say unto you, whosoever shall not receive the kingdom of God as a little Child, He shall not enter into the Kingdom of God. Matthew 18:4; Mk. 10:15; Luke 18:17.
Jesus wants the adults to be humble; forgiving and trusting as little children before they can enter into His Kingdom. As a little child, are you humble; forgiving and trusting as Jesus expects you to be?
CLIMAX: And He took them up in His arms put His hands upon them and bless them. Jesus demonstrated His love for the little ones and expects all to do the same, He promise reward to those that will demonstrate love to the little ones by giving us as little as a cup of water.
Matthew 18:6. He carried them in His arms and blessed them Mark 10:16
CONCLUSION: What should your response be to the love of Jesus shown to you as a little child?
CHALLENGE: Jesus showed His greatest love by laying down His life for you, He gave His blood on the cross to take away your sin so you can be free from punishment of your sin. The way to appreciate His love is to obey His word and tell your friends about the love of Jesus that saves their soul 1John 4:19
INVITATION: Jesus showed the greatest love John 15:13, so receive Him into your heart today and be saved from your sins. Romans 10:13.
LESSON THIRTY (30)
TOPIC: FOLLOW UP
BIBLE TEXT: Acts 15:22-41
MEMORY VERSE: 1 Corinthians 3:14 "If any man's work abide which he hath built there upon, he shall receive a reward.
LESSON AIM: God wants you to help young believers grow.
CHILD RELATED TRUTH: Check and care for young and other believers.
INTRODUCTION:
God desires for you to be involved in drawing people to Him through His word, by active witnessing and follow up to make sure the people you have reached continue to grow and also become a soul winner.
PROGRESSION OF EVENTS
A. Then it pleased the apostles and elder, with the whole church to send chosen men of their own company to Antioch with Paul and Barnabas. vs. 22.
B. And they wrote letters sending greetings into brethren which are of Gentiles in Antioch and Syria and Cilicia because certain men were troubling them and subverting their souls. Saying ye must be circumcised. vs. 23-24
C. It seemed good unto us all to send chosen men unto you with our beloved Paul and Barnabas, men that have hazarded their lives for the name of our Lord Jesus Christ. Vs. 25-20
(Trying to change the mind or burden the heart of new believers in Christ especially children that believe in Jesus as Saviour is a sin Matthew 18:6 is anything you do that
makes God unhappy. Some people act as satanic agent to change the heart of young converts or discourage them. Romans 6:23 says all sin will be punished. So He gave His
son to take the punishment of your sin John 3:16, Jesus died, gave His blood that you and I can have our sin forgiven Heb 9:22b. He rose again the third day. The word of God says that but as many that receive Him (Jesus) He gave
the right to become the sons of God. John 1:12
D. Paul and Barnabas continued in Antioch, teaching and preaching the word of the Lord with many others also.
CLIMAX: And some days after, Paul said unto Barnabas, let us go again and visit our brethren in every city where we have preached the word of the Lord and see how they do vs. 36
CONCLUSION: And Paul chose Silas and departed being recommended by the brethren unto the grace of God and he went through Syria and Cilicia confirming the Churches vs. 40-41
CHALLENGE: Acts 3:6 says I have planted, Apollo watered but God gave the increase. To plant is to witness, preach the gospel and win convert but to water is to follow up by encouraging the young believers to grow in the Lord you can follow up by:-
i. Praying for young believers to remain in Christ.
ii. Visiting and answering their questions.
iii. Encouraging them to be steadfast in faith.
iv. Teaching them the word of God.
v. Sending letter or text message to encourage and show love
vi. Helping with their physical needs through welfare packages & hospitality.
INVITATION: You need Jesus as your Saviour before you can be followed up. Accept Him today as Saviour from sin. John l:12.
LESSON THIRTY ONE(31)
TOPIC: DISCIPLE THE SHEEP.
BIBLE TEXT: Matthew 4:18-22; Mark 3:13-19
MEMORY VERSE: John 14:12b "And greater works than these shall he do; because l go unto my father
LESSON AIM: Be a follower of Jesus
CHILD RELATED TRUTH: Learn from Jesus and let the life of Jesus be seen in you.
INTRODUCTION:
Discipleship is God's scheme and process to form His son Jesus in His children. Jesus is the approved son and it is His Image that God is looking for in each of His children. Matthew 10:25a.
PROGRESSION OF EVENTS
A. And Jesus walking out of Galilee, saw two brethren Simon called Peter and Andrew his brother casting a net into the sea for they were fishermen. vs. 18
B. And He said unto them, follow me and I will make you fishers of men. vs. 19 (Jesus called Peter and Andrew to follow Him). In becoming a disciple, you must be a follower and someone who can take the foot step of abiding with the Master. Jesus also said, and I will "make you," in discipleship there is a following and a
making. Without following you cannot be made. The disciples were with Jesus everywhere and He was teaching them and they also watch and heard Him and thereby learning His ways. How do you follow today? You follow by reading, listening, and obeying His word.
C. And going on from hence, He saw other two brothers James the son of Zebedee and John in a ship with Zebedee their father mending their net and called them. vs. 21
D. And they immediately left their ship and their father and followed Him
CLIMAX: And Jesus went about all Galilee teaching in their synagogues and preaching the gospel of the kingdom, and healing all manner of sickness and all manner of diseases among the people. vs. 22
CONCLUSION: And His fame went through all Syria and they brought unto Him sick people. vs. 24
CHALLENGE: The essence of discipling the sheep is so that Christ will be form in all believers Galatians 4:19. As a child of God, You have to follow Jesus through your godly parents, teachers, pastors and elders believers who God has appointed to teach you the word of God. Acts 4:13 says
*"Now when they saw the boldness of Peter and John and perceived that they were unlearned and ignorant men, they marveled; and they took knowledge of them that they had been with
Jesus." JUNIOR ZEAL (AGES: 4-5) TEACHER'S MANUAL SUNDAY 11TH OF APRIL, 2021 LESSON 32
Colossians 1:27 Christ in you, the Hope of Glory.
INVITATION: Come to Jesus today, tomorrow may be too late.