Subscribe to Blog via Email
JUNIOR ZEAL (AGES: 9-12) TEACHER'S MANUAL SUNDAY 11TH OF APRIL, 2021 LESSON THIRTY-TWO (32)
TOPIC: REVISION 5
• Revise the previous lessons with the children.
• Ask them questions to ensure lessons have been well understood
Tell your class to review the previous lessons during the week before the revision day.
SUMMARY OF LESSONS 27 -31
LESSON TWENTY SEVEN (27)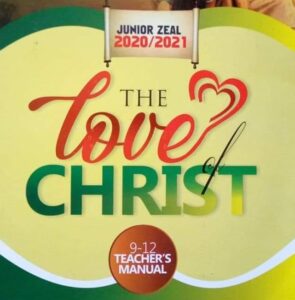 TOPIC: KEEP THE SHEEP (YOU BEING THE SHEPHERD)
BIBLE TEXT: John 10:16-18
MEMORY VERSE: Luke 2.8 "And there were in the same country shepherds abiding in the field, keeping watch over their flock by night."
LESSON AIM: To let children know the responsibilities of a shepherd.
CENTRAL TRUTH: Jesus Christ is a good shepherd.
INTRODUCTION: Jesus Christ is a good shepherd that lays down His life for the sheep. He said that the reason why the father loves Him is because He died for the sheep. He receives authority to lay His life down and to take it up again for the sheep. Jesus Christ promised to bring all His sheep into one fold so that He can be their shepherd. There should be one fold and one shepherd.
STUDY GUIDE:
A: WHO IS A SHEPHERD?
1 A shepherd is a person who tends and guards sheep.
2 A person who protects and watches over a person or group of people.
3 The pastor of a church, one who guides others in faith.
B: RESPONSIBILITIES OF A SHEPHERD:
1 He feeds the sheep. Psalm 78:19, Hosea 11:14
2 He is responsible for the healing of the sheep. Exodus 15:26
3 He guides and leads. Psalm 23
4 He cares for the sheep. John 10:9, Acts 20:28
5 He protects and guards the sheep. 1 Samuel 17:34
6 He knows His sheep. John 10:3
7 He searches for the lost sheep. Luke 19:10
C: BIBLICAL EXAMPLES OF SHEPHERDS:
1 Jesus Christ. John 10:14
2 Moses. Exodus 3:1
3 Abel. Genesis 4:2
4 King David. 1 Samuel 17:34-37
CONCLUSION: Jesus Christ is the good shepherd.
INVITATION: If you want Jesus Christ to be your shepherd ask Him to come into your heart today.
ACTIVITY: Mention 5 (five) roles of a good shepherd.
LIFE APPLICATION: As sheep in the vineyard of God, it is your responsibility to listen to the voice of our shepherd, Jesus Christ, and to obey Him. Matthew 18:14
God does not want anyone to perish. You too can be used to save others who are perishing.
LESSON TWENTY-EIGHT (28)
RCCG TOPICS THIS WEEK
OPEN HEAVEN 10 APRIL 2021 – THE WORD PROPHECY AND POWER
RCCG SUNDAY SCHOOL TEACHER'S MANUAL LESSON THIRTY-TWO SUNDAY 11TH APRIL 2021 TOPIC: SEXUAL INTIMACY IN MARRIAGE (PRT 1)
RCCG HOUSE FELLOWSHIP LEADER 'S MANUAL DATE: SUNDAY, 11th APRIL 2021 LESSON: 32
RCCG SUNDAY SCHOOL TEACHER'S MANUAL MAIDEN SPECIAL FOR YOUNG ADULTS AND YOUTHS (YAYA) 11TH APRIL 2021 LESSON 32
YAYA RCCG SUNDAY SCHOOL STUDENT'S MANUAL MAIDEN SPECIAL 11TH APRIL 2021 LESSON THIRTY-TWO
RCCG 2020/2021 ZEAL (AGE 13-19) TEENS TEACHER'S MANUAL SUNDAY 11TH OF APRIL, 2021 LESSON 32
RCCG SUNDAY SCHOOL STUDENT'S MANUAL LESSON THIRTY-TWO SUNDAY 11TH APRIL 2021
JUNIOR ZEAL (AGES: 9-12) TEACHER'S MANUAL 11TH OF APRIL 2021 LESSON THIRTY-TWO (32)
RCCG 2020/2021 ZEAL (AGE 6-8) TEACHER'S MANUAL SUNDAY 11TH OF APRIL, 2021 LESSON THIRTY TWO (32)
JUNIOR ZEAL (AGES: 4-5) TEACHER'S MANUAL SUNDAY 11TH OF APRIL, 2021 LESSON 32
TOPIC: FEED THE SHEEP: FEED THEM WITH THE WORD OF GOD
BIBLE TEXT: 2 Timothy 4:15; Proverbs 27:23
MEMORY VERSE: 1 Peter 5:2 "Feed the flock of God which is among you, taking the oversight thereof, not by constraint, but willingly; not for filthy lucre, but of a ready mind."
LESSON AIM: To let children know the importance of God's word.
CENTRAL TRUTH: God's word will nurture a young believer into maturity.
INTRODUCTION: Apostle Paul tells Timothy, his spiritual son, to preach the word of God, to rebuke, correct and encourage the church of God. He should not hesitate to preach sound biblical doctrine even if they don't want to hear it.
STUDY GUIDE:
A: HOW TO FEED JESUS' SHEEP?
1. Speak God's word. 1 Peter 4:1
2. Set good examples. John 13:15, 1 Timothy 4:12
3. Encourage the weak. Deuteronomy 1:38
4. Correct. Proverbs 29:17
5. Rebuke. Titus 1:13, Titus 2:15
6. Share the gospel. 1 Timothy 4:2
7. Teach sound doctrine. 2 Timothy 4:2, Titus 2:1
8. Give instructions. Proverbs 8:33, 2 Timothy 3:16
9. Through training. Proverbs 22:6
10. Through importation. 2 Timothy 1:6
B: WHEN TO FEED THE SHEEP?
1. In and out of season. 2 Timothy 4:2
2. Day and night. Psalm 1:1-2
3. When they are discouraged. Numbers 13:30
4. When they are weak. 1 Samuel 30:10, 1 Samuel 30:24
5. When they are strong. 1 Peter 5:8
C: IMPORTANCE OF FEEDING GOD'S SHEEP:
1. They will not lack any good thing. Psalm 23
2. They will be well guided in their decisions in life.
3. It develops their faith in God. Romans 10:17
4. They will live a fulfilled life.
5. It secures them from evil. Proverbs 11:14
CONCLUSION: We should be prepared and ready in any situation to speak the needed words of God to people.
INVITATION: For you to be nourished with the words of God, you must first accept Jesus Christ as your Lord and Saviour.
ACTIVITY: Mention 5 (five) Bible verses you can give to a sheep that is weak.
LIFE APPLICATION: As a sheep you need to be fed daily. As the body needs physical food you also need spiritual food. You therefore need to read your Bible. Keep your quiet time. Attend Bible club and Sunday school to hear from God through His word.
LESSON TWENTY-NINE (29)
TOPIC: LOVE THE SHEEP:(SHOW THEM CARE)
Open Heavens Daily Devotional
guide was written by
Pastor E.A. Adeboye
, the General Overseer of the Redeemed Christian Church of God, one of the largest evangelical church in the world and also the President of Christ the Redeemer's Ministries.
The Open Heavens devotional
application is available across all mobile platforms and operating systems: iOS, Android, Blackberry, Nokia, Windows Mobile and PC.
BIBLE TEXT Mathew 25.34-40
LESSON AIM: To let the children know that Jesus Christ love them and we must love one another.
CENTRAL TRUTH: A good shepherd love his sheep.
INTRODUCTION: There is a popular saying that you can give without loving but you cannot love without giving. A Shepherd don't only feed the Sheep, rather a Shepherd love and care for the needs of the sheep. A Shepherd care for both physical and spiritual needs of the sheep. He will be ready to lay down his life for the sheep. He
showed His love to the sick by visiting them often and by disciplining them in love when
necessary. Everyone that God has place as authority over us are like Shepherds to our lives. But Jesus is our Chief Shepherd 1 Peter 5:4.
STUDY GUIDE:
A. HOW THE SHEPHERD SHOW LOVE (CARE) TO THE FLOCK OF GOD
1. Feed them with sound biblical doctrines -Titus 1:9-10
2. Protecting them from wolves – Matthew 7:15
3. To take them to good pasture – Psalm 23:2
4. Keep them from trouble – Psalm 232
5. Bind the injured – Luke 10:33
6. Strengthen the weak
7. Discipline in love
8. Seek the lost – Luke 19:10
9. Bring back the strayed
10. Give counsel, help, and encouragement.
11. Provide cloth for the naked
12. Visit the sick.
B. SOME OF THE EXPERIENCES THAT SHEEP PASSES THROUGH ARE:
1. Hunger
2. Thirsty
3. Scorched by the sun
4. Hardship
5. Opposition
6. Persecution
7. Weak
8. Wandering
9. Confusion
10. Sicknesses
C. WAYS TO LOVE OTHERS LIKE JESUS
1. Love the person right in front of you.
2. Take food to your neighbors.
3. Have neighbors over for dinner.
4. Hand out homeless bags to people you see on the street.
5. Put together Shoe Boxes with Samaritan's Purse and give to the needy.
6. Help raise money to rescue girls in slavery.
7. Help a missionary family overseas by giving and praying for them.
8. Pack and deliver boxes of food and presents on Christmas Eve to families in the community that are less fortunate.
9. Volunteer to help feed the poor and homeless in your area.
10. Talk to other children about Jesus.
11. Buy food for a homeless person on the street, and then sit and talk with them while
they eat (if they don't mind). Hug them!
CONCLUSION: A good shepherd can only keep the sheep by showing them love. Note that Jesus Christ is our Chief Shepherd.
INVITATION: The only way to be a sheep and not a goat is to be born again.
ACTIVITY: Read Luke 15:1-7.
LIFE APPLICATION: Sheep respond favourably to the love of a shepherd. The same love you receive from your shepherd show to others too.
LESSON THIRTY (30)
TOPIC: FOLLOW-UP
BIBLE TEXT: Galatians 4:19; Philippians 2:19
MEMORY VERSE*: Acts 15:36 "And some *days after Paul said unto Barnabas, Let us go again and visit our brethren in every city where we have preached the word of the Lord, and see how they do."
LESSON AIM: To let children know the need to nurture the faith of new converts.
CENTRAL TRUTH: To make new converts to become disciples of Christ.
INTRODUCTION: Paul had an affectionate relationship with his converts and wanted them to be Christ like. He did a follow-up to know the welfare of the church in Philippi by sending Timothy, his spiritual son and co-worker. Every child of God, who is mature, has the responsibility to follow up the newly converted children of God around them.
STUDY GUIDE:
A: WHAT IS FOLLOWFOLLOW-UP?
1. Follow-up is the conservation, maturation and multiplication of the fruit of evangelism.
2. Follow-up is winning people to Christ and building them up in Christ.
3. Follow-up is making sure that a new Christian understands his or her new relationship with God.
B: WAYS TO DO FOLLOW-UP:
1. Pray. 1 Timothy 2:8
2. Teach. 1 Timothy 6:11
3. Encourage. Acts 15:36
4. Give moral support (show love). James 2:15-17
5. Give financial support. Romans 15:26
C: OTHER PROCESSES OF FOLLOW-UP:
1. Teach a new convert assurance of salvation and acceptance with God. 1 John 5:13, 1 John 2:3
2. Teach a new convert to have a consistent devotional life. Colossians 4:2
3. Teach a new convert to understand the basics of abundant Christian living. Col 3:12-17
4 Integrate the new convert into the family life of the local church. Hebrews 10:24-25
5. Encourage the new convert to be grounded in the study of the word of God. 1 Peter 2:2
6. The young convert must be ready in sharing the gospel with other children. Romans 1:16
D: IMPORTANCE OF FOLLOW-UP:
1. It helps the new convert to be rooted in the word of God.
2. It helps to build up his/her faith.
3. It makes a new convert to start relating with God fearing children.
4. The new convert will experience speedy spiritual growth.
5. The new convert will be fruitful in the work of God.
6. He/she will be comforted and encouraged when challenges arise.
7. It will not be easy for him/her to backslide or to go back to sins.
CONCLUSION: The ministry of follow-up must be like a nursing mother that cares for her children.
INVITATION: The first step to be available for follow-up is to have a relationship with Jesus Christ.
ACTIVITY: Make a list of new converts that you can visit.
LIFE APPLICATION: It is our responsibility to help to cultivate the faith of the new converts. How do you relate to a new converted member in your class, your Bible club, school and neighbourhood? Does the new convert feel loved, comfortable and does he/she belong? Do you support them and assist them when they need you? God wants you to do all of these for new converts/members.
LESSON THIRTY-ONE (31)
TOPIC: DISCIPLE THE SHEEP
BIBLE TEXT: Matthew 28: 19-20
MEMORY VERSE: 2 Timothy 22 "And the things that thou hast heard of me among many witnesses, the same commit thou to faithful men, who shall be able to teach others also".
LESSON AIM: To let the children know that they need to be disciples so that they in turn may disciple others.
CENTRAL TRUTH: Jesus Christ commands us to disciple others.
INTRODUCTION: When Jesus Christ met His disciples at the mountain of Galilee before His ascension to heaven. He commanded them to go into all the nations and make disciples. Discipleship means actively helping others to
become disciples in the sense of teaching, nurturing and growing them to maturity. It can mean the whole process of conversion, baptism and teaching of the ways of Jesus Matthew 28:19-20. Discipleship is a lifelong process.
STUDY GUIDE
A. CHARACTERISTICS OF SHEEP
1. They are innocent and helpless – Matthew 9:36
2. They know the shepherd -John 10:14
3. They respond to shepherds voice – John 10:3
4. They can go astray – Psalm 119:176, Matthew 18:12
5. They don't follow stranger – John 10:5
B. PURPOSE FOR DISCIPLING
1. Sothat they will not go astray.
2. To make them Christ like.
3. To teach them on the cost of discipleship.
4. So that they can train others as well. 2 Timothy 2:2
5. To be mature believers.
6. To teach them to be wise and beware of wolves.
7. To teach them to depend on the Holy Spirit and the Word of God.
8 Teach them to be steadfast in trials.
9 Teach them Gods commandments.
C. HOW TO DISCIPLE THE SHEEP
1. Teaching (books, training, mentoring, counseling)
2. Leading by example
3. Showing love
4. Correct and discipline
5. Exhorts
6. Provide for their needs.
CONCLUSION: Sheep must be disciple to observe all the teachings of Christ.
INVITATION: You can disciple others if you have accepted Jesus Christ as your Lord and Saviour.
ACTIVITY: Mention the 12 (twelve) disciples of Jesus Christ.
LIFE APPLICATION: You have to be a disciple of Christ before you can disciple others for Christ. As a child of God, you have to be discipled, that is, have a Christian role model who will give you spiritual guidance instruct you, advice you and corect you , according to the word of God. Ask God to connect you to a discipler.