Subscribe to Blog via Email
RCCG 2020/2021 ZEAL (AGE 13-19) TEENS TEACHER'S MANUAL SUNDAY 11TH OF APRIL, 2021
LESSON 32
TOPIC: REVISIONS
• Teacher to revise the previous lessons with the Teenagers.
• You can also ask them questions to ensure lessons have been well understood
Please, remember to tell your class to review the previous lessons during the week before the revision day.
SUMMARY OF LESSON 27 – 31
LESSON TWENTY-SEVEN (27)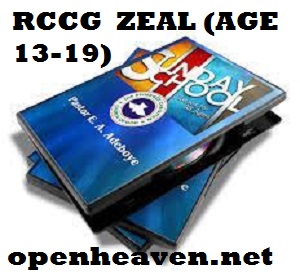 TOPIC: KEEP THE SHEEP (YOU BEING THE SHEPHERD)
BIBLE PASSAGE: John 10:17-18
MEMORY VERSE: John 21:16 He saith to him again the second time, Simon, son of Jonas
lovest thou me? He saith unto him, Yea, Lord; thou knowest that I love thee. He saith unto him, Feed my sheep
LESSON AIM: To let the teens knows that God has given them responsibility to take care of some people.
CENTRAL TRUTH: God wants to entrust people into your hands.
INTRODUCTION: A shepherd's primary responsibility is the safety and welfare of the flock. As God's children, we have an automatic assignment to serve God all the days of our lives by caring for His sheep. There are lives attached to you to nurture, generations and lineages also. You cannot afford to stray from God's path and design for you. God places some people in your life just so that you could lead them to Christ and direct them to the source. You cannot afford to let Him down.
Today, we shall discuss in details what it means to be a good shepherd and what qualities a shepherd must possess to be called a good one.
STUDY GUIDE:
A. Attributes of a Good Shepherd:
1. Sacrificial actions: The good shepherd chooses personal sacrifice for the welfare of his sheep – John 10:11
2. Protector and carer of God's sheep -John 10:12-13
3. Good listener – John 10:14
4. Humility/Teach-ability – Eph 4:2
5. Discipline – Prov 12:1
B. Rewards for being a good Shepherd:
1. God will take care of all your needs – Matt 6:33
2. God watches over your spiritual progress -1Peter 2:25
3. Eternity – Rev. 7:15-17
DISCUSSION: Discuss other key attributes especially relating to teenagers.
INVITATION/APPLICATION: The foundation of every good shepherd is seen in 1 Corinthians 11:1(AMP); "Pattern yourselves after me Follow @ as l imitate and follow Christ (the Messiah)"
CONCLUSION: As shepherds, we are to lead the sheep after the pattern of Christ. Acting in all honesty, integrity and commitment we are destined to bring Glory unto His Name.
LESSON TWENTY-EIGHT (28)
TOPIC: FEED THE SHEEP (FEED THEM WITH THE WORD OF GOD)
RCCG TOPICS THIS WEEK
OPEN HEAVEN 10 APRIL 2021 – THE WORD PROPHECY AND POWER
RCCG SUNDAY SCHOOL TEACHER'S MANUAL LESSON THIRTY-TWO SUNDAY 11TH APRIL 2021 TOPIC: SEXUAL INTIMACY IN MARRIAGE (PRT 1)
RCCG HOUSE FELLOWSHIP LEADER 'S MANUAL DATE: SUNDAY, 11th APRIL 2021 LESSON: 32
RCCG SUNDAY SCHOOL TEACHER'S MANUAL MAIDEN SPECIAL FOR YOUNG ADULTS AND YOUTHS (YAYA) 11TH APRIL 2021 LESSON 32
YAYA RCCG SUNDAY SCHOOL STUDENT'S MANUAL MAIDEN SPECIAL 11TH APRIL 2021 LESSON THIRTY-TWO
RCCG 2020/2021 ZEAL (AGE 13-19) TEENS TEACHER'S MANUAL SUNDAY 11TH OF APRIL, 2021 LESSON 32
RCCG SUNDAY SCHOOL STUDENT'S MANUAL LESSON THIRTY-TWO SUNDAY 11TH APRIL 2021
JUNIOR ZEAL (AGES: 9-12) TEACHER'S MANUAL 11TH OF APRIL 2021 LESSON THIRTY-TWO (32)
RCCG 2020/2021 ZEAL (AGE 6-8) TEACHER'S MANUAL SUNDAY 11TH OF APRIL, 2021 LESSON THIRTY TWO (32)
JUNIOR ZEAL (AGES: 4-5) TEACHER'S MANUAL SUNDAY 11TH OF APRIL, 2021 LESSON 32
BIBLE TEXT: 2 Tim 4:1-5
MEMORY VERSE: 2 Tim 4:2 "Preach the Word; be instant in season, out of season; reprove, rebuke, exhort with all long suffering and doctrine"
LESSON AIM: To let them know that they should be fed with the true Word of God.
CENTRAL TRUTH: The Word of God is the most important diet for the perfect growth of a believer survival.
INTRODUCTION: Today we shall ponder on an important question: "Why did Jesus tell Peter to 'feed my sheep' in John 21:15?". Several answers
come to mind, one of which is that Jesus was deeply concerned about His children. The Lord gave Peter the special charge of feeding the sheep the same way He is giving you the responsibility as His shepherd. What is this
food with which shepherds are to feed the flock of God? It can be no other than the Word of God. Peter declares that Christians are to desire the pure spiritual milk of the Word so that by it, we can mature in our salvation (1 Peter 2:2). As early as the book of Deuteronomy, we see the Lord describing His Word as food for His people who live not by bread alone, but by every Word that proceeds from His mouth (Deuteronomy 8:3). Jesus reiterates this thought in His temptation in the wilderness (Matthew 4:4).
STUDY GUIDE
A. Kingdom principles when feeding the sheep:
1. Principle of Fatherhood: To feed the sheep you must learn from leaders who have gone ahead of you – Heb 13:7
2. Constant connection with the Holy Spirit: It is a sad situation when as a child of God, you only pick your Bible to study every Sunday morning. Do not downplay connection with God (1 Thess. 5:17). Do not be comfortable going long days/weeks without praying or studying (los 1:8)
3. Love: Love as Christ did. Do not preach to people with aggression or judgement. The Love of God and His people must be heard in
your message – Deut. 33:3
4. Honour your master -1 Tim 6:1
5. Don't despise your master – 1 Tim 6:2
B. Kinds of Shepherd to feed the sheep 1 Corinthians 12:28-29; Ephesians 4:11
1. Evangelists
2. Pastors
3. Teachers
4 Apostles
5. Prophets
6. Healers
7. Intercessors
8. Welfare/Help Ministry
9. Missions
10. World Leaders
DISCUSSION: Discuss the various kinds of shepherds and their roles.
INVITATION/ APPLICATION: God called every man to fulfil purpose. Today ask God to show you a glimpse of what you are called to do. If you already know it, ask God to make you skilful in your place of calling. If you have never surrendered your life to Jesus, this is the perfect opportunity to do so. Give Him your life today!
CONCLUSION: The job of the shepherds of God's people is to provide the with the pure milk of the Word of God so they can move on to the meat and solid food of the spiritually mature (Hebrews 5:12-14). So, before feeding others, make sure you are well fed.
LESSON TWENTY-NINE (29)
TOPIC: FEED THE SHEEP (SHOW THEM CARE)
Open Heavens Daily Devotional
guide was written by
Pastor E.A. Adeboye
, the General Overseer of the Redeemed Christian Church of God, one of the largest evangelical church in the world and also the President of Christ the Redeemer's Ministries.
The Open Heavens devotional
application is available across all mobile platforms and operating systems: iOS, Android, Blackberry, Nokia, Windows Mobile and PC.
BIBLE TEXT: 2 Corinthians 12:15
MEMORY VERSE: 1 John 2:10 "He that loveth his brother abldeth in the light, and there is none occasion of stumbling in him".
LESSON AIM: To teach them to care for those that God have put in their care.
CENTRAL TRUTH: God loves us more than we can imagine and He wants us to reciprocate this love to others.
INTRODUCTION: In this lesson, we shall study about Peter's love for Jesus and the service that Peter would do for Jesus because of that love. He told Jesus: Lord, you know that I love you!". Jesus did not doubt Peter's love. He knew that Peter loved Him, however, Jesus wanted Peter to affirm his love again – to help Peter feel confident as a true disciple of Christ.
This lesson is also about you! God is love and the love is an everlasting one. We are to yield to God's love for us, also by showing love towards others that we might make the most out of our lives here on earth.
STUDY GUIDE:
A. Attributes of Love – 1 Cor 13
B. What Love is not?
1. Envious – Rom 13:13
2. Bitterness, wrath, anger, clamour, evil speaking and malice – Eph 4:31
3. Foolish talking – Prov 4:24, Eph 5:4
4. Dishonor – 1 Cor 13:5
C. How to walk in Love
1. Prayer and connection with God: The more you know God, the harder it becomes to hate people.
2. Love one another – John 13:34
3. Confess it daily e.g."In the name of Jesus, I declare that I am ruled by the love of God".
4. Stewardship: Service in Church trains you to serve with Love.
DISCUSSION: In John 21:15-17, Jesus asked Peter three times: Do you love me? Why did He ask three times?
INVITATION/APPLICATION: How can you show love to others as God's children?
CONCLUSION: When you show the love of Christ to others, God is pleased. Choose today to walk in love always. Imagine a world void of hate, a world full of loving people, how beautiful will it be! It starts with you and me. You can only fulfil your destiny in love; therefore, let the love of God govern you today. To reciprocate the love of God, you need to give your life to Him totally, please do so today!
LESSON THIRTY (30)
TOPIC: FOLLOW UP
BIBLE TEXT: Gal 4:19; Phil 2:19
MEMORY VERSE: 2 Tim 2:2 "And the things that thou hast heard of me among many witnesses
the same commit thou to faithful men, who shall be able to teach others also"
LESSON AIM: To let the teens know the importance of follow up.
CENTRAL TRUTH: Follow up is an essential key to bringing more people to Christ.
INTRODUCTION: Evangelism is not a one-time duty, the duty of a believer after preaching the gospel is not to walk away but to make sure that the new convert embraces his/her new lifestyle. The good shepherd must.constantly check on the sheep and ensure they are growing. This is what follow up entails that the new believer would become "firmly rooted, built upon Him and established in faith" (Col 2:6-7).
STUDY GUIDE:
A. Why it is important to follow up?
1. To water the Word of God that has been planted in their hearts. 1 Cor 3:6
2. To strengthen their convictions and help them grow – Gal 6:1
3. So that temptation will not make them fall away – Luke 8:13
4. Kingdom advancement – 2 Tim 2:2
5. No one cares how much you know, until they know how much you care
B. How to effectively follow up:
1. Help them develop hunger for the Word of God by making it real and practical to them.
2. Integrate them into the family life of the local church.
3. Do not judge.
4. Fan to flame their fire by sharing Christian messages, books and music.
5. It takes habit and consistency to abandon the old life and fully embrace the new life. Be patient and kind always.
6. Pray. Pray. Pray. You may not see immediate result in a new convert, so don't letit discourage you.
DISCUSSION: How appropriate is following up on the opposite sex? What should be done in an attempt to follow up the opposite sex?
INVITATION/ APPLICATION: Today, take time to reflect on people you should reach out to and check on their growth and welfare. Remember
that God is counting on you and you would be held accountable for them.
CONCLUSION: For the Church to grow and to bring salvation to all men, following up new converts and believers is key. Proper follow up not only involves congregational effort but individual effort as well.
LESSON THIRTY ONE (31)
TOPIC: DISCIPLE THE SHEEP
BIBLE TEXT: Matt 28:19-20
MEMORY VERSE: Acts 14:22″Confirming the souls of the disciples, and exhorting them to continue in the faith, and that we must through much tribulation enter into the kingdom of God"
LESSON AIM: To teach the teens how to disciple people.
CENTRAL TRUTH: You can be a channel of blessing to your generation when you disciple others.
INTRODUCTION: All of us are capable of influencing people, capable of leading people, capable of dragging people either up or down. Either we are being a good influence or a bad influence, we are still an influence. Even the quietest person, there are still people believing what he/she says. The point is, everyone has a place of impact to other people! That is why discipleship is important. Today, we shall study the principle of pulling people closer to Christ through discipleship. You have a part to play in 'making a disciple of all nations' as we were instructed in today's Bible text.
STUDY GUIDE:
A. Conditions to disciple others:
1. We must have a relationship with God. Abraham had a good one, and God called him friend – Isaiah 41: 8
2.We must be willing to be used by God – Is 1:19
3. We must have love for people – John 13:34-35
4. We must be clean vessels. God cannot use filthy vessels – 2 Tim 2:21
B. Factors that can prevent one from effectively discipling the sheep:
1. Lack of love – 1 John 2:10
2. Poor attitude – Matt. 5:22
3.Bad temperament – James 1:20
4. Keeping bad company – 2 Cor 6:14
5. Sin – 1 John 1:9
6. Stinginess – Prov. 19:17
DISCUSSION: Can you think of other barriers that may prevent effective discipleship? Please share your experience with us.
INVITATION/ APPLICATION: When the Lord Jesus gave this command to His disciples, He meant it. In a generation where the church has been tested and many have been shaken in their faith, He still means it. Yes, He still means it. His Word has never changed. Do your part today!
CONCLUSION: The Lord's command is for us to bring His love to the people, powered by His compassion for them. You might be a behind-the-scenes person. You might be someone whom few people know about, but you are where you are, and you want to do what you do for God's glory. So, we are all called to go and make disciples.