RCCG 2020/2021 ZEAL (AGE 6-8) TEACHER'S MANUAL SUNDAY 11TH OF APRIL, 2021
LESSON THIRTY TWO (32)
TOPIC: REVISION 5
• Revise the previous lessons with the children.
• Ask them questions to ensure lessons have been well understood
Tell your class to review the previous lessons during the week before the revision day.
SUMMARY OF LESSONS 27 – 31
LESSON TWENTY-SEVEN (27)
TOPIC: KEEP THE SHEEP(BE A SHEPHERD)
BIBLE TEXT: Psalm 23*
MEMORY VERSE: "I am the good shepherd. The good shepherd gives His life for the sheep.
John 10:11 (NKJV)
LESSON AIM: The children will know that God is like a shepherd and will care for them as a shepherd cares for his flock.
CHILD RELATED TRUTH: God is your Shepherd and will care for you as a sheep.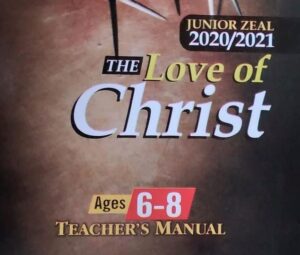 INTRODUCTION: Children! For the next three weeks, we are going to play the imaginary game. Imagine you are a sheep. You are a wooly little lamb in a big, big field. All your sheep friends are around you, and you are happily playing and eating and being happy in the green, green grass. You take a big, deep breath, and you can smell all the pretty white and yellow flowers in the field around you. You listen closely and you
can hear a stream not far away from where your shepherd leads you to drink.
PROGRESSION OF EVENTS:
The Shepherd does many things for the Sheep Psalm 23
1. The shepherd of the sheep always give them everything they need
GOSPEL CONNECTION: God is our Shepherd and we, even me, are His sheep. God says this in the Bible over and over again. God wants us to know that He calls our names and we have to listen to His voice in order to stay on the right paths just as a shepherd does to their sheep. He protects us through the dark valleys or hard times we go through and never leaves us. He provides us with strength and cares for our needs, like hunger and thirst, and time to rest. God wants us to know Him more by understanding that He is our Shepherd and we are His sheep. Jesus like the Good Shepherd gave His life for us. He died on the cross for our sins to be forgiven. Jesus took the punishment for all your wrongdoing because of the love
God has for you (John 3:16)
2. He provides good food and water for them to restore their strength
3. He stops them from wandering into danger and leads them in the straight path
4. He prepares a meal for them in the presence of their enemies and welcomes them as honored guests
5. He leads them back to their pens at night fora goodnight restI
CLIMAX: The Shepherd lays down his life for his sheep.
CONCLUSION: Jesus laid down His life for His sheep, by dying on the cross so that His people could live .
CHALLENGE: As a follower of Jesus, God sees you as a sheep who needs guidance. This week, you are going to rely on God through Jesus for
1. God's provision.
2. God's guidance in making the right decisions.
3. God's help when we're afraid; and
4. God's blessings and promise of eternal life.
INVITATION: Jesus is the Good Shepherd that laid down His life for you, believe in Him today and be saved (John 5:24 "Most assuredly, I say to you, he who hears My word and believes in Him who sent Me has everlasting life, and shall not come into judgment, but has passed from death into life").
LESSON TWENTY-EIGHT (28)
RCCG TOPICS THIS WEEK
OPEN HEAVEN 10 APRIL 2021 – THE WORD PROPHECY AND POWER
RCCG SUNDAY SCHOOL TEACHER'S MANUAL LESSON THIRTY-TWO SUNDAY 11TH APRIL 2021 TOPIC: SEXUAL INTIMACY IN MARRIAGE (PRT 1)
RCCG HOUSE FELLOWSHIP LEADER 'S MANUAL DATE: SUNDAY, 11th APRIL 2021 LESSON: 32
RCCG SUNDAY SCHOOL TEACHER'S MANUAL MAIDEN SPECIAL FOR YOUNG ADULTS AND YOUTHS (YAYA) 11TH APRIL 2021 LESSON 32
YAYA RCCG SUNDAY SCHOOL STUDENT'S MANUAL MAIDEN SPECIAL 11TH APRIL 2021 LESSON THIRTY-TWO
RCCG 2020/2021 ZEAL (AGE 13-19) TEENS TEACHER'S MANUAL SUNDAY 11TH OF APRIL, 2021 LESSON 32
RCCG SUNDAY SCHOOL STUDENT'S MANUAL LESSON THIRTY-TWO SUNDAY 11TH APRIL 2021
JUNIOR ZEAL (AGES: 9-12) TEACHER'S MANUAL 11TH OF APRIL 2021 LESSON THIRTY-TWO (32)
RCCG 2020/2021 ZEAL (AGE 6-8) TEACHER'S MANUAL SUNDAY 11TH OF APRIL, 2021 LESSON THIRTY TWO (32)
JUNIOR ZEAL (AGES: 4-5) TEACHER'S MANUAL SUNDAY 11TH OF APRIL, 2021 LESSON 32
TOPIC: FEED THE SHEEP (TEACH THEM THE WORD OF GOD)
BIBLE TEXT: 2 TIMOTHY 3:14-4:5*
MEMORY VERSE: "All scripture is given by inspiration of God, and is profitable for doctrine, for reproof, for correction, for instruction in righteousness: 2 Timothy 3:16 KJV
LESSON AIM: The children will know that being taught the word of God will show them the right way to live.
CHILD RELATED TRUTH: Show the right way to live.
INTRODUCTION: Children! Imagine you are a sheep. You lay down and feel the warm sun on your back, the soft ground beneath your feet, and feel a gentle breeze tickle your soft, sheep ears. You are one happy lamb. Suddenly you hear a voice that is like music to your ears. It is the best sound in the world, and it makes your heart go thump, thump, thump in your chest. It's your shepherd! He is calling you back to the sheepfold for the night. You look up and happily follow your dear shepherd back to the pen. As you are in your pen, the shepherd is teaching you how you must listen to his voice so that you will not follow the voice of a stranger.
PROGRESSION OF EVENTS:
1. Follow the teaching you have learned because you trust those who taught you.
2. Because you have been taught the word of God since you were small, they're able to make you wise.
3. This wisdom leads to salvation through faith in Jesus Christ.
4. This word is given by God and is useful for teaching and showing people what is wrong with their lives.
5. The word is useful for correcting and teaching people the right way to live.
GOSPEL CONNECTION: Just like our parents and teachers, God gives us lots of words of advice, too. We can find them all in the Bible and he also gives us a lot of promises in it too. God promises everlasting life if we believe in his son Jesus who he gave as a sacrifice for our sins because of his love for us. John 3:16 6. Using the word of God, you will be prepared and have everything you need to serve God.
7. The Lord Jesus will return to judge and establish his Kingdom.
8. He wants you to teach the word as a mouthpiece of God with a matter of urgency
9. Teach the word practically, truthfully, with patience and care.
10. There will come a time when people will not listen but follow false teachings.
CLIMAX: Continue to teach the word of God.
CONCLUSION: You must teach the word no matter the circumstances, to show that you are a servant of God.
CHALLENGE: now if someone tells you, bring your sword with you, do you know what they're talking about? That's right, your Bible. It is the sword of truth because God's word is the truth. We need to know what the Bible says to know the truth. In John 8:31, 32 Jesus said "If you hold to my teaching, you are really my disciples then you will know the truth and the truth will set you free." if we can be set free by knowing the truth, imagine what teaching the truth to others can do for them. So this week;
1. Read the Bible and try to understand what God is saying to you or how God wants you to live.
2. Live by the word of God, be honest, live peaceably with others, be kind and considerate to others, etc.
3. Attend Sunday school.
4. Learn to memorize bible verses.
5. Share the word of God to others.
INVITATION: To know the word of God you need to accept Jesus as Lord and Saviour
LESSON TWENTY-NINE (29)
TOPIC: LOVE THE SHEEP (CARE FOR THEM)
BIBLE TEXT: JOHN 10:11 – 16*
MEMORY VERSE: "And I will very gladly spend and be spent for you; though the more abundantly I love you, the less I be loved." 2 Corinthians 12:15 KJV:
LESSON AIM: The children will rely on Jesus who sacrificed His life for their sins.
CHILD RELATED TRUTH: Jesus is the good Shepherd.
INTRODUCTION: Children! Imagine you are a sheep. You like your pen. It's a small pen, just the right size for just your flock. There is another, bigger pen, closer to the city that you sometimes share with other flocks of sheep, but tonight, you are staying in this little sheepfold.
You look around at the rock walls and know that you are safe for the night. There is no gate to the sheepfold, no way to lock you safe inside, so after he says good night to each one of you, the shepherd puts down his staff and spreads out in the opening of the pen, where you came through for the night. He becomes the gate. He will sleep there all night and make sure no one will come and hurt his sheep. You look up at the sky. The orange sun is just starting to set, making the puffy clouds in the sky turn pink. You give a contented "baaaaa" before laying your head down to sleep. You are safe in your sheepfold, with your shepherd as the gate.
PROGRESSION OF EVENTS:
1. Jesus says I am the good shepherd.
2. The good shepherd sacrifices his life for the sheep.
3. A hired hand will run when he sees a wolf coming and abandon the sheep because they don't belong to him and he isn't their shepherd.
4. And so the wolf attacks them and scatters the flock.
5. The hired hand runs away because he is working only for the money and doesn't really care about the sheep.
6. I am the good shepherd; I know my own sheep, and they know me, just as my Father knows me and I know the Father.
7. So I sacrifice my life for the sheep.
GOSPEL CONNECTION: Jesus sacrificed his life for you and me because of the love of God, the bible tells us that God's love is so great that He sent His Son Jesus to take the punishment for our sins. Sin is the want to always do the wrong thing but God wants us to live with Him someday in heaven and He is holy and cannot behold sins. So He sent Jesus, the perfect sinless man to die for all our wrongdoings. Jesus died on the cross shedding His lifeblood so that God can forgive your sins if you confess and forsake them. (1 Corinthians 15:3–4)
CLIMAX: I have other sheep, too, that are not in this sheepfold and I must bring them also.
CONCLUSION: They will listen to my voice, and there will be one flock with one shepherd.
CHALLENGE: Sheep don't think for themselves. They just follow other sheep who seem to be in charge. Trusting Jesus as Lord and Saviour does not stop us from being so eager to fit in, to be cool or liked that we do or say things that other people do or say without even thinking about it. It is especially important for us to think through our actions and words and even our beliefs. You should not follow others just because what they say seems right. Whenever you make a decision about something to say, or do, or believe, be sure to pray and read your bible on your own, and let Jesus help you decide whether what you are doing or saying or believing lines up with what the bible says is true.
INVITATION: The only way Jesus will lead you is for you to call upon Him and be saved (Romans 10:13)
LESSON THIRTY (30)
SUNDAY 28TH OF MARCH, 2021
TOPIC: FOLLOW UP
BIBLE TEXT: Galatians 4:19*
MEMORY VERSE: GALATIANS 4:19
Oh, my dear children! I feel as if I'm going through labor pains for you again, and they will continue until Christ is fully developed in your lives.
LESSON AIM: The saved children will know it is important to help new believers grow in their relationship with God.
CHILD RELATED TRUTH: Help others grow in Jesus.
INTRODUCTION: Imagine your mom or aunty bringing a newborn baby home from the hospital. Suppose your mom sets her in a crib and says, "okay sweetie, milk is in the fridge, the bathroom is over there and here's the stereo if you want to hear some tunes". That would be terrible! So why would we do the same to someone who just accepted Jesus as Lord and Savior, who is referred to as a baby in the bible.? No! its our responsibility to help cultivate the faith of that newborn believer.
Follow up is making sure a new Christian understands his new relationship with God. Discipleship is God's scheme and process to form His son Jesus in His children. Discipleship is God's scheme and process to form His son Jesus in His children. Jesus is the approved Son, and it is His Image that God is looking for in each of His children. Matthew 10:25a.
PROGRESSION OF EVENTS:
Let us look at different ways we can help others to grow in Christ.
1. Tell them about the assurance of salvation that Jesus will never leave them nor forsake them. (Hebrews 13:5)
2. Help them in the knowledge of our Lord Jesus Christ (John20:31, Romans 10:17)
3. Tell them that Jesus is faithful and just to forgive them their sins and cleanse them from all unrighteousness if they confess and ask for forgiveness of sin (Romans 5:6-9, 1 John 1:9)
GOSPEL CONNECTION:
Jesus went to the cross shedding His lifeblood for your sins to be forgiven. The bible tells us in John 3:16 that because of the love God has for the world. He sent His only Son to earth to take the punishment for all your sins so that when you confess and forsake them, you will be forgiven. Jesus who knew no sin died so that you can have eternal life.
4. Help them to understand the ministry of the Holy Spirit in their lives (John 14:25-26, Ephesians 5:18)
5. Help them to understand their new identities in Christ (2 Corinthians 5:17)
CLIMAX: Every young Christian will need to continue to learn from the scriptures.
CONCLUSION: we need to start at the beginning and build. Do not try to teach everything all at once! Follow-up is a process.
CHALLENGE: Taking care of a newborn is a lot of work but if you have done your job well, by Gods grace your newborn friends will soon be walking, talking, and feeding themselves spiritually. They will be on their way to becoming mature disciples of Christ.
INVITATION: The only way you will be able to follow up new believers is for you to believe in Jesus as Lord and Saviour and be saved. (Acts 16:3 They replied, "Believe in the Lord Jesus and you will be saved, along with everyone in your household.")
LESSON THIRTY ONE (31)
TOPIC: DISCIPLE THE SHEEP
BIBLE TEXT: Luke 15:1-8*
MEMORY VERSE: "The disciple is not above his master but every one that is perfect shall be as his master." Luke 6:40
LESSON AIM: The children will learn to stay connected to Jesus in order to disciple others
CHILD RELATED TRUTH: Stay connected to Jesus to bring others to Him
INTRODUCTION: Children! Have you ever seen grapes before (Allow responses). Grapes taste good and are a healthy thing for us to eat. Grapes are attached to a vine to grow, the vine is a very important part of the plant because the vine collects the water and sunlight and allows the grapes to grow. What do you think would happen if the grapes were not attached to the vine? If the grapes were not attached to the vine
they would die. In life, we are like grapes and Jesus is like the vine. As long as we stay close to Jesus (or attached to the vine) we will do good things. The farther away from God that we are, the harder it is to do well. We need God to live, just like the grapes need their vine to live. God is our vine.
PROGRESSION OF EVENTS:
1. Jesus says that He is the grapevine and God is the gardener.
2. God cuts every plant that does not produce fruit
3. He prunes the branches that produce fruits so that they can produce more
4. Jesus told His disciples that they have already been pruned and purified by the messages He has given them
5. Jesus told His disciples to remain in Him so that He can remain in them
6. A branch cannot produce when it is severed from the vine so they cannot be fruitful unless they remain in Jesus
GOSPEL CONNECTION: Before we are saved an
Jesus, our lives are often filled with bad fruit. We are sinners and before we follow Jesus and stick to him, the only fruit we can make is the bad fruit of sin. Sure, we can do good things before we are saved, but the Bible has something to say about righteousness. Isaiah 64:6 says we are all infected and impure with sin. When we display our righteous deeds, they are nothing but filthy rags. So Jesus came into the world to input us with His righteousness by dying for our sins on the cross because of the love of God. (John 3:16)
7. If they remain in Jesus, they will produce much fruit
8. Anyone who does not remain in Jesus is useless
9. Jesus told them that if they remain in Him and His words remain in them that they will get whatever they ask
CLIMAX: Jesus said if they produce much fruit, they are truly His disciples
Subscribe to Blog via Email
RCCG 2020/2021 ZEAL (AGE 6-8) TEACHER'S MANUAL SUNDAY 11TH OF APRIL, 2021
CONCLUSION: Jesus told them that bearing fruit will bring glory to God
CHALLENGE: The grape branch will die if it gets cut off from the vine. We have to stay attached to Jesus in order to grow. So Jesus is the vine and we are the branches. We need to remain in, cling close to Jesus, in order to grow as Christians. Without Jesus, we die spiritually, If we want to go to heaven and spend all of forever with Jesus, we have to stick with Him. Jesus is the true vine. We remain in Him by obeying His commands and loving Him. Jesus provides us with what we need to live fruitful lives. Jesus helps you to grow when you stay connected to Him so that you will be able to bring others to God
RCCG 2020/2021 ZEAL (AGE 6-8) TEACHER'S MANUAL SUNDAY 11TH OF APRIL, 2021
INVITATION: To stay connected to Jesus, you need to call on Him as Lord and Savior (Romans 10:13)