RCCG 2020/2021 ZEAL (AGE 4-6) TEENS TEACHER'S MANUAL SUNDAY 22ND OF AUGUST, 2021 51
TOPIC: REVISION 8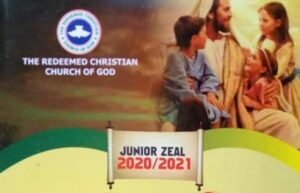 • Revise the previous lessons with the Teenagers.
• Ask them questions to ensure lessons have been well understood.
• Tell your class to review the previous lessons during the week before the revision.
SUMMARY OF LESSON 47-50
LESSON FORTY-SEVEN (47)
TOPIC: GIVE TO THE NEEDY
BIBLE TEXT: Genesis 18:2-18.
[2]So he lifted his eyes and looked, and behold, three men were standing by him; and when he saw them, he ran from the tent door to meet them, and bowed himself to the ground,
[3]and said, "My Lord, if I have now found favor in Your sight, do not pass on by Your servant.
[4]Please let a little water be brought, and wash your feet, and rest yourselves under the tree.
[5]And I will bring a morsel of bread, that you may refresh your hearts. After that you may pass by, inasmuch as you have come to your servant." They said, "Do as you have said."
[6]So Abraham hurried into the tent to Sarah and said, "Quickly, make ready three measures of fine meal; knead it and make cakes."
[7]And Abraham ran to the herd, took a tender and good calf, gave it to a young man, and he hastened to prepare it.
[8]So he took butter and milk and the calf which he had prepared, and set it before them; and he stood by them under the tree as they ate.
[9]Then they said to him, "Where is Sarah your wife?" So he said, "Here, in the tent."
[10]And He said, "I will certainly return to you according to the time of life, and behold, Sarah your wife shall have a son." (Sarah was listening in the tent door which was behind him.)
[11]Now Abraham and Sarah were old, well advanced in age; and Sarah had passed the age of childbearing.
[12]Therefore Sarah laughed within herself, saying, "After I have grown old, shall I have pleasure, my lord being old also?"
[13]And the Lord said to Abraham, "Why did Sarah laugh, saying, 'Shall I surely bear a child, since I am old?'
[14]Is anything too hard for the Lord? At the appointed time I will return to you, according to the time of life, and Sarah shall have a son."
[15]But Sarah denied it, saying, "I did not laugh," for she was afraid. And He said, "No, but you did laugh!" Abraham Intercedes for Sodom
[16]Then the men rose from there and looked toward Sodom, and Abraham went with them to send them on the way.
[17]And the Lord said, "Shall I hide from Abraham what I am doing,
[18]since Abraham shall surely become a great and mighty nation, and all the nations of the earth shall be blessed in him?
MEMORY VERSE: Hebrews 13:2 "Be not forgetful to entertain strangers, for therefore some have entertained angels unawares".
LESSON AIM: God wants you to give to the needy.
CHILD RELATED TRUTH: Help the needy.
INTRODUCTION: God's word says "bear one another's burden and so fulfill the law of Christ Galatians 6:2. When someone is a needy, it is
easy for them to be discouraged, sad and fearful. Some even question God. If you lift that burden by giving, you will help him/her to bejoyful and in so doing God is pleased and he blesses you more.
PROGRESSION OF EVENTS:
A. Abraham showed hospitality to three visitors. (He did not know exactly whom he was entertaining).
Matthew 25:35-41 "was a stranger and you welcomed me' Jesus showed His disciples that when we welcome a stranger, it is Him (Jesus) that we are welcoming.
Abraham would have missed what the visitor brought if he had not welcomed and entertained them. There are blessings you will receive when you give to the needy.
B. Acts 9:36-43 Dorcas good deeds of giving to the needy was recorded as the people gathered to testity of her good works when she died, they cried and sent for Peter, Peter came and she was restored back to life.
C. Act 16:15 Lydia welcomed Paul to her home after her conversion. She showed her willingness to be used of God by giving to the need of Paul and God's people
D. Jesus showed us example of showing love and meeting the need of the needy in Luke 9:10-17 welcoming and showing love to those
who have nothing in common with us is great sign of a true child of God. If you and I are like Jesus we must follow His example. Show
kindness like Jesus did, not only did, He welcome the crowd, He also fed them. Being welcoming is more than just saying "Hello" you must also be a giver. Have time for your visitor and offer them what you have.
E. Jesus Christ demands that we should be like Him, treat people the way He did. Yes! Practicing hospitality is showing love like Jesus did. God is love. The Bible says God is love. John 4:8. He is our creator, holy without sin.
You and I are born in sin and deserved to be punished but God gave you and I His son to come, and died for our sins.
Jesus came to died 2 Cor 5:21 and He resurrected back to life. God will accept you into His family if you believe in Jesus.
CLIMAX: Peter told believers to always show hospitality to one another (1 Peter 4:9)
CONCLUSION: A child of God should show love by giving to the needy. 3 John 8
CHALLENGE: If you received Jesus as Saviour, God wants you to honour Him by giving to the needy around you. Ask God to help you give to the needy this week and come to share how you obey next Sunday.
INVITATION: You cannot honour God by giving as He wants you to do except you first have Jesus as your Saviour. You can choose to receive Him now to be your Saviour from sin John 1:12.
LESSON FORTY-EIGHT (48)
TOPIC: EMPATHY (Bear one another's burden)
BIBLE TEXT: Exodus 17:8-13
[8]Then came Amalek, and fought with Israel in Rephidim.
[9]And Moses said unto Joshua, Choose us out men, and go out, fight with Amalek: to morrow I will stand on the top of the hill with the rod of God in mine hand.
[10]So Joshua did as Moses had said to him, and fought with Amalek: and Moses, Aaron, and Hur went up to the top of the hill.
[11]And it came to pass, when Moses held up his hand, that Israel prevailed: and when he let down his hand, Amalek prevailed.
[12]But Moses' hands were heavy; and they took a stone, and put it under him, and he sat thereon; and Aaron and Hur stayed up his hands, the one on the one side, and the other on the other side; and his hands were steady until the going down of the sun.
[13]And Joshua discomfited Amalek and his people with the edge of the sword.
Acts 9:23-31
[23]And after that many days were fulfilled, the Jews took counsel to kill him:
[24]But their laying await was known of Saul. And they watched the gates day and night to kill him.
[25]Then the disciples took him by night, and let him down by the wall in a basket.
[26]And when Saul was come to Jerusalem, he assayed to join himself to the disciples: but they were all afraid of him, and believed not that he was a disciple.
[27]But Barnabas took him, and brought him to the apostles, and declared unto them how he had seen the Lord in the way, and that he had spoken to him, and how he had preached boldly at Damascus in the name of Jesus.
[28]And he was with them coming in and going out at Jerusalem.
[29]And he spake boldly in the name of the Lord Jesus, and disputed against the Grecians: but they went about to slay him.
[30]Which when the brethren knew, they brought him down to Caesarea, and sent him forth to Tarsus.
[31]Then had the churches rest throughout all Judaea and Galilee and Samaria, and were edified; and walking in the fear of the Lord, and in the comfort of the Holy Ghost, were multiplied.
MEMORY VERSE: Galatians 6:2 Bear ye one another burden and so fulfill the law of Christ.
LESSON AIM: God want His child to bear other burden
CHILD RELATED TRUTH: Be a burden bearer
RCCG TOPICS
RCCG 2020/2021 ZEAL (AGE 4-6) TEENS TEACHER'S MANUAL SUNDAY 22ND OF AUGUST 2021 51
RCCG 2020/2021 ZEAL (AGE 6-8) TEENS TEACHER'S MANUAL SUNDAY 22ND OF AUGUST, 2021 LESSON FIFTY ONE (51)
RCCG 2020/2021 ZEAL (AGE 13-19) TEENS TEACHER'S MANUAL SUNDAY 22ND OF AUGUST 2021 LESSON 51
RCCG SUNDAY SCHOOL TEACHER'S MANUAL LESSON FIFTY-ONE SUNDAY 22ND AUGUST 2021
RCCG HOUSE FELLOWSHIP LEADER'S MANUAL SUNDAY 22ND OF AUGUST, 2021 LESSON FIFTY ONE (51)
RCCG SUNDAY SCHOOL STUDENT'S MANUAL LESSON FIFTY-ONE SUNDAY 22ND AUGUST 2021
69TH RCCG ANNUAL CONVENTION 2021
INTRODUCTION: A burden is a duty or responsibilities that cause worry, difficulty or hardship, God want His children to be of help with burden by showing empathy. Empathy is putting one in the same situation of someone who needs help. Sympathy is showing pity for someone in need of help without offering any assistance.
PROGRESSION OF EVENTS:
A. Aaron and Hur shared Moses Burden (Exodus 17:8-13). Amalekite come and attacked the Israelites at Rephidin.
Moses told Joshua to choose some men to fight the
Amalekite while Moses, Aaron and Hur went up to the top of the hill.
B. As long as Moses held up his hands, the Israelites were winning, but when his hands are lowered, the Amalekites were winning
As Moses hand became tired, they took a stone and put it under him and sat on it, Aaron and Hur held Moses hands up one on one side and one on another side and as long as Moses's hands were up the Israelites keep winning.
If Aaron and Hur had not held Moses' hands, what do you think would have happened?
(Amalekites would have defeated Israel it is beneficial to share burdens)
C. In Acts 9:20-34 Barnabas helped Saul when Saul came to Jerusalem, he tried to join the disciples, but they were afraid of him not believing that he was really a disciple after his fierce persecution.
Barnabas brought Saul to the disciples. He told them how Saul converted on the road to Damascus and he has become a believer. The disciples were convinced and calm. They accepted Saul as one of them this is because Barnabas too shared and bear Saul's burden.
D. You can share one another burden( Empathy)
– You start by paying close attention to people around you so as to notice what he/she is passing through.
When someone needs empathy or carrying a burden, he may be sad, get angry, easily cry unnecessarily, staying too guile, aggressive etc.
– Encourage by reminding him/her of God's love
Psalm 144:17-19
God loves you and I, God is love 1 John 4:8. He
showed His love by creating us in His image. He also gave His only begotten son to die for you and I that you have your sins cleansed.
Jesus died for you, gave you His blood to take your sins away. He rose again one the third day. (1 Corithians 15:3-4)
Tell the burdened person around you that Jesus love him/her and really cares about him/her.
– Be a listening ear James 1:19. Do not condemn or jump to conclusion and be judgmental but be empathic and counsel.
– Pray for someone that is burdened. Ephesians 3:20 pray for him and pray with him also check constantly by following up on him.
CLIMAX: When you carry other burden by showing empathy is a proof that you are a child of God. John 13:35.
CONCLUSION: Bear one another burden and so fulfill the law of Christ. Galatians 6:2.
CHALLENGE: If you are a child of God remember to bear other people burden giving helping hand to people that need you help around you.
INVITATION: John 1:12. Only those in Christ Jesus can act like Him, can partake in His love and share it with others.
LESSON FORTY-NINE (49)
TOPIC: BE READY TO GO WITH JESUS
BIBLE TEXT: Matthew 16: 24-28
24 Then said Jesus unto his disciples, if any man will come after me, let him deny himself, and take up his cross, and follow me.
25 For whosoever will save his life shall lose it: and whosoever will lose his life for my sake shall find it.
26 For what is a man profited, if he shall gain the whole world, and lose his own soul? or what shall a man give in exchange for his soul?
27 For the Son of man shall come in the glory of his Father with his angels; and then he shall reward every man according to his works.
28 Verily I say unto you, there be some standing here, which shall not taste of death, till they see the Son of man coming in his kingdom.
MEMORY VERSE: Luke 9:23 "23 And he said to them all, if any man will come after me, let him deny himself, and take up his cross daily, and follow me.".
LESSON AIM: The saved child will deny Himself and follow Jesus.
CHILD RELATED TRUTH: You must give up your sinful habits to follow Jesus.
INTRODUCTION: It is the end of the race that matters. Trophies are not given for great stats, Medals are not awarded for entering the race. A good start is crucial, but in the end, the end is what matters. You cannot say you made it without getting to that finish line. When Jesus comes, will you be ready / qualified to go with him?
PROGRESSION OF EVENTS:
A.Are you ready to go with Jesus?
In Matthew 16: 24-26. Then Jesus said to his disciple " if any of you want to follow after me, let him deny himself. And take up his cross and follow me."
To be ready to go with Jesus you will do three things.
a.Deny yourself.
b.Take up your cross.
c.Follow him.
B.Deny yourself: to turn away from your selfish ways by giving up your rights and desires. The Disciples of Jesus. Who he called, were willing to give up their boats, fishing Nets, houses, families, careers, trade, friends, expectations, idols, desires, etc.
Jesus also denied himself, His rights, He left his heavenly home to come down and identify with man, not even having a home to live in. He did not enjoy special meals; he just ate anything He was offered. John 4:31-34, Matthew 8:14-15.
What way can you deny yourself to follow Jesus? (Let the children respond).
By giving up wrong habits that will not glorify Jesus. Like, foul languages, bad, friends, gluttony, indecent dressing, fighting, lying, and laziness. You have to be like Him. In order to be ready to follow Him.
C.Take up your cross – Matthew 10:38 says, Jesus said "Anyone who does not take up his cross and follows Him is not worthy of him.
As a child of God. In following him You will suffer something as a result of denying yourself. if a child of God, be willing to suffer for Christ's sake, take it joyfully and refuse to get discouraged, force treated, or act as if something strange is happening to you, instead be happy that you are taking part in the suffering of Christ.
Taking up your cross means commitment to Christ daily, it may involve giving up your toys, food, money, clothing, time, games, computer, phones, etc. Sounds hard and difficult? The reward is worth the price. It means being willing to give up anything for His sake.
D.Follow Me – This means following in His footsteps knowing and obeying His ways. 1 Peter 2:22. We should not emulate friends, relations, teachers, or family members who are not following Christ. Jesus did not sin and no deceit was found in Him.
CLIMAX: Are you ready to follow Jesus?
Are you willing to follow Jesus even if it means losing your close friends?
Will you be willing to follow Jesus even if it means forsaking all things you love?
Will you follow Jesus if it tells you to give your best shoe or toy or something you value or like so much to someone else and stay without it?
What if he wants to test you? like job and Joseph were tested, would you pass or fail his test?
CONCLUSION: To follow Jesus you have a price to pay but it is worth it.
CHALLENGE: If Christ is your saviour, carry your cross daily and follow him. Deny yourself and never seek the game of his life. Seek to do what you please Jesus and follow him to the end.
INVITATION: If you have not received Jesus, you are a sinner, you choose your own way instead of God's way. Isaiah 63:6
But God demonstrates his love to you by giving you Jesus if you call on him, he will save you from your sins. Romans 10:9
LESSON FIFTY (50)
RCCG 2020/2021 ZEAL (AGE 4-6) TEENS TEACHER'S MANUAL SUNDAY 22ND OF AUGUST 2021 51
TOPIC: WIN THE CROWNS
BIBLE TEXT: 1 Corinthians 9:24-27
24. Do you not know that those who run in a race all run, but one receives the prize? Run in such a way that you may [a]obtain it.
25 And everyone who competes for the prize [b]is temperate in all things. Now they do it to obtain a perishable crown, but we for an imperishable crown.
26 Therefore I run thus: not with uncertainty. Thus I fight: not as one who beats the air.
27 But I discipline my body and bring it into subjection, lest, when I have preached to others, I myself should become disqualified.
MEMORY VERSE: 2nd Timothy 4:7 "I have fought a good fight, I have finished my course."
LESSON AIM: God wants you to run your Christian race to the end.
CHILD RELATED TRUTH: God wants you to run and win your Christian race.
INTRODUCTION: a disciplined Christian is like a runner of a race and every race is one at the end not at the beginning. We will learn how God wants you and I to successfully end our Christian race.
PROGRESSION OF EVENTS:
A. What is a Race?
It is a competition between runners. Spiritual race means our spiritual lives in Christ. Apostle Paul says in a race all runners run but only one gets the prize. 1 Corinthians 9:24.
B. Apostle Paul used games (race) to teach his fellow Christians that we are in a race to win, that when you give your life to Jesus, you begin a new life compared to running a race.
C. When you are temperate (self controlled) in all things by overcoming temptation to sin, then at the end you obtain the imperishable price of the crown. James 1:12
D. Jesus said in James 1:12 that the condition to win the crown is to endure temptation by having self-control. What is self control? To deny yourself by putting the flesh under or doing something even where you do not feel like, that is you have to follow spiritual rules which include.
– Determination to compete and win by forsaking all manners of sin.
– Be disciplined by putting friends and all the things that may not allow you win aside. Heb 12:1.
– Be obedient, you must abide by the rules. 2 Timothy 2:3-5
– Run with a heavenly vision.
CLIMAX: Apostle Paul says in 1 Corinthians 9:26, he is fighting not as one who beats the air (aimlessly). He has a purpose in mind. You must run with a mindset to win the crown.
RCCG 2020/2021 ZEAL (AGE 4-6) TEENS TEACHER'S MANUAL SUNDAY 22ND OF AUGUST 2021 51
CONCLUSION: Apostle Paul determined not to be cast away after preaching to so many Vs 27.
CHALLENGE: if you have believed in Jesus Christ, God wants you to run and win the crown, these three rules in mind. 2 Timothy 4:7-8.
1. Desire to compete and win.
2. Be disciplined
3. Be obedient to keep to the rules of the game.
INVITATION: Your winning the crown starts with a new life in Christ Jesus. John 6:47 "he who believes has everlasting life".