RCCG JUNIOR ZEAL 2021/2022 AGE 13-19 TEACHER'S MANUAL SUNDAY 3RD OF OCTOBER 2021 LESSON FIVE (05)
TOPIC: UNDERSTANDING THE BLESSING OF CHRIST (GOD THE SON)
BIBLE TEXT: John 1:31-3;
[1]In the beginning was the Word, and the Word was with God, and the Word was God.
[2]The same was in the beginning with God.
[3]All things were made by him; and without him was not any thing made that was made.
Galatians 3:13-14
[13]Christ hath redeemed us from the curse of the law, being made a curse for us: for it is written, Cursed is every one that hangeth on a tree:
[14]That the blessing of Abraham might come on the Gentiles through Jesus Christ; that we might receive the promise of the Spirit through faith.
HYMN FOR TODAY: Praise Him, Praise Him, Jesus, Our blessed Redeemer
MEMORY VERSE: 'And he is before all things, and by Him all things consIst Colossians 1: 17
LESSON AIM: At the end of the study, teens should know that Jesus is the blessing of God to man.
CENTRAL TRUTH: We can get God's blessings by accessing them through God the Son.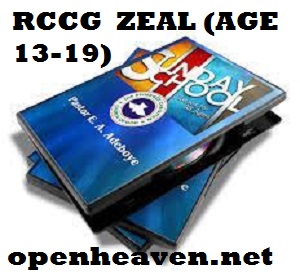 INTRODUCTION: Jesus (God the son), is the blessing from God because all things were made by Him John 1:3, All the blessings we may need or ask for are in Him because He is all things riches, long life, wisdom, etc consist as one. It is God's desire that in and through Christ we live in this dimension of blessing while on the earth. Jesus is truly a blessing from God, and He desires to shower you with blessings so that you will flourish in every area of your life. Jesus came that you would have life in its abundance (John 10:10). Enter the blessing realm and expect blessings to come upon you and overtake you today and all the
days of your life.
STUDY GUIDE
A. Describe your understanding of spiritual blessings in Christ
Jesus Eph 1:3
1. Through Jesus, we have and enjoy spiritual blessings
2. Jesus is the originator of spiritual blessings
B. Examples of these spiritual blessings we enjoy from Him:
a. Wisdom [1 Corinthians 1:30]
b. Salvation – Sonship in God's kingdom [Galatians 4:6
c. Gifts ofthe Holy Spirit [1 Corinthians 12]
d. Inheritance in God's kingdom [Romans 8:17]
e. Spirit of excellence [Daniel 5:12, Daniel 6:3]
C. Search and fill the spaces below:
l. Christ is made a. for us to obtain God's blessing Gal 3:13
ii. God blessed the first Adam, he failed and Jesus became the second
Adam to get us what we missed in Adam. what we missed is called ………… 1Cor 15:45-46
RCCG
RCCG MESSAGES
RCCG APRIL 2021 HOLY COMMUNION SERVICE THEME: GOD BLESS YOU – PART 4 (BLESSED FRUITS) MINISTERING: PASTOR E.A ADEBOYE
RCCG MARCH 2021 DIVINE ENCOUNTER THEME: GOD BLESS YOU – PART 3 (I WILL LIFT UP MY EYES UNTO THE HILLS).
CONCLUSION: Someone who wants to be blessed but rejects Jesus is like a student who wants to enter the university to get a degree without NECO AND WAEC.
ACTIVITY:
1. How possible is it to gain access to God's blessings without Jesus?
2. What is God saying in Col 3:13-14?
ATTENTION: Next week is Revision Day. Let us read up our past lessons and prepare for the revision with our teens. God bless you.
INDIVIDUAL REFLECTION
Ask them- What is God saying in today's lesson?
_____________
How can they apply this to their lives?
_____________
Let them put their prayer points here:
_____________