RCCG JUNIOR ZEAL (AGE 4-5) TEACHER'S MANUAL LESSON FIVE (5)  3RD OCTOBER 2021
TOPIC: UNDERSTANDING THE BLESSING OF CHRIST (GOD THE SON)
BIBLE TEXT: ISAIAH 9:6-7
6 For unto us a child is born, unto us a son is given: and the government shall be upon his shoulder: and his name shall be called Wonderful, Counsellor, The mighty God, The everlasting Father, The Prince of Peace.
7 Of the increase of his government and peace there shall be no end, upon the throne of David, and upon his kingdom, to order it, and to establish it with judgment and with justice from henceforth even for ever. The zeal of the LORD of hosts will perform this.
MEMORY VERSE: 1st Timothy 1:15b "Christ Jesus came into the world to save sinners."
LESSON AIM: Jesus is the Saviour of the world.
CHILD RELATED TRUTH: Jesus came to save you from your sin.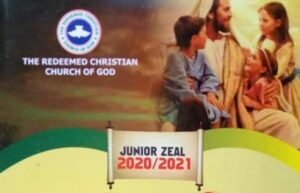 INTRODUCTION: Jesus Christ is the son of God, he is a blessing to the world, God showed us His love by sending Tell me about SupermanHis dear son to come into the world to die for our sin. 1st John 4:8-10. He came that he may destroy the works of the devil Hebrew 2:14-15. he is the Lamb of God that takes away the sin of the world. John 1:29. He is the giver of joy and eternal life.
PROGRESSION OF EVENTS: Isaiah 9: 6-7
A. for unto us a child is born, unto us a son is given.
(Why did Jesus come?)
Jesus Christ came to save us from the scene we inherited from Adam and Eve when they disobeyed God in the garden of Eden. Through them we all became sinners. Romans 3:3, Psalm 51:5.
B. The government will be upon his shoulder and his name will be called wonderful, counsellor, Mighty God, Everlasting Father, Prince of Peace. God loves us and gave us His only son to come to the world to die on the cross for you and I. John 3:16; Romans 5:8.
C. Of the increase of his government and peace. David
CLIMAX: There will be no end upon the throne of David and over his Kingdom to order it and establish with judgement and justice forever and ever. (The Kingdom of God is unending and is from eternity to eternity)
CONCLUSION: The zeal of the Lord of Host will perform it.
CHALLENGE: Every child of God is blessed by the blessing of Christ. His coming to the world saves you and I from the consequences and punishment of sin and grants to us eternal life
INVITATION: If you have not received the blessing of Christ do so now by receiving Jesus Christ as your Lord and Saviour.
RCCG
RCCG MESSAGES
RCCG APRIL 2021 HOLY COMMUNION SERVICE THEME: GOD BLESS YOU – PART 4 (BLESSED FRUITS) MINISTERING: PASTOR E.A ADEBOYE
RCCG MARCH 2021 DIVINE ENCOUNTER THEME: GOD BLESS YOU – PART 3 (I WILL LIFT UP MY EYES UNTO THE HILLS).
DAILY DEVOTION
SUNDAY: Genesis 7: 1-7
MONDAY: Genesis 7: 8-14
TUESDAY: Genesis 7: 15-19
WEDNESDAY: Genesis 7:20-24
THURSDAY: Genesis 8: 1-6
FRIDAY: Genesis 8: 7-12
SATURDAY: Genesis 8: 13-19