Subscribe to Blog via Email
RCCG JUNIOR ZEAL 2021/2022 (AGE 13-19) TEENS TEACHER'S MANUAL 24TH OF OCTOBER 2021 LESSON 8
TOPIC: WAYS GOD BLESSES A MAN (GOOD HEALTH)
BIBLE TEXT: 2 Kings 20:1-5
[1]In those days was Hezekiah sick unto death. And the prophet Isaiah the son of Amoz came to him, and said unto him, Thus saith the LORD, Set thine house in order; for thou shalt die, and not live.
[2]Then he turned his face to the wall, and prayed unto the LORD, saying,
[3]I beseech thee, O LORD, remember now how I have walked before thee in truth and with a perfect heart, and have done that which is good in thy sight. And Hezekiah wept sore.
[4]And it came to pass, afore Isaiah was gone out into the middle court, that the word of the LORD came to him, saying,
[5]Turn again, and tell Hezekiah the captain of my people, Thus saith the LORD, the God of David thy father, I have heard thy prayer, I have seen thy tears: behold, I will heal thee: on the third day thou shalt go up unto the house of the LORD.
RCCG JUNIOR ZEAL 2021/2022 (AGE 13-19) TEENS TEACHER'S MANUAL 24TH OF OCTOBER 2021 LESSON 8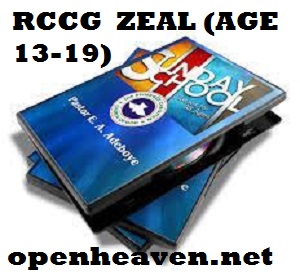 HYMN FOR TODAY: Have you been to Jesus tor the cleansing power
MEMORY VERSE: 'So you will serve the Lord your God, and He will bless your water and I will take sickness away from the midst of you'
Exodus 23:25
LESSON AIM: At the end of the study, they should understand that good health is a blessing from God.
CENTRAL TRUTH: Serving God brings good health.
INTRODUCTION: God desires His people to live in perfect health. In heaven there is no sickness or disease, and God longs for you to
experience heaven's reality while living on the earth. Jesus has therefore paid the price for our healing and long and good health. All
through the New Testament we see Jesus healing all who came to Him for healing from every manner of sickness and disease, and in the book of Acts we see believers doing the same works Jesus did. Do not tolerate sickness because it will hinder you from serving God. Access good health through Jesus so you can be strong and happy to do the work of the master: He gave us everything on the cross: 1 Peter 2:24
God said, "If you will give earnest heed to the voice of the LORD your God, and do what is right in His sight, and give ear to His
commandments, and keep all His statutes, I will put none of the diseases on you which I have put on the Egyptians; for I, the LORD, am
your Healer" (Exodus 15:26).
STUDY GUIDE:
A. God gives us blessing of healing;
• God takes away all sickness and give us good health Deut 7:15
• Hezekiah was sick, He called on God and he was healed.
• When you serve God, He renews your strength Isa 40:31
• Moses served the Lord till he was 120 years.
B. Natural things that bring good health:
• Regular exercise
• Good food- balanced diet
• Good drinking water
• Enough sleep
• Regular check ups
C. Benefits of good health;
1. Healthy living
2. Living happy without pains
3. Not spending in hospital for treatment
4. Serving God without stress
ACTIVITY: Teacher should lead the teens to discuss things that can bring ill health.
LIFE APPLICATION: You want to enjoy the blessing of perfect health from God, you must surrender your life to Jesus Christ and serve Him.
THIS WEEK RCCG SUNDAY SCHOOL MANAUL
RCCG MESSAGES
RCCG APRIL 2021 HOLY COMMUNION SERVICE THEME: GOD BLESS YOU – PART 4 (BLESSED FRUITS) MINISTERING: PASTOR E.A ADEBOYE
RCCG MARCH 2021 DIVINE ENCOUNTER THEME: GOD BLESS YOU – PART 3 (I WILL LIFT UP MY EYES UNTO THE HILLS).
CONCLUSION: Healing is the blessing of God offered to everyone who believes in Jesus. God wants you strong and healthy. Of course, we are to care for our bodies well with a healthy diet, fresh air, and exercise, but if we get attacked with sickness, disease, or infirmity, we have promises we can stand on for our healing. For anyone to enjoy good health, that person must belong to the Great Physician – The Lord Jesus Christ. Good health is the children's bread and should not be given to dogs Mark 7:26-30
INDIVIDUAL REFLECTION
Ask them – What is God saying in today's lesson?
__________________________________________
How can they apply this to their lives?
__________________________________________
Let them put their prayer points here:
__________________________________________