Subscribe to Blog via Email
RCCG JUNIOR ZEAL 2021/2022 (AGE 13-19) TEENS TEACHER'S MANUAL SUNDAY 17TH OF OCTOBER 2021 LESSON 7
TOPIC: UNDERSTANDING THE BLESSING OF GOD (GOD THE HOLY SPIRIT)
Bible Text: 1 Corinthians 2:8-11
[8]Which none of the princes of this world knew: for had they known it, they would not have crucified the Lord of glory.
[9]But as it is written, Eye hath not seen, nor ear heard, neither have entered into the heart of man, the things which God hath prepared for them that love him.
[10]But God hath revealed them unto us by his Spirit: for the Spirit searcheth all things, yea, the deep things of God.
[11]For what man knoweth the things of a man, save the spirit of man which is in him? even so the things of God knoweth no man, but the Spirit of God.
Acts 5:3-5
[3]But Peter said, Ananias, why hath Satan filled thine heart to lie to the Holy Ghost, and to keep back part of the price of the land?
[4]Whiles it remained, was it not thine own? and after it was sold, was it not in thine own power? why hast thou conceived this thing in thine heart? thou hast not lied unto men, but unto God.
[5]And Ananias hearing these words fell down, and gave up the ghost: and great fear came on all them that heard these things.
HYMN FOR TODAY: I need thee every hour
MEMORY VERSE: 'For the kingdom of God is not meat and drink; but righteousness and peace, and joy in the Holy Ghost Romans 14:17
LESSON AIM: At the end of the study, teens should know that the Holy Spirit is God's blessing too.
CENTRAL TRUTH: Believe in God and you will be filled with the Holy Spirit.
RCCG SUNDAY SCHOOL Manuals for today
RCCG MESSAGES
RCCG APRIL 2021 HOLY COMMUNION SERVICE THEME: GOD BLESS YOU – PART 4 (BLESSED FRUITS) MINISTERING: PASTOR E.A ADEBOYE
RCCG MARCH 2021 DIVINE ENCOUNTER THEME: GOD BLESS YOU – PART 3 (I WILL LIFT UP MY EYES UNTO THE HILLS).
RCCG JUNIOR ZEAL 2021/2022 (AGE 13-19) TEENS TEACHER'S MANUAL SUNDAY 17TH OF OCTOBER 2021 LESSON 7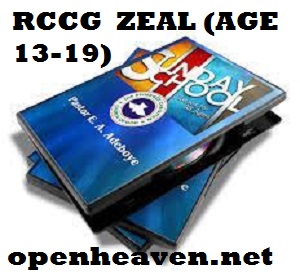 INTRODUCTION: The Holy Spirit is not a mere influence or power; He is the spirit of God Himself who has been given as the Father's gift to those who believe in Christ. He is God's presence and being with you-in you. The Holy Spirit is the very spirit of Christ. The disciples
could not do anything until the power of the Holy Spirit came upon them. That power gave them the image and nature of God to rule and
dominate their world.
STUDY GUIDE:
A. THE HOLY SPIRIT
Teenagers should be given time to talk about who the Holy Spirit is to them.
• The Comforter, the Teacher, Helper
• He is the Spirit of Truth
• He is the third person in the trinity, etc.
B. THE BLESSINGS OF THE HOLY SPIRIT
• He changes people and gives boldness e.g Peter
• He dwells in the believers and teachers them more of God.
• He gives victory over the flesh Romans 8:2-4
• He is our seal. Eph 4:30
• He reveals deep things of God to us.1 Cor 9:10
• He brings all things to our remembrance. John 14:26
C. ANALYSIS OF THE POWER OF THE HOLY SPIRIT
• The Holy Spirit gives the gift of faith. Heb 11:1-3
• The gift of miracles. Matt 14:13-21
• The gift of wisdom. 2 Chron 1:7-12
• The gift of healing. Matt 10:46-52, etc.
CONCLUSION: Do you know or have you heard of any teenager that is filled with the Holy Spirit? Whether you have heard or not, if you
believe today and ask from the Father, He will give it to you. The manifestation is awesome. Open your heart today and be filled.
ACTIVITY: Teens to explain how the Holy Spirit exposed Ananias and Sapphira as in Acts 5:3-5
INDIVIDUAL REFLECTION
Ask them – What is God saying in today's lesson?
_____________________________________
How can they apply this to their lives?
______________________________________
Let the put their prayer points here: