Subscribe to Blog via Email
RCCG JUNIOR ZEAL 2021/2022 AGE 4-5 TEACHER'S MANUALSUNDAY 10TH OF OCTOBER, 2021 LESSON 7
TOPIC: UNDERSTANDING THE BLESSING OF HOLY SPIRIT (GOD THE HOLY SPIRIT)
BIBLE TEXT: John 14:25-27, Act 2
John 14:25-27
[25]These things have I spoken unto you, being yet present with you.
[26]But the Comforter, which is the Holy Ghost, whom the Father will send in my name, he shall teach you all things, and bring all things to your remembrance, whatsoever I have said unto you.
[27]Peace I leave with you, my peace I give unto you: not as the world giveth, give I unto you. Let not your heart be troubled, neither let it be afraid.
MEMORY VERSE: JOHN 14:16 And I will pray the Father and He will give you another comforter that He may abide with you
forever.
LESSON AIM: The Holy Spirit is a blessing of God to us.
CHILD RELATED TRUTH: You need the Holy Spirit.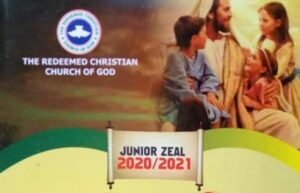 INTRODUCTIONS: The Holy Spirit the third Person of the trinity, He is a gift from God promised to be released to every believer who asked. Jesus told the Disciples they will receive this gift as He is going back to heaven. It was fulfilled at the upper room on the day of Pentecost Acts 2. The Holy Spirit is
the comforter and teacher. The Holy Spirit was evident in the life of Jesus Christ at His baptism in River Jordan He came down as a dove.
PROGRESSION OF EVENTS
JOHN 14:25-27
A. Jesus told His disciple that they will receive the Helper, The Holy Spirit whom the Father will send in His name. John 14:25a
B. He, The Holy Spirit will teach you things and bring to your remembrance all things that I have said to you vs.25b The Holy Spirit is a teacher and a comforter and the promise of
God to all His children. He is the power of God in the life of God's children. Jesus Christ was also full of Holy Spirit and Power.
C.In Act 1:4-5 "And being assembled together with them. He (Jesus Christ) commanded them not to depart from Jerusalem but to wait to receive the promise of the Father
which is the Holy Spirit"
D. In Act 2:1-47. People from many countries had come to Jerusalem for the day of Pentecost and the disciples were also gathered together in Jerusalem vs 1-3. Suddenly God sent the Holy Spirit. There was a sound like a mighty rushing wind. What looked like little tongues of fire appeared; and the disciple began to speak in other languages vs 5-7
E. Peter explained that ability to speak in other languages was evident of the Holy Spirit God had promised to send.
CLIMAX: Empowered by the Holy Spirit. Peter preached boldly and the people were convicted by God's Spirit and asked Peter what they should do. Peter told them to turn away from their sin and be saved.
(Ask God for the Holy Spirit to become bold to witness for Jesus).
CONCLUSION: About three thousand people were saved that day and Peter witnessed by the power of the Holy Spirit.
CHALLENGE: The Holy Spirit is the power and helper of every child of God. Ask for the presence and power of the Holy Spirit.
INVITATION: Receive Jesus as your Lord and Saviour today. Acts 16:31.
RCCG SUNDAY SCHOOL Manuals for today
RCCG MESSAGES
RCCG APRIL 2021 HOLY COMMUNION SERVICE THEME: GOD BLESS YOU – PART 4 (BLESSED FRUITS) MINISTERING: PASTOR E.A ADEBOYE
RCCG MARCH 2021 DIVINE ENCOUNTER THEME: GOD BLESS YOU – PART 3 (I WILL LIFT UP MY EYES UNTO THE HILLS).
DAILY DEVOTIONAL:
SUNDAY: GENESIS 10:7-18
MONDAY: GENESIS 10:19-32
TUESDAY: GENESIS 11:1-5
WEDNESDAY: GENESIS 11:6-12
THURSDAY: GENESIS 11:13-20
FRIDAY: GENESIS 11:21-26
SATURDAY: GENESIS 11:27-32