Subscribe to Blog via Email
RCCG JUNIOR ZEAL 2021/2022 AGES 13-19 TEACHER'S MANUAL SUNDAY 26TH OF SEPTEMBER 2021 LESSON 4
TOPIC: UNDERSTANDING THE BLESSING OF GOD (GOD THE FATHER)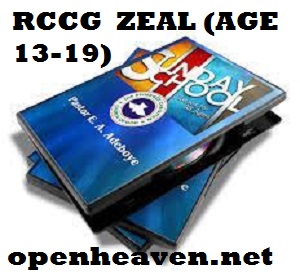 BIBLE TEXT: Psalm 103:2-14
[2]Bless the LORD, O my soul, and forget not all his benefits:
[3]Who forgiveth all thine iniquities; who healeth all thy diseases;
[4]Who redeemeth thy life from destruction; who crowneth thee with lovingkindness and tender mercies;
[5]Who satisfieth thy mouth with good things; so that thy youth is renewed like the eagle's.
[6]The LORD executeth righteousness and judgment for all that are oppressed.
[7]He made known his ways unto Moses, his acts unto the children of Israel.
[8]The LORD is merciful and gracious, slow to anger, and plenteous in mercy.
[9]He will not always chide: neither will he keep his anger for ever.
[10]He hath not dealt with us after our sins; nor rewarded us according to our iniquities.
[11]For as the heaven is high above the earth, so great is his mercy toward them that fear him.
[12]As far as the east is from the west, so far hath he removed our transgressions from us.
[13]Like as a father pitieth his children, so the LORD pitieth them that fear him.
[14]For he knoweth our frame; he remembereth that we are dust.
HYMN FOR TODAY: Standing on the promises of Christ my King
MEMORY VERSE: 'Who is like unto thee, O LORD, among the gods? who is like thee, glorious in holiness, fearful in praises, doing wonders?' Exodus 15:11
LESSON AIM: At the end of the study, teens should understand how they can get blessings from God the Father.
CENTRAL TRUTH: AII blessings come from above – God the Father
INTRODUCTION: Good fathers provide leadership, protection, discipline, guidance and emotional stability for their children. God is our heavenly father. He is the God of whom all blessings flow to His children. What God has blessed no man can curse; therefore, once the
Lord blesses it is impossible for man to overturn it.
"Count your blessings-name them one by one!" Remember this song?
It is a good exercise and discipline to thank the Lord each day for the many blessings He has filled your life with. Focus on these wonderful blessings. Make a list of them and give Him praise.
TOPICS
RCCG MESSAGES
RCCG APRIL 2021 HOLY COMMUNION SERVICE THEME: GOD BLESS YOU – PART 4 (BLESSED FRUITS) MINISTERING: PASTOR E.A ADEBOYE
STUDY GUIDE:
A. Teenagers should be given about 5 minutes to list at least 5 blessings of God from Psalm 103:
– Forgiveness of sin and salvation vs 3,12
– Physical healing vs 3
– Protection from danger vs 4
– Loving-kindness vs q4
– Daily provisions vs 5
– Help in opposition vs 6
– Patience and correction vs 8-9
– Sympathy 13-14
B. SOME OTHER BLESSINGS OF GOD THE FATHER:
– Abiding presence of God. Psalm 91:1
– Anointing. Hebrews 1:9
– Victory without engaging in a fight. 2 Chron 20:17
ACTIVITY: How can we access the blessings of God?
LIFE APPLICATION: Obey the law of the God the Father and experience His abundant blessings.
CONCLUSION: God expects you to live a worthy ife of consecration to Him. He deserves all your worship and praises. He releases blessings to those who love Him with a pure heart.
INDIVIDUAL REFLECTION:
• Ask them-What is God saying in today's lesson?
————————————————————-
• How can they apply this to their lives?
————————————————————-
• Let them put their prayer points here:
————————————————————